It's official: Melissa McCarthy is just like her Gilmore Girls character, Sookie St. James. While attending Time's 100 gala on Tuesday, the actress opened up about her return to Stars Hollow. Let me just say her reaction about filming for the Netflix revival is exactly how Sookie would react.
More: Lauren Graham is almost as excited as I am for Sookie's Gilmore Girls return
As McCarthy told People about at first not signing on, "For the longest time it was just not going to work out schedule-wise." She continued, "And once we decided is there any possible way, something fell out for me, something changed for them, and then we immediately nabbed it. I went back and visited about two weeks ago and saw the sets again and everybody on them."
She also reflected about stepping back onto set after Gilmore Girls ended after seven seasons in 2007. "Oh, my God, it was so sad," McCarthy said. "I got so sentimental. And it felt like the greatest idea in the world. It was lovely."
Yeah, she sounds just like Sookie, who always reacted and expressed herself perfectly.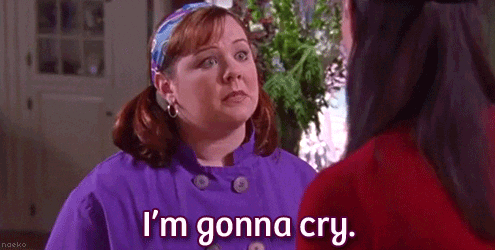 More: Gilmore Girls: Luke & Lorelai's romantic status is still totally frustrating
Same, Sookie. Same.
At the beginning of April, and after a lot of talk about whether or not McCarthy would return, she announced on The Ellen DeGerenes Show that she would be coming back after all.
"Literally about an hour and half ago, we figured out that I'm gonna go back and do it and I am so excited. And they are gonna be amazing," she announced. "[Creator] Amy Sherman-Palladino is going to squeeze me in to do it and I'm very happy to go back to Stars Hollow."
Not only is it great that McCarthy will be back, but to hear that she gets just as excited and as sentimental about Gilmore Girls as fans do, well, it's pretty darn spectacular.
More: Jess' official return to Gilmore Girls could mean bad news for Dean fans
Before you go, check out our slideshow below.