Let's talk about Kelly Ripa's so-called immature, diva behavior
Apr 27, 2016 at 2:24 p.m. ET
If you think Kelly Ripa's decision to ditch work after learning that Michael Strahan would be leaving their hit show Live! with Kelly and Michael for a full-time gig at Good Morning America was a diva move or immature, as some have called it, then you may not understand the implications of this whole mess. Take it out of the context — ignore the fact that they each make millions and it's a national TV show — because that's beside the point.
More: Kelly Ripa is so not ready to kiss and make up with Michael Strahan
Ripa is a woman and a boss at her job, yet she was not included in a major decision that affects her. And it wasn't the first time this has happened. Regis Philbin did the same thing to her when he left the show in 2011, calling her into a meeting 20 minutes before they were to go on-air and announce his exit. That is how little they respected her back then, and how little they understood the ramifications of what message this sends to their fans. When you leave someone out of a major decision, you are telling them that they don't matter and that they are inferior.
Many careers, like jobs in television, are about relationships; the relationship the hosts have with each other and the one they have with their audience. When you consider that those connections are a critical part of the fabric of our lives, and when you consider how much of our day is spent at work, then you can understand how much a public humiliation surrounding a woman at her job impacts us all.
I support Ripa because this is an age-old pattern in business that needs to change. Men make decisions and women have to deal with the fallout.
More: Kelly Ripa was right to freak out over Michael Strahan leaving Live!
It was her show to begin with, which means she had a hand in choosing Strahan and giving him this golden opportunity. Out of respect for that, he should have discussed this with her sooner, or at least while he was in the process of making this change. When it was first announced that Strahan would be a part-time presence at Good Morning America in 2014, he promised us and Ripa that Kelly and Michael was his priority, not GMA. He made a big show of saying how much he loved Ripa and loved his job, yet when it came right down to it, he thought only of himself. He didn't even consider what this move would mean or what his handling of it says to the viewers about Ripa. He didn't even consider how this would undermine her to us, which is important since he is leaving and she will be there until 2020. ABC should have thought of that, at the very least.
For everyone who thinks Ripa should have continued working anyway since it's her job and she's so lucky to have a career earning millions per year, I say that doesn't matter. This is not about money; it's about respect. It would be the same if they were partners in a coffee shop. It's this pervasive idea in all businesses that even women who make you millions and get paid what they deserve still do not have a seat at the table.
More: Oprah isn't impressed with the way Michael Strahan handled his Live! exit
If you didn't understand why Sheryl Sandberg said to "treat your career like a jungle gym, not a ladder," the reason is illustrated here. Life is still a jungle in many careers, especially when you are infantilized and marginalized publicly. The message hurts all women by sending some subtle context that we are all still disposable. Ripa has worked very hard to get where she is; she has earned the right to have a say in what happens on her own show, yet she matters little. But she is more than just an employee — she is a symbol for women who do not feel valued at work despite the impact they've had on their audience as well as their bosses' wallets. Ripa may be getting paid what she is worth, but respect has currency too.
What do you think? Let us know in the comments below.
Pin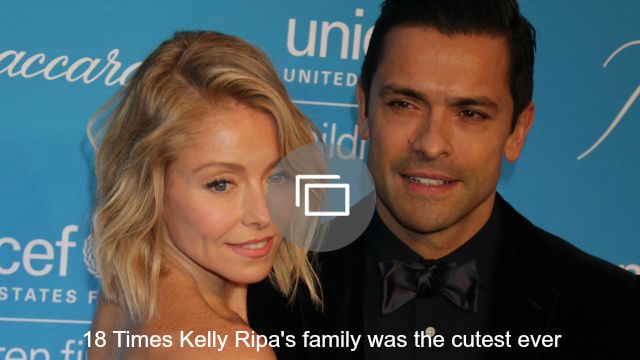 Image: WENN