NCIS spoilers: Tony's exit will see him put family first — but which family?
Apr 14, 2016 at 7:25 p.m. ET
After a lot of anticipation and speculation, some details have finally been revealed about Tony DiNozzo's exit from NCIS.
More: Michelle Obama is coming to NCIS — will she give Gibbs a run for his money?
As reported by TV Line, it looks like Tony will be putting family first in the Season 13 finale airing Tuesday, May 17. CBS released the official synopsis for the episode, titled "Family First," which will revolve around "an international manhunt for a killer of federal agents."
It sure sounds like Michael Weatherly's last episode as Tony (that still pains me to write) will be an exciting one. Doesn't he deserve that? Ever since the first episode, the very special agent has brought nothing but excitement to the drama.
Sadly, those are the only details that have been provided thus far. That said, the episode title is very telling in the sense that it sure seems like Tony will be leaving due to family. If you recall, during "Charade," Tony expressed frustration with his life and the fact he might not be fulfilled after all.
More: NCIS' newest agent has a lot in common with DiNozzo
While interrogating two men who were impersonating him, they said to Tony, "You have no life. No wife, no kids, no hobbies, same job, same apartment… nothing changes with you." That's when he started to look at himself and his life in a new light.
That same episode, Tony voiced to McGee, "I feel like my life is a charade. You'd tell me, right, if I was losing my edge, the DiNozzo edge? Because I feel like it." He added, "Sometimes I feel like I don't know who I am… like I've already lost my identity. Is [the identity theft] some weird metaphor for my psychological state?"
Maybe family is what he needs to find himself again? That said, what family might that be? "Family First" could be referring to Tony's family at NCIS, his actual family, like his father Anthony DiNozzo Sr. (played by Robert Wagner) or maybe even himself, meaning he is going to put himself first and look toward a future with a family.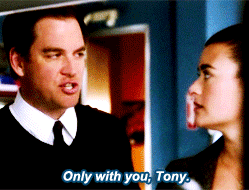 If it is the latter, here's hoping part of Tony's future family includes Ziva. I know, I know. I keep saying it, but I need a Tiva reunion to happen in some capacity during the Season 13 finale. Don't act like you wouldn't enjoy it as well. Can't you just see Tony and Ziva kicking ass (like they always did) in both their professional and personal lives?
Plus, imagine Tony and Ziva having their very own family. Yeah, I'm feeling a lot of things at the moment. Whatever happens, let's hope his send-off isn't tragic (no one wants Tony to die, right?) but one filled with happiness.
NCIS airs Tuesdays at 8/7c on CBS.
More: NCIS: 10 things I want to happen before DiNozzo leaves
Before you go, check out our slideshow below.