After what seemed like an extremely long reunion of ridiculous bickering and getting nowhere over stupid drama, the Vanderpump Rules Season 4 reunion finally came to an end Monday.
More: Lisa Vanderpump says what everyone's thinking about Stassi Schroeder
The reunion almost ended on a boring note, that is until James Kennedy delivered a ridiculous moment on a silver platter that must be discussed, stat. Before host Andy Cohen could say his goodbyes to Lisa Vanderpump and her minions, he called out James, who looked like he was texting.
Then, James responded like the "White Kanye West" that he is would. He yelled at Andy for not talking about his upcoming album. The look that overcame Andy's face was amazing and I'm hoping someone is turning his facial expression into a GIF at this very moment.
If you think Andy kept his mouth shut, you'd be wrong. With a look of disgust and irritation, Andy said to James, "Are you kidding me? Are you kidding me right now?" James didn't answer, but just looked at Andy with puppy dog eyes, because he so badly wanted to chat about his new music.
More: The Vanderpump Rules cast members beat the love triangle to death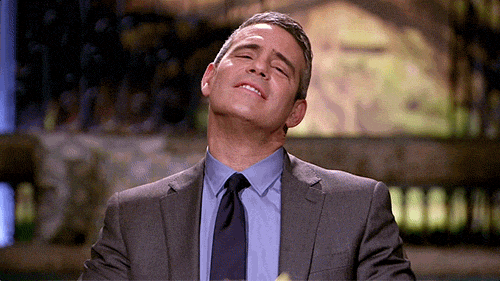 Don't worry, Andy didn't budge and basically rolled his eyes at James for being ridiculous. Of course, Jax Taylor got in on the action and scolded James for trying to plug his music during the reunion. It made for a great ending, especially after what was just an irritating hour of everyone going back and forth about the same nonsense they usually do.
From Stassi Schroeder's sex tape to James and Jax wanting to rip each other apart to Tom Schwartz at least providing some lightness to the tension to Ariana Madix dishing out a Donald Trump joke that also made the entire reunion, James' ego getting burnt by Andy will forever be a moment to remember.
If you think about it, every time Andy gets pissed at James, it's memorable. Remember that time James and Lala Kent appeared on Watch What Happens Live and cursed the entire time? Remember how irritated Andy got and so badly wanted to throw them off during their segment? Yeah, Andy and James rarely see eye to eye.
Despite James' despicable qualities, at least he closed out the reunion in a ridiculously laughable way. I guess you could say that he became the talk of the night just like he wanted to.
No word on if or when Vanderpump Rules will return, but I'd be surprised if it didn't return for Season 5.
More: Vanderpump Rules' Jax Taylor and Stassi Schroeder stun with finale decision
Before you go, check out our slideshow below.