The Walking Dead finale: Who's alive, who's not, and who's barely hangin' on?
Apr 4, 2016 at 2:38 a.m. ET
Well, we knew it was gonna be bad, but tonight's Season 6 finale of The Walking Dead was basically a case study in being tortured by the television. If, like me, your blood pressure is officially through the roof after that 90-minute, anxiety-addled episode, take a minute to recover.
OK, time's up! There's much to discuss, people. So here's your warning: there are potential spoilers ahead, so proceed with caution.
Now, as you well know, the entire season so far has been a slow build toward Negan's arrival. We've heard talk of him. We've seen his "Saviors" do his dirty bidding. But, with one simple yet powerful teaser trailer after last week's episode, we knew we would finally see his face in the finale.
A face which, of course, belongs to none other than the incredible Jeffrey Dean Morgan — a face which, for the record, did not disappoint when it finally made its debut tonight.
More:The Walking Dead then and now: How the zombpocalypse has changed the core survivors
Having said that, the arrival of Negan clearly heralds a whole lotta trouble for our favorite survivors. And unfortunately, as some fans predicted, the finale ended in the cliffhanger to end all cliffhangers involving Negan, a whole frickin' row of Rick's crew and Lucille, Negan's barbed-wire-covered baseball bat. No bueno, you guys.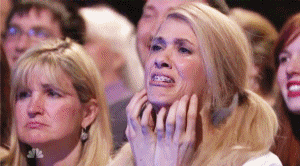 On The Talking Dead after the fact, showrunner Scott Gimple and TWD comic-creator Robert Kirkman both weighed in about the decision to end the episode in such dramatic fashion.
"First of all, as a fan, I love cliffhangers. I love that tension and that anticipation," said Kirkman, touching on how there are often cliffhangers in the comic series. What transpired tonight, he explained, was about "the loss of that confidence" Rick and his crew have been feeling. Or, to put it more bleakly, it was about "tearing Rick Grimes down."
Added Gimple, "People are not a part of this story, like with reality TV. We want you to be one of those people in that lineup. We want you to feel that suspense and that terror and that pain. And we're going to deliver you a story next season that justifies it."
Since there is no such thing as a fast-forward button on life to get us to fall's Season 7 in a more expedient fashion, let's take stock of where everyone stands after the finale.
Who's alive (as far as we know)?
We saw Rick leave Father Gabriel and Spencer back on watch at Alexandria (Father Gabriel stepping up his game, who woulda thought?), so presumably they are still there and safe for the moment. Same goes for Carl's crush Enid, Carol's lover Tobin and the other Alexandrians. We can also be pretty sure that Morgan is still alive, considering the scene he shared with Carol — more on that in a minute — in which two armed men appear and offer to help him.
Who could be alive... or not?
Unless my brain just stopped working from a build-up of anxiety and wine, I don't recall seeing Tara at any point in tonight's episode. This is interesting because I also don't recall seeing her in last week's episode. When will she pop back into the picture? Where has she been? If she isn't back at Alexandria and she isn't with the group lined up by Negan's Saviors at the close, where is she?
Who's barely hangin' on?
So, Morgan followed Carol and — hooray! — he found her alive. Sort of. While she was physically OK, our favorite suburban badass was not what you might call mentally or emotionally sound. After nearly falling victim to a walker, she gets tackled in the caravanby the dill-hole Savior that tried to kill her last week. Luckily, Morgan shows up and saves the day, but not before the jerk puts a bullet in Carol's arm and leg. When Morgan tries to tell her she's going to make it through this, she begs him to let her go. Carol, hon, you're breaking our hearts with this.
Also hanging on by a thread is Maggie, who has most definitely seen better days. As you'll recall, she doubled over last week in what was clearly some sort of pregnancy duress. At this point, she looks as though she is entirely too close to keeling over. In fact, Rick was trying to get her to Hilltop and medical care when their group was intercepted by the Saviors.
More:The Walking Dead: 7 crazy theories about Maggie's baby
Who's alive but one Lucille-swing away from a smashed skull?
The suspense! The suspense is killing me. At the finale's close, Negan lines up Rick, Carl, Daryl, Glenn, Maggie, Michonne, Sasha, Eugene, Abraham, Aaron and Rosita — and he promises he is going to beat the bloody hell out of one of them for their group crossing Negan in the first place. At this point, every single one of them is in grave mortal danger. Again, can it be fall yet?
Who's dead?
We may not have lost a ton of key characters this season, but there were many casualties among the allies. In the first episode, we lost newcomer Carter who, to be honest, was kind of a tool anyway. When the Wolves invaded Alexandria, we lost Shelly the food snob, Sturgess the gardener, Erin the book-club Nazi, Holly, Annie the supply runner, Barnes the construction worker, David the lovesick letter writer, David's heartbroken wife Betsy, and Richard the tower guard. In episode 3, we very memorably lost Nicholas when he shot himself and landed atop Glenn in a throng of walkers (who proceeded to tear Nicholas' intestines out). Even more memorably, we lost Alexandria's noble leader Deanna in episode 8, just before losing Jessie and both her sons, Sam and Ron, during the mid-season finale. And, finally, poor Dr. Denise got shot through the eyeball in episode 14.
Then there is the death we'll all be waiting with bated breath to discover — the victim of a vicious beat-down by Negan's Lucille. Although we truly have no idea who Negan brutalized, Gimple teased on The Talking Dead that "there are hints there." He also revealed that, "the end of the story is what you saw... when we reveal who's on the receiving end of that, that's the start of another story." While many people are betting on Glenn because of his comic fate, my money is on Abraham, Eugene or Daryl after watching the finale. Here's my logic: No. 1, at this point, the whole Glenn thing seems too easy. Surely they want to throw us for a loop? No. 2, as Negan is crushing mystery person's skull, he remarks that they are taking it like a champ. In my mind, the most stoic of the bunch would definitely be either Abraham or Daryl (prepare to riot).
Before you go, check out our slideshow below.