If you didn't yet receive an invitation to Katie Maloney and Tom Schwartz's wedding, there may still be hope. From the looks of things, the guest list for their nuptials still isn't final. That said, they do know who's not going to witness them tying the knot. (Here's a hint: their names rhyme with Mames and Baba.)
More: Vanderpump Rules Season 4: 7 things to know about the new girl (PHOTOS)
From their wedding date to her wedding dress, here are all the details any self-respecting Vanderpump Rules fan needs to know about Maloney and Schwartz's wedding.
1. Lala Kent and James Kennedy won't be there
It wouldn't take a PhD in Bravology to figure out that Kent and Kennedy won't be attending the wedding. After all, Kent and Maloney can't stand each other and, as Schwartz recently revealed to InTouch, "James is too loud and a liability — I think even he would acknowledge that!" Well said. When asked about Kent, Maloney replied, "Absolutely not!" Well, all right.
2. Kristen Doute and Stassi Schroeder are invited
When asked whether Doute and Schroeder would make the cut, the couple said yes. But! It's worth noting that, while Schroeder is definitely invited, Doute will be getting an invite because "she'll show up anyway."
3. Lisa Vanderpump may officiate
How amazing would that be? Schwartz also told InTouch that Vanderpump offered to officiate. You know you're in good with your boss when she volunteers to marry you.
More: Vanderpump Rules' Katie and Tom did more than get engaged in the off-season
4. Maloney won't wear a Disney princess dress
We all know Maloney has a bit of a rock 'n' roll vibe when it comes to her style — and that same vibe will carry over on her wedding day. "I love a vintage vibe — lace — and nothing poufy," she told Us Weekly shortly after her engagement. "I will stick to the ivory and white family of colors for sure."
5. They still don't have a date set
In a recent appearance on Watch What Happens Live, Maloney revealed that she and Schwartz have a ballpark idea of when they want to get married, but have yet to nail down a date.
More: How Lisa Vanderpump got involved in Vanderpump Rules' Stassi Schroeder's sex tape
6. The wedding will be near Los Angeles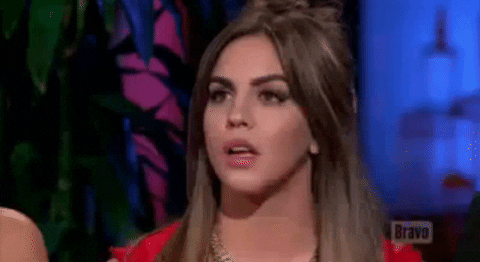 When asked about the location on WWHL, Maloney was intentionally cagey. Without revealing much of anything, she said that the big day will take place "near-ish LA." Guess Villa Rosa is out.
7. The theme of the wedding can go one of three ways
Maloney says that she's been planning her wedding since she was a little girl, but that doesn't mean she has every last detail worked out. Maloney revealed to People recently that she has "three different weddings planned on Pinterest with different themes." A girl needs her options.
8. It will be small… ish
Maloney also revealed that, while she's not sure of the theme yet, she knows she wants her wedding to be on the smaller side. And by "on the smaller side," she means "150 max."
What do you think of Maloney and Schwartz's upcoming wedding?
Before you go, check out our slideshow below.