While there is certainly no shortage of things to love about Fox's hit drama, Empire, Cookie Lyon undoubtedly lands on the top of our everyone's must-watch list.
Cookie, portrayed brilliantly by Taraji P. Henson, is the kind of matriarch you can't ignore: independent, feisty, loyal to a fault and fierce with a capital F-I-E-R-C-E.
The Lyon family's main lady is also quite famous for her colorful vocabulary and unique ability to turn a phrase. After all, we have her to thank for introducing the slang nickname "Boo Boo Kitty" into the vernacular. Which begs the question: What was our life even like before Cookie Lyon?
And so, in celebration of the queen herself (and Empire's return to primetime, of course), here are 18 of Cookie's best moments… so far.
1. When she made a triumphant return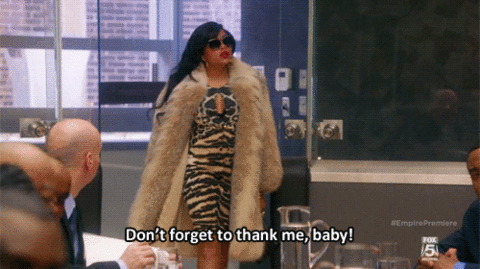 After spending nearly two decades in prison for a trumped-up drug dealing charge against her then husband, Lucious — only to see him become one of the richest music moguls in the country and never pay her a visit in prison? Girl, you'd better believe she walked into that board room with intention.
2. Every.single.time she loved Jamal unconditionally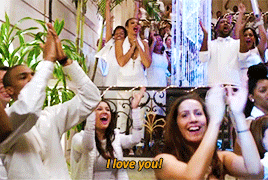 While Lucious has always struggled with the sexuality of their son, Jamal, Cookie never left his corner. She's the person who cheers him on, props him up and keeps him grounded. When he came out publicly during a performance of one of Lucious' old hits, Cookie couldn't have been prouder.
3. When she showed up to dinner wearing naughty lingerie and did this…
Showing up to what she thought was going to be a special evening with Lucious only to discover it's an impromptu engagement dinner for Lucious and Anika, Cookie was predictably not enthused. Particularly considering she was not dressed for a "friendly get-together," a point she drove home by revealing the lingerie beneath her coat and showing Anika what a "real ass" looks like.
4. When she was the X-rated Dr. Seuss of sex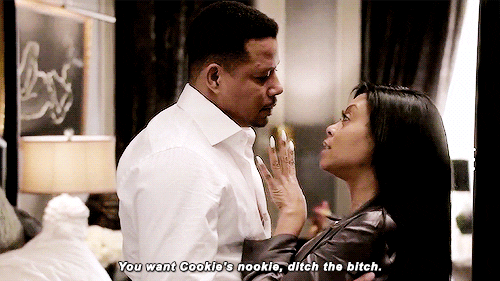 No one does one-liners like Cookie Lyon, and she never does them better than when she's threatening Lucious.
5. When she demanded (and commanded) respect at Jamal's recording studio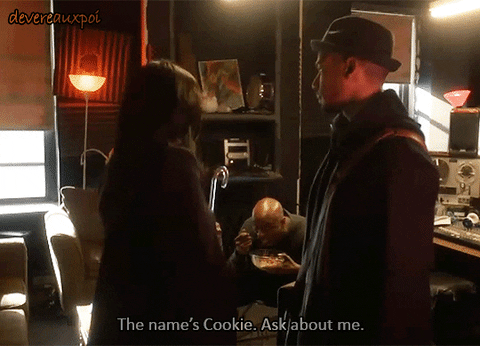 After Jamal leaves Empire because of the ongoing drama with his dad, Cookie steps in and maneuvers some serious recording time for her son at the rough-around-the-edges studio he's chosen (read: that he can afford after having been cut off by Lucious).
6. When she proved it isn't wise to ignore her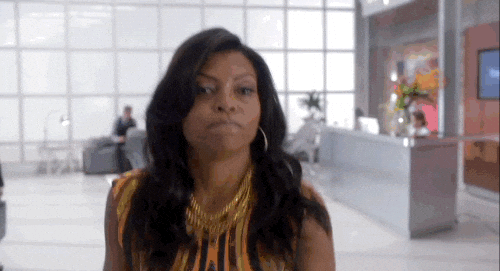 Word to the wise: Don't piss off Cookie Lyon and then walk away, lest you wind up getting a Louboutin pump lobbed at the back of your head with alarming precision.
7. When she refused to let Camilla sink her claws into Hakeem again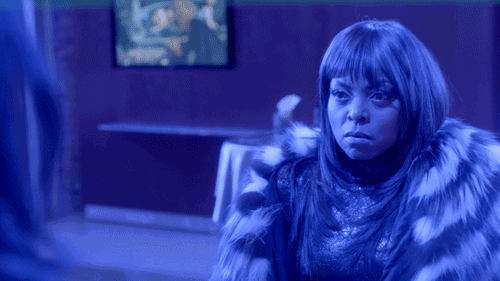 Suffice it to say it was a huge shocker when Camilla resurfaced at the end of last season and staged a huge coup against Lucious by manipulating Hakeem into turning against his family. Cookie wasn't havin' it, though — and she made that about as clear as one can.
8. When she took it there with Adam Rodriguez's sexy character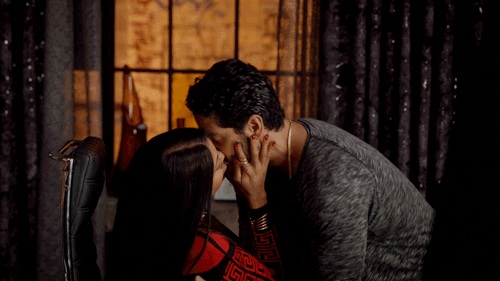 OK, sure, Adam Rodriguez's character ended up being a borderline bad-guy-slash-spy, but he sure was hot. Can you blame us for living vicariously through Cookie's hot and heavy fling with Laz Delgado?
9. When she still had empathy for Lucious after everything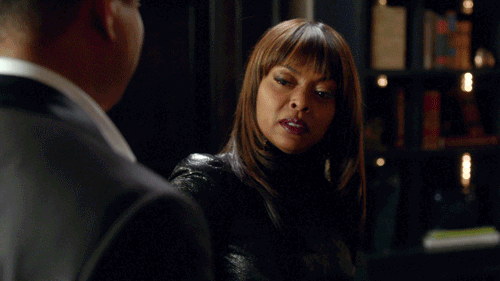 Despite everything Lucious has put her through over the years, Cookie will always put the past behind her if it means being there for her family. And whether she likes to admit it all the time or not, Lucious is her family. So it was a tribute to her true loyalty that she brought comfort to him after the company was stripped away.
10. When she chose her son over her man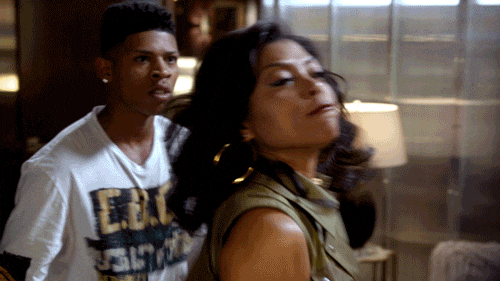 When Delgado got physical with Hakeem, Cookie gave Delgado tit for tat. Don't go messing with a mama bear, y'all — you'll wake up the sleeping beast within.
11. When she took charge of Hakeem's kidnapping situation like a boss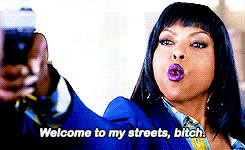 When Hakeem is kidnapped, Cookie isn't about to just quietly slide over a briefcase full of cash in exchange for her kid. She took it a step (or 12) further by making the point that she isn't afraid of anyone or anything. These are her streets.
12. When she made a stirring statement about the incarceration of black men
At a Free Lucious rally, Cookie descended in a cage dressed as a gorilla to drive home a point about the overzealous and often unfair incarceration of black men and their subsequent dehumanization at the hands of police. It was one of the series' most powerful moments to date.
13. When she held a proverbial mirror up to Lucious' face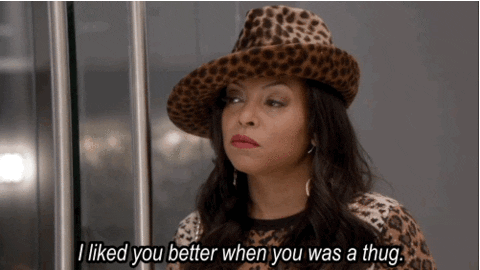 Shortly after getting out of jail, Cookie reminds Lucious of his humble beginnings — and the man he apparently sold out for some fancy suits and big, shiny things — by saying, "I liked you better when you was a thug."
14. When she made the most passive-aggressive prayer of all time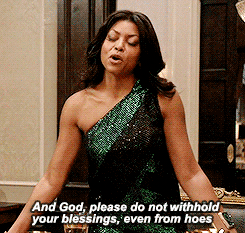 Leave it to Cookie Lyon to somehow incorporate the word "hoes" into a prayer and totally pull it off. To be clear, Boo Boo Kitty definitely got the message regardless of the many layers of passive-aggression it was cloaked in.
15. When she pulled a one-two punch that nearly knocked Boo Boo Kitty out cold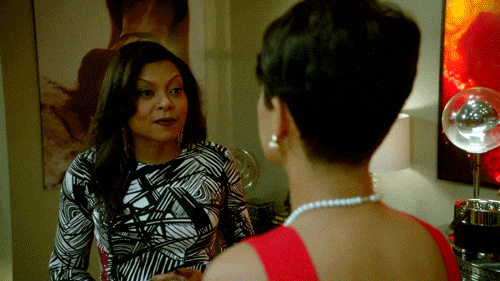 Daaaaaaaamn, Cookie! When Cookie and Boo Boo Kitty's feud came to a head, Cookie didn't waste a lot of extraneous time getting to the point. She let her one-two combo do all of the talking.
16. When she said goodbye to her boys before her prison stint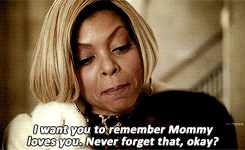 Ugh, this scene will break your heart and then pick it back up, glue together the scraps and break it again. Via flashback, we see the gut-wrenching moment Cookie had to say goodbye to her kids before going to prison for their father. Talk about sacrifice!
17. When she made "buster" sound like a four-letter word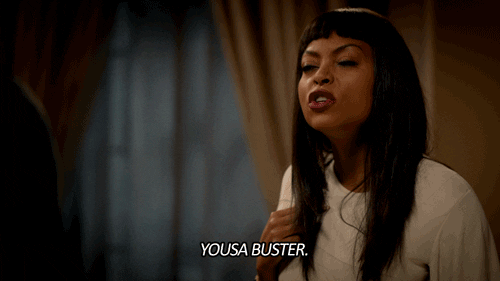 It's hard not to love every insult Cookie hurls because they're all so perfectly in their simplicity. Any woman who can make "buster" sound like an obscenity is a winner in my book.
18. When she made it crystal clear who's really the boss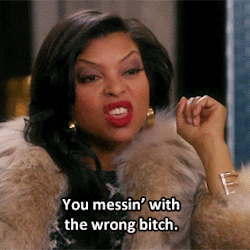 Lucious may sit at the head of the table, but Cookie quickly reminded him upon her return that she's the one who is actually steering this metaphorical ship.