Prepare to feel your age, party people — Real World has officially been around for nearly a quarter of a century. And tonight, MTV kicked off the 31st season of its OG reality series, this season dubbed Real World: Go Big or Go Home.
Naturally, over the years, the show was bound to change. After all, the concept of sticking seven strangers in a house (to find out what happens when people stop being polite and start getting real, natch) was a groundbreaking concept. Today, reality TV has upped the ante.
But how exactly is Real World today different from the Real World back in the day we'll always feel a bit nostalgic about? Well, I just finished watching the Go Big or Go Home premiere and there are a few ways — check it out.
1. Casting
Think you can handle Dione's Jungle Boy swag?https://t.co/Hg6WmlCgNq

— MTV's Real World (@RealWorldMTV) March 11, 2016

In the very beginning, you simply needed to send in a headshot and an application to earn a chance at moving into the Real World pad. Over time, as technology evolved, this turned into open casting calls and/or the submission of casting videos — the latter of which are all now aired as part of the show. In fact, during tonight's premiere, the housemates got to watch each other's videos and weigh in on them prior to meeting each other. According to Real World creator Jonathan Murray, the network is actually moving away from the old recruiting format once more. "We don't do the big open calls anymore, and we actually do much more outreach now where we actually go out and find those interesting people who we think would be good on the show."
More: Après Ski: 6 ways the Bravo series is just like Real World
2. Special effects
We're heading to Vegas tomorrow night at 10/9c! pic.twitter.com/y7oQHEBh2i

— MTV's Real World (@RealWorldMTV) March 17, 2016

Listen, it's been a hot minute since I've watched Real World, and this is definitely not the Real World of old when it comes to videography and other effects. Tonight's premiere looked so glossy and stylized. Music would cut in at key moments and there were clever little snippets of camera trickery that would probably blow the minds of the original NY cast.
3. Themes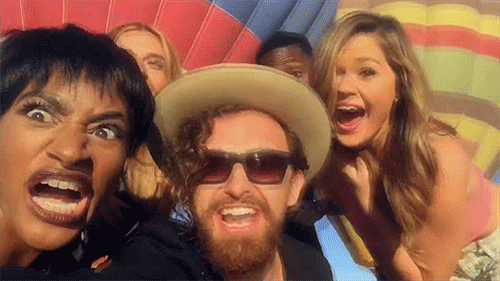 Generally speaking, there are several recurring themes that come up on Real World. Religion, for example, which is on display this season with Salt Lake City-bred Mormon-turned-NYC-hipster and pansexual, Chris. Or prejudice, which is seriously an issue with Confederate-flag-flyin' and proud country girl Jenna. Hookups, sexuality, religion — you know the drill. But as of Season 29, each season actually has a specific theme. In San Francisco, it was "Ex-Plosion," where cast members came on with exes. In Chicago, it was "Skeletons," where they dealt with unresolved drama. And, obviously, this season is "Go Big or Go Home," which basically means they're going to have to do some crazy shit.
4. The length
Who is ready to party?! We're so close to #RealWorldGoBig! pic.twitter.com/gPxtInvZUJ

— MTV's Real World (@RealWorldMTV) March 9, 2016

For 18 seasons, Real World fit snugly in a half-hour time slot. The trade-off was that the season was longer, ringing in at around 24 weeks. Starting in 2007 with the Sydney, Australia, season though, the show moved to a full hour. Subsequently, the season was cut down to around 12 weeks. To be honest, I kind of prefer it this way. Watching tonight, I feel like we get to know the characters so much better and get invested in a way that we couldn't during the half-hour episodes.
More: Real World alumnus is making us hungry by singing songs about food (VIDEO)
5. Social accessibility
— Dean Bart-Plange (@Dean_BP) March 18, 2016

Speaking of getting to know the cast better, we now know more than ever before! Back in the day when we were crushin' on a cast member, we had little choice but to wait for a tabloid to put something about them in print or just hope they got ample screen time the next week. No more, my friends — thanks to the reach of social media, you can find out pretty much everything you want about the castmates. As a matter of fact, the castmates use Twitter to promote the show and to interact with fans.
6. The culture of confessionals
I need @MTVCeeJai to give me motivational talks every morning #RealWorldGoBig pic.twitter.com/Sw564kjOIV

— MTV's Real World (@RealWorldMTV) March 18, 2016

In the past, it seemed like producers had to kind of steer castmates to really dig deep in confessionals — or, you know, they'd just stock the house with a steady supply of alcohol, everyone's favorite social lubricant. Nowadays, MTV basically just has to sit back and watch as the castmates spill the intimate details of their lives. "Overall, people are much more comfortable being in front of a camera," said Murray. "Look at the way this generation sort of exposes their lives through Instagram, Facebook and Twitter. It's just not unusual now for people to share their lives with each other."
7. The "missions"
#RealWorldGoBig hitting you with the definitions.https://t.co/uIzr71YIeS

— MTV's Real World (@RealWorldMTV) March 18, 2016

OK, as an old-school Real World watcher, tonight introduced me to something I'd never seen on the show before: missions. As in, tonight they had to bungee jump out of a hot air balloon. Wait, is this Real World or is this a Real World/Road Rules Challenge? Apparently this will be a thing all season long, although we've yet to see what other kinds of adrenaline-spiking tests they'll be served up. Admittedly, it's kind of fun to watch.
8. Rules and replacements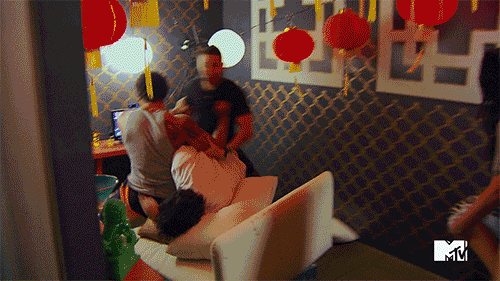 Another new twist! I know, there's a lot to process. In the past, generally the only way to get kicked off the show was if you displayed violence or extreme aggression toward another castmate. Although that is still essentially the same, MTV has started putting the decision in the housemates' hands — letting them vote whether or not they want the offending house member to stay. Based on the season teaser that aired tonight, it looks like this may wind up being the case with Jenna, CeeJai' or both. But the biggest difference this season brings is elimination due to lack of participation. Whaaaa? That's right; if someone opts out of one of these wild challenges, they get the boot… and a replacement roomie is brought into the house to fill the now-empty bed.