After six seasons, Lady Edith finally got her happy ending in the series finale of Downton Abbey. Guess what? She also outshone Lady Mary in the process. Who's with me when I say, it's about damn time? For far too long, Edith has been labeled as "Poor Edith" and the one Crawley sister who no one thought would ever truly be happy. Well, that definitely isn't the case anymore.
More: Why Downton Abbey's showdown between Edith and Mary needed to happen
Thankfully, the final episode of Downton mainly focused on Edith and what would become of her and Bertie. While visiting London and her Aunt Rosamund, Edith unexpectedly ran into Bertie. For once, Mary righted her wrong by notifying Bertie of Edith's whereabouts in hopes of reuniting the two. I guess you could say that Mary is somewhat responsible for her sister's happiness, but I'm sure eventually they would've found their way back to one another without any help.
Whatever the case, Bertie confessed he made a mistake by walking away from Edith. Yet again, he told her wanted to marry her and would wholeheartedly welcome Marigold into the family, despite the scandal or what his mother would think of it all. After some thought, Edith accepted his proposal. Of course, before tying the knot, Edith just couldn't walk down that aisle without confessing to Bertie's mother the truth about Marigold. She wouldn't be able to live with herself or marry Bertie without being honest.
To Edith's surprise, his mother accepted her. How could she not respect Edith for being so forthcoming about something so scandalous, especially when Edith knew there would a be chance she might be denied a prestigious title and the chance of marrying Bertie. In the end, Edith and Bertie finally said "I do." Can you believe it? Edith walked away from Downton extremely happy.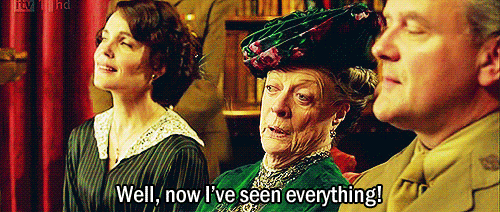 I want to thank Downton Abbey for giving the series finale to Edith. Yes, there was focus on other characters, but everything revolved around Edith. I don't know if this was the intention of the showrunners, but it almost seems that they rushed Mary and Henry's wedding in the penultimate episode so the series finale could be all about Edith. Either way, it was the right choice.
I've adored Edith since the beginning, but the sixth season made me even fall even more in love with her. Season 6 really was Edith's season. Despite being unlucky in love over the course of the series (that is until she met Bertie), Edith never let it affect her as a mother or as a working woman. It's been wonderful seeing her make a name for herself in the newspaper world and change the stigma of what a woman should be, especially during the 1920s.
Watching Edith build a future for herself professionally and ensuring Marigold would never be without, all while never forgetting to focus on herself personally, proves she is truly fantastic.
More: Downton Abbey's Lady Mary may never find happiness thanks to Matthew
Like Edith, pretty much every other character found their happy ending, too. Here's a brief summary.
Mary and Henry: Not only did they remain head over heels in love, but Mary became pregnant with their first child. Oh, and Henry even quit the race car driving business for good, but not due to Mary. It just wasn't the same for him after Charlie's death.
Robert and Cora: They walked away blissfully happy with their lives and knowing that their children were also happy. As Robert said, "What more could we ask?" Cora responded, "A long and happy life together just we two to watch the children grow. That's all I want." To which Robert replied, "Then, why not?"
Branson: He and Henry started their own automotive business. Oh, and it was also hinted that Branson and Edith's editor, Laura Edmunds, would have a future relationship.
Bates and Anna: Finally, these two found even more happiness with the birth of their baby boy. Unfortunately, his name remains a mystery.
Carson and Mrs. Hughes: Despite Carson having to walk away as butler, due to a debilitating illness in which his hands shake, Carson stayed at Downton in the role of elder statesmen. Oh, he and Mrs. Hughes also remain married and supportive of one another.
Violet and Isobel: Not only did Isobel realize she was very much in love with Lord Merton (sorry, Dr. Clarkson), but the two actually tied the knot. The final episode also dedicated wonderful scenes to Violet and Isobel's beautiful friendship.
Barrow: Despite leaving Downton for another job, he found his way back by taking over Carson's position. That's right, Barrow became the butler of Downton Abbey.
Baxter and Mr. Molesley: A future relationship was also suggested between Baxter and Molesley (duh), in addition to Molesley taking on a full-time teacher role at the school.
Daisy and Andy: After Daisy being horrible to Andy, she finally gave into her feelings for him. Who knows if they will last, but it appears they will pursue a romance.
Mrs. Patmore and Mr. Mason: It's been hinted at for a bit now, but the series finale most definitely suggested that Mrs. Patmore and Mr. Mason would have a future relationship. So I guess Daisy and Mrs. Patmore will forever be family, and I can't complain about that.
That's that. Thank you, Downton Abbey, for being such a huge part of so many fans' lives and bringing such joy. You will be missed.
More: Downton Abbey's Carson is officially the most infuriating character ever
Before you go, check out our slideshow below.