By this point in time, I hope you have binged all of Fuller House (like myself) or have at least started the revival Netflix series. Seriously, what are you waiting for? If you're hesitant about pushing play, especially if you were a Full House fan, maybe this will persuade you. Not only do the new episodes push the boundaries, but Fuller House does not shy away from sexual innuendos.
More: Fuller House trailer: 7 references to the original series (VIDEO)
That's right, there is a lot of sex talk in the Tanner-Fuller household. Who would've thought? I definitely didn't expect all of the dirty jokes dropped by the adults and even the kids. When it comes to the 2000s and Netflix, a sitcom once known for its wholesome family goodness can definitely step over the line a bit. Granted, some families might find the jokes inappropriate, because I'm sure younger viewers are like, "Huh? What do they mean by that?"
Whatever the case, Fuller House definitely took the more mature route by integrating a lot of adult humor. With that, here are just a few of the times those surprisingly sexual innuendos were dropped throughout the first season.
1. When Uncle Jesse said this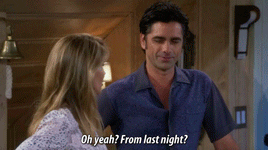 After walking down to the kitchen from the attic, Becky uttered, "I'm exhausted." Uncle Jesse couldn't help himself and said, "Oh yeah? From last night?" FYI, no, it wasn't because of their supposed hot and heavy time spent in their former home.
2. When Stephanie said this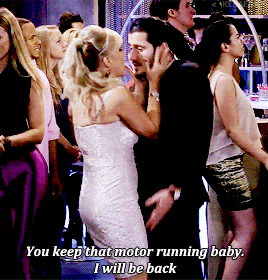 Dancing With the Stars' Val Chmerkovskiy has quite the effect on people, including Stephanie Tanner. While dancing with him at the club, she said to him, "You keep that motor running, baby. I will be back." Yeah, I'm sure Stephanie wants to keep dancing with him, but I'm pretty sure she has some other things on her mind when it comes to Val.
3. When Jackson said this
Yes, this was said by Jackson, D.J.'s oldest son. As you can see above, he said, "I was up all night erupting my volcano." Obviously, he was referring to his volcano project, but there is a clear double entendre.
More: The Fuller House cast reveals why the Olsen twins opted out of the reboot
4. When D.J. said this
There had to be at least one moment of mistaken identity in Fuller House, and this was it. After Kimmy found a date for D.J. (without her knowledge) online, D.J. ran into him in the living room. However, she thought he was the plumber she hired and their conversation definitely took a sexual turn, at least in her date's eyes. Upon seeing him, D.J. said, "Should we get started?" She then added, "I don't need conversation. I just need a man to get to work on my pipes." It didn't stop there, because D.J. also said, "Well, I wish I could do it myself. Unfortunately, I need help."
5. When Becky and Jesse said this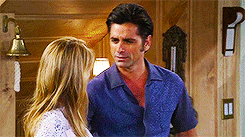 In the Season 1 finale, Becky promised to give Jesse the "Becky special" if he allowed Kimmy and Fernando to get married at their vow renewal. Later on in the same episode, after coming home from Kimmy's bachelorette party, Becky wanted to head upstairs to put Tommy to bed. At this point, Jesse was frustrated, and said, "Don't make make me give myself the Becky special."
6. When Fernando said this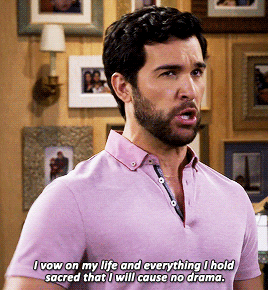 Whenever he is around Kimmy, Fernando can't help but be sexual. For example, like that time he said to her, "I deserve to be punished," after he let their daughter, Ramona, drive a race car. Hey, kids, he doesn't mean grounded or made a chore list.
7. When Stephanie also said this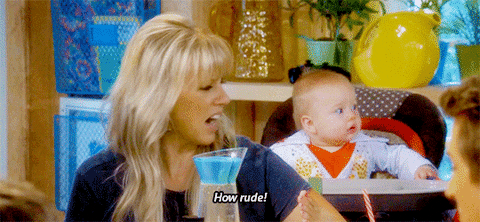 Upon receiving a text from her old friend and "husband" Harry Takayama, Stephanie said to Aunt Becky, "He's a lot of fun in bed." To be clear, she didn't mean literally, but was just referring to that time they played innocently on the bed when they were younger.
Yeah, I'm pretty sure Full House would've never incorporated any of those sexual innuendos. Now don't you want to tune in to see how all of these played out and if their delivery was on-point? If you're still not convinced, all I have to say to that is, how rude!
More: Candace Cameron Bure says Fuller House is 'racier' than you think
Before you go, check out our slideshow below.