How to Get Away with Murder returned from its winter hiatus with an explosive midseason premiere, but the drama is just getting started. As executive producer Peter Nowalk recently revealed to Entertainment Weekly, there are many more twists and turns to come in this season's remaining episodes. Below, check out seven major spoilers for the rest of Season 2. (Warning: don't read if you haven't seen last night's premiere.)
1. We'll learn more about Annalise's baby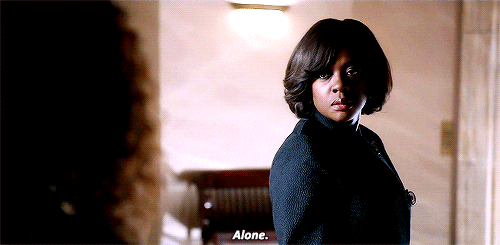 One of the biggest bombs from the HTGAWM midseason premiere was learning via flashback that Annalise was once pregnant with a baby boy. Of course, now the big question is, what happened to him? Nowalk says the show will be answering this and other lingering queries about Annalise's past in the second half of this season.
"We're going to be flashing back to 10 years ago and revealing a big part of her past. So we'll see [late husband] Sam again," he told Entertainment Weekly. "We'll see other characters from our show from 10 years ago. I don't want to say who. It's her past coming back to haunt her, but it's also how you can't ever run away from your past — like the scars that you have always show up again if you haven't really let them heal properly. She has not healed properly. "
2. The truth about Wes' mother will finally be exposed
The midseason premiere featured a revealing flashback in which a pregnant Annalise meets Wes' mother, Rose, for the first time on a playground. As we learned earlier this season, Rose supposedly committed suicide when Wes (then named Christophe) was young. The now grown-up Wes is left grappling with the fact that Annalise not only knew his mom, but has also been keeping tabs on him ever since her death. It's a pretty tangled web, but thankfully, the show will unveil the connection between Annalise and Rose (and the role that the former might've played in the latter's death) sooner rather than later.
"We're going to be telling the story of what happened to Wes' mother over the back six episodes, so we'll see flashbacks in each of those episodes," Nowalk said, also confirming that the details of Rose's death will serve as the new "murder mystery we're trying to solve."
More: 6 New clues from How to Get Away with Murder Season 2 trailer
3. Wes won't ever be the same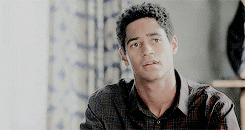 It might be time to get "The Puppy" a new nickname. Having accidentally killed Sam in the first season and purposely shot Annalise earlier in Season 2, Wes isn't exactly the same innocent boy we first met in the pilot. This irrevocable change in him will be a factor going forward. "Like Annalise is traumatized in the first episode, we'll see that Wes is completely traumatized too," Nowalk teased. "I think the only thing that actually makes him want to move on is to find out answers, but they're both bonded in their complete, disturbed, psychological state. "
4. Asher will show a more serious side
We know Asher as the lovable goofball who can always be counted on to bring a little comic relief to an otherwise highly intense show. But that will change this season, following his dad's death (which Asher firmly believes was a result of murder and not suicide, as presumed). "He is trying to cover up his pain. Asher is very young emotionally and has never dealt with something this heavy, so he's really leaning on everyone else to tell him: how does he do this?" Nowalk explained.
In order to cope, Asher will set off on his own investigation into his dad's death. "We're going to see a much more serious, heavy side of Asher, but I think he still resembles himself. We'll see who he has to lean on," Nowalk said.
More: Crazy theories on who killed the Hapstall parents on How to Get Away with Murder
5. Laurel will be torn from all sides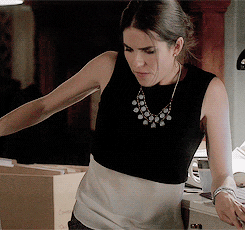 As we saw in the midseason premiere, Laurel is being pulled in all kinds of directions — checking on Wes, being Annalise's new Bonnie and dating Frank. This makes her life very complicated the rest of this season, as Nowalk acknowledged to EW. "[Laurel] was the only one in the room with Wes when he shot Annalise and witnessed the things that put her in the middle of Wes and Annalise. She's also involved with Frank and she's basically torn between all these alliances, and who does she protect and who does she trust and can she handle it all is the question," he explained, also promising there will be "some big bomb-drops for her" in the back half of the season.
More: 11 Predictions for How to Get Away with Murder Season 2
5. Some new characters will surface
According to Nowalk, a new family known as the Mahoneys (played by Adam Arkin, Roxanne Hart, and Wilson Bethel), will show up later this season as a pivotal part of a murder case. "They will appear over the back six of the series, and they're an investment banker, rich family who play a big part in Annalise's life," he teased.
6. We'll learn exactly why Frank killed Lila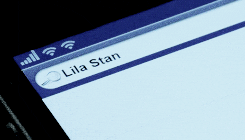 Yes, after all this time, viewers will finally learn why exactly Frank owed Sam enough that he'd kill Lila on his request. "That was always a goal and something we knew we had to answer by the end of the season. Why did Sam have Frank kill Lila?" Nowalk said. "We will be answering that in a way that kind of links a lot of our storylines. We'll see exactly what that favor is and where it comes from by the last episode."
7. The Hapstall parents' murder mystery will be solved
As fans know, this season originally started off with Annalise and the Keating Five taking on the defense of the Hapstall kids, who were suspects in the murder case of their parents. But things have gotten a lot more complicated since then. In the midseason premiere, Catherine is in court, facing accusations of shooting Annalise and Emily Sinclair (which we know she didn't do). However, after some master manipulating on Annalise's part, Catherine admits to shooting Annalise — but only after getting drugged by the now-missing Phillip. Thanks to her (false) confession, Catherine is able to strike a plea bargain, only getting five years in a minimum-security prison in exchange for her testimony against Phillip.
But while Phillip might be getting fingered as the culprit by Annalise and her gang, that doesn't mean he actually is the real murderer. So who did kill the Hapstall parents? "Right now, the world thinks that Phillip did it and maybe Catherine was involved in some way," Nowalk teased. "So we'll reveal whether that's true."
Clearly, fans are in for a whole lot of jaw-dropping revelations in the coming weeks (and in true HTGAWM fashion, probably just as many more questions).
How to Get Away with Murder airs at 10/9c on Thursday nights on ABC.