Most people — even the fiercest of Real Housewives of New York fans — had no idea LuAnn de Lesseps was dating anyone. So, naturally, when it was revealed over the weekend that de Lesseps got engaged, everyone was all, "Whaaaa?" As it turns out, de Lesseps and her now-fiancé, Thomas D'Agostino, Jr., haven't been together all that long. But, clearly, that doesn't mean they're not head-over-heels for one another.
If you're like any self-respecting Bravo fanatic, you're probably wondering who this D'Agostino dude is — and if he's as sexy as "The French Johnny Depp". Here, we've gathered up all the info about D'Agostino — and we've gotta say, this may be de Lesseps' best choice yet. #sorryjacques
Here, everything you need to know about Thomas D'Agostino, Jr.
More: RHONY's LuAnn de Lesseps & her new beau could be tying the knot soon
1. He's bonkers for de Lesseps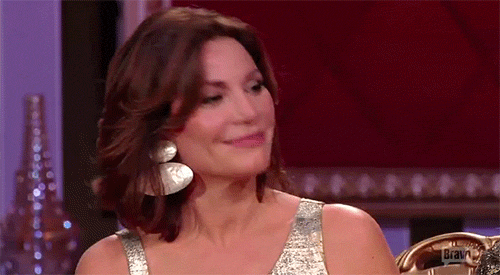 Obviously D'Agostino is really into his lady if he just popped the question, but the way he gushed about her to People recently was pretty dang adorable. When telling the story of how they bumped into each other at a restaurant when they were both with other people, D'Agostino said, "We were each with other people but started talking and it was magic. We have been inseparable ever since. She is like an asteroid who has impacted my life." Hashtag: Awww.
More: RHONY's LuAnn de Lesseps addresses the Heather Thomson casting rumors
2. He's the Prez and CEO of Smart Source
D'Agostino runs Smart Source LLC, which, according to the Daily Mail, is "a print and promotional distributor which promises a 'one stop shop' for any company looking for a way to manage branded communication costs." And clearly D'Agostino loves what he's doing and it's doing well, because, according to his LinkedIn, he's been there for 12 years.
More: Countess LuAnn de Lesseps on helping loved ones cope with breaking up
3. He dated Ramona Singer
File this one under "What the what?!" But yeah, according to Radar Online, D'Agostino and Singer dated briefly in 2015. Supposedly, Singer wasn't looking to settle down or date exclusively at the time, but yep. They hooked up!
4. He's impatient
Sources claim that D'Agostino was planning on popping the question to de Lesseps on Valentine's Day while the two were in Vail, but he simply couldn't wait that long. D'Agostino presented his lady with an 8 carat canary yellow diamond ring over the weekend, because, duh, he wants to get the show on the road.
5. He's a jetsetter
Perfect for de Lesseps! According to People, D'Agostino owns a place in New York City, as well as West Palm Beach, Florida. But, being that he has business all over the world, he's constantly on a plane, jetting off from one place to the next.
6. He's an avid golfer
Apparently, D'Agostino isn't the sit-around-and-do-nothing type. He's expressed that he has a "zest for life," and among that zest is a mean golf game.
7. He's friends with Dorinda Medley
Before D'Agostino and de Lesseps bumped into each other at dinner, they evidently were introduced by RHONY star Dorinda Medley. And let's be honest, people: Any friend of Medley's is a friend of ours.
Congrats, guys!