Wherever Faye Resnick goes, it seems she makes a splash — for better or for worse. While she's never been an official cast member of The Real Housewives of Beverly Hills, she's been making appearances on the show here and there for the past few years. Resnick always has an ally in her BFF, Kyle Richards, but when it comes to the other girls — Camille Grammer, Lisa Vanderpump and Kathryn Edwards — not so much.
With the recent spat between Edwards and Resnick on RHOBH and the widely talked-about FX series The People v. O.J. Simpson, Faye Resnick has become a major topic of conversation lately. We all know she was friends with Nicole Brown Simpson and that she's an LA girl through and through. But who is Resnick really?
More: What RHOBH's Faye Resnick actually wrote about Kathryn Edwards in her book
Here are seven things your probably didn't know about her.
1. She's been married four times
Resnick has been married four times and divorced three. She's currently married to Everett Jack Jr. (who she wed at Kris Jenner's house.) Previous husbands include Rick Barnett, Paul Resnick, and Fadi Halabi, who she met in London while pursuing her modeling career.
2. She has a daughter
Resnick and Halabi have a daughter together, Francesca Resnick, who, is insanely adorable on Instagram.
More: David Foster's recent actions contradict the nasty divorce rumors
3. She's posed for Playboy
After everything went down with O.J. Simpson, Resnick was in demand. And, of course, Playboy came a knockin'. Holy hotness!
More: Yolanda Foster reveals her thoughts on post-divorce announcement
4. She had a heartbreaking childhood
Resnick's biological father left her and her three siblings and their mother when she was very young. Her mother eventually remarried, and Resnick revealed that her stepfather beat her regularly for wetting the bed. Absolutely awful.
5. She grew up thinking Armageddon was near
In a Los Angeles Times article, Resnick revealed that her mother was a religious fanatic who convinced her that the world was going to end in 1975. "I think that's why I had my first sexual encounter at 16 — I didn't want to miss the experience before The End."
6. She's battled addiction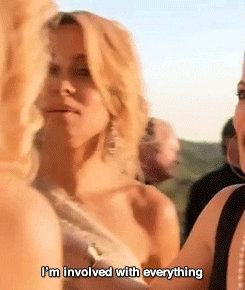 After Resnick published her book, Nicole Brown Simpson: The Private Diary of a Life Interrupted, a People magazine article stated, "[Resnick], an admitted cocaine addict, has been in and out of three rehabilitation programs in the past eight years. Although she maintains she is currently clean, her past drug use has led some to question her credibility."
7. She was the director of a finishing school…?
Resnick has stated numerous times that she once held the position of the director of a John Robert Powers finishing and modeling school. However, the company has no record of her employment. Insert confused-face emoji here.
What do you think of Faye Resnick?