Besides Branson finding his footing once again, Lady Mary's possible romance with Henry Talbot and Anna and Bates' happy (and hopefully permanent) news, Sunday's Downton Abbey appeared to be teasing fans with the possible sickness and/or death of a major character. Leave it to the period drama to kill off a character during its final season. By no means do I know if that's what happens for sure, but I am on edge. With that, I will ask the question I'm sure is running through the minds of all viewers: What is wrong with Lord Grantham?
More: Is Downton Abbey's Thomas trying to woo Andy?
Seriously, Robert Crawley is making me extremely nervous. Is he sick? Is he dying? Does he just have bad indigestion or possibly acid reflux? It remains unclear at this point, but my gut is saying there is something much bigger going on than meets the eye with what he is deeming stomach issues.
Obviously, Downton is planting a seed regarding Robert's storyline, which means viewers will have to keep tuning into see how his story ends up. The final season might very well close with his death.
Of course, parting ways with a character isn't anything new for Downton. Let's think back to Season 3 when it was absolute torture and heartbreak saying goodbye to both Sybil and Matthew. I mean, the series isn't afraid to make its audience angry and cry. So, I'd recommend fans start preparing themselves right now to bid adieu to the Crawleys' patriarch.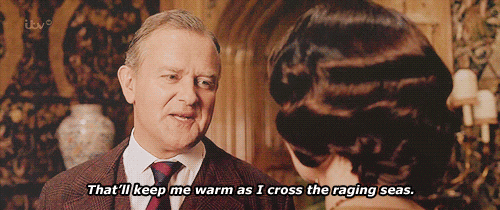 More: Downton Abbey's Anna and Bates finally find some peace, but will it last?
Now, don't get me wrong, I don't want to see Robert die, but it just might be the thing to open the door for Lady Mary to officially take over as agent and manage the estate. Of course, that's what she's doing now, but Mary is also finding help from both Branson and her father.
That said, it seems Branson is willing to let Mary take charge. As for Robert, he's finally loosened up and welcomed the modern ways of women holding prominent positions of business. In an early Season 6 episode, he even told Mary that he is fine with her taking over the estate after he's gone.
Either Robert's approval of Mary is a bit of foreshadowing or Downton is just trying to trick viewers into thinking Robert is a goner. You know what that means? Maybe someone else will bite the dust out of nowhere, which would be the ultimate twist and tearjerker.
Whatever the case, the final season of Downton could soon look different. If not, let's hope Robert seeks some medical attention, stat.
Downton Abbey airs Sundays at 9/8c on PBS.
More: Downton Abbey: Season 6 predictions for the ladies of the Grantham household