The return of the Tanners, Uncle Jesse and Aunt Becky, Uncle Joey, and Kimmy Gibbler is almost here, and die-hard Full House fans can taste it. Even though Fuller House doesn't premiere until February, Netflix was nice enough to release the first four official photos from the series reboot. Yes, it is as glorious as it sounds. Have mercy.
More: John Stamos reveals who they asked to play Michelle Tanner on Fuller House
That said, let's check out the photos. As a refresher, both D.J. and Kimmy are now moms. Not only is D.J. a widow, but she has three boys: 12-year-old Jackson, 7-year-old Max and baby Tommy Jr. Kimmy is a divorced mom to teenage daughter Ramona.
OK. Now let's really look at the pictures.
More: Candace Cameron Bure and Scott Weinger tease Fuller House romance (PHOTOS)
Where to even begin? This is a lot to take in, especially with Uncle Jesse's perfect hair distracting me. To see the beloved TV family all back under one roof is more than I can handle. That said (after I stopped freaking out over the pics), I analyzed each photo and stumbled upon some clues about the 13-episode Season 1.
1. The Tanners have the same furniture
It's been over 20 years since the end of Full House, and you're telling me the Tanners couldn't get new furniture?
2. Kimmy still has amazing clothes
Kimmy's style was always eclectic, and it's even more so now, but with some sophistication. Don't tell me you don't want those floral heels or need that cat cardigan.
3. Women are taking the lead
This time, the series will focus on three women as the leads, rather than three men. Obviously, the other characters will be around, too, but based on these photos, D.J., Kimmy and Stephanie seem to be at the center of the show.
4. More wholesome, family moments
Just look at that hug! The more hugging moments, the more it will be like Full House. Plus, the family gathered in the nursery? I have a feeling a lot of life lessons and cheesy talks will go down there.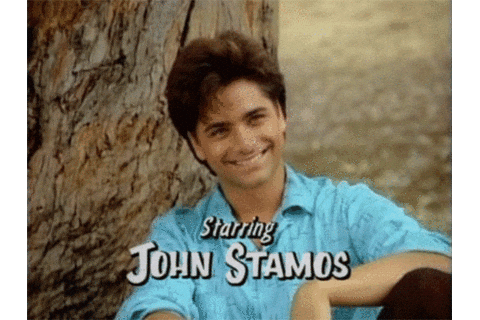 5. Uncle Jesse's hair is still perfectly coiffed
Did you expect anything less?
6. Aunt Becky and Uncle Jesse are still super in love
Aunt Becky can't take her eyes off of Uncle Jesse and it's making me feel things.
7. There's a new Mr. Bear
If you look at the photo with the nursery, you'll spot a bear on the shelf. He'd better watch out, because there will only ever be one Mr. Bear.
Fuller House debuts on Netflix Feb. 26.
More: QUIZ: The hardest Full House quiz you'll probably ever take