Well, the beginning of the end for Downton Abbey is here in the States. As sad as that is for fans who've watched since the very beginning, it's also exciting to watch brand new episodes. It has been way too long of a wait, if I do say so myself.
More: Downton Abbey trailer teases new details about the emotional final season
There's no doubt the final season is all about moving "forward," as Lady Edith put it. From Mr. Carson and Mrs. Hughes getting married to Lady Mary taking a strong place as runner of the Crawley estate to Lady Edith establishing a life to Lord Grantham weighing the possibilities of the times and downsizing at Downton, there is a lot of change happening, which is to be expected.
The same can be said for Bates and Anna, who are seeing change in a positive way. After five stressful and tumultuous seasons, it's about time there is some happiness in the beloved couple's lives. I mean, how much more can they really take? So, when it was announced during the Season 6 premiere that the real culprit who pushed and killed Mr. Green confessed to the crime (and her confession was proven by a witness), I'm pretty sure all fans rejoiced.
For those who don't recall, Season 5 closed with Anna being the main suspect. Sunday's brand new episode opened up with Anna being released on bail, but still not officially cleared of the murder. However, at the end, a police officer announced that Anna is off the hook. It's about time that this storyline came to a close. Finally, both Bates and Anna can move forward.
More: Downton Abbey: Season 6 predictions for the ladies of the Grantham household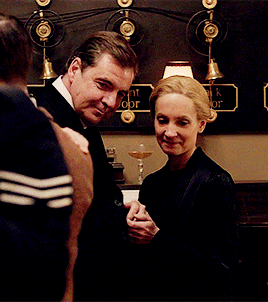 Before viewers get too excited, yes, the two found some peace, but it's definitely not as simple as it appears. It wouldn't be Downton without Anna and Bates facing some kind of trouble in their marriage — or on the show, right? For them to have happiness is just out of the question at this point. Anyway, this season it looks like it's going to be Anna's struggle to get pregnant. As she revealed to Mr. Bates, she's had several miscarriages. She knows how much Bates wants children, and she feels like she let him down for not being able to carry a child to full-term (at least at this point in time).
In typical Bates fashion, he assured her that all he needs in his life is Anna. After everything they've been through, Bates let Anna know that she is what truly makes him happy and the only thing that matters. Anna doesn't seem convinced and is still quite upset about the situation, and rightfully so.
So, despite their little bit of happiness, it sure seems like Anna and Bates are going to encounter even more hard times. That said, at least they have each other to lean on during all the difficult times. If anyone can work through it as a team and loving husband and wife, it's Anna and Bates.
Plus, seeing as it is the final season, there's no way the series would create an unhappy ending for the two, right? Let's keep those fingers crossed.
Downton Abbey airs Sundays at 9/8c on PBS.
More: Downton Abbey empowers women of all ages to keep having sex