If there's one thing Kim Zolciak loves, it's posting über-sexy photos of herself to Instagram. And this week is no exception.
On Monday, Zolciak posted half-naked photos of herself on her account, showing her dramatic pregnancy weight loss. The first shot is of her two days before she gave birth to her twins. Crazy! The second is her four days after giving birth, which, again — crazy. The third, 11 days, and the last, a month. It goes without saying that Kim looks good at every stage of the game here, no?
More: Kim Zolciak says she doesn't Photoshop… and she has evidence
Here, check her out:

Pretty damn incredible, no? The woman has had six kids — four of them in two and a half years. That's nuts.
More: Kim Zolciak's new waist branded "gross" and "unhealthy" by fans (PHOTO)
While seeing pics of Zolciak with her pants pulled down and in her underwear and bra isn't exactly everyone's cup of tea, there's no denying that she managed to get back into shape fast after having kids. (Also, all natural deliveries? Damn, woman!) But, being that we're talking social media here, of course there are the haters criticizing Zolciak for posting such a picture. And, you know, for existing.
More: Kim Zolciak's huge new gig is causing her biggest fans to freak out
If you peruse the comments on Zolciak's post, it doesn't take long to get to the ones that aren't so nice. Because there are a lot of them. As many of the people who come to Zolciak's defense say, "If you don't like her, don't follow her." These kinds of photos aren't for everyone, and many people do take issue with them. But can't we just live and let live? Does it really warrant a dissertation on Zolciak's photo?
Being that she's often being criticized for the kinds of photos she posts — and for the fact that many people think she's had plastic surgery (though she won't admit it) — it's evident that Zolciak really doesn't care what people think, as she keeps on posting pictures like this. Clearly, she's confident with herself and secure with the decisions she makes for herself and for her family.
And who can criticize her for that?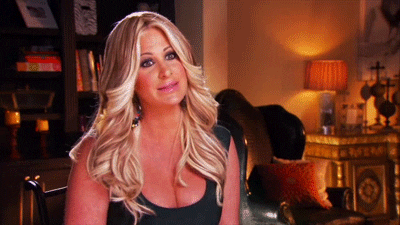 What do you think of Zolciak's photos?