As Pretty Little Liars fans may recall, Aria and Ezra went their separate ways in the Season 6A finale. So, what now? Is Ezria over for good or is there still hope for the beloved couple? Based on some new information, it seems like things could go either way for Aria when it comes to new and old loves.
More: PLL: "Who's in the coffin?" and other questions raised by the new 6B poster
Actor Roberto Aguire spoke with Bustle about his new PLL character, Liam, who becomes quite tight with both Aria and Ezra. Well, that might make for one awkward love triangle, if that is indeed what's ahead. According to Aguire, Liam is an editorial assistant based in Boston who works with both Aria and Ezra. "Where we see [Liam] at the beginning of the second half of the season is him helping Ezra get his book published, after having gotten his first one published," Aguire teased. "So that's kind of where I jump into the story five years after the flash forward."
That said, fans might recall that during the special, Pretty Little Liars: 5 Years Forward, Lucy Hale spoke of Aria's new man named Liam. "She's in a new relationship, she's fallen in love again," Hale dished about Aria. She also teased that Aria and Ezra do work together, but they are not together "in a romantic way."
Hmm… so is this Liam the same Liam as Aguire's character? I would say so, which means Aria and Liam take their professional relationship to the next level. However, Ezria shippers shouldn't get too upset yet, because based on what Aguire told Bustle, he made it seem like Aria and Liam are just friends and coworkers.
More: What PLL's new sneak peek taught me about Season 6B (VIDEO)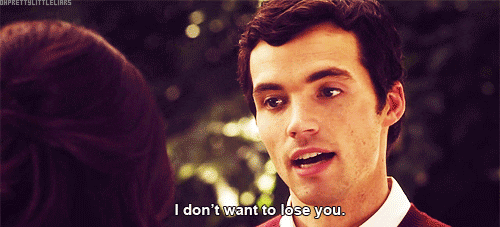 Unlike Hale, Aguire remained mum about Liam and Aria's relationship. When asked if a romance would blossom between Aria and Liam, he said, "Yeah, who knows!" He added, "Right now the cool thing is all three of them are working together to get Ezra's book published, which is great. To have him actually become a successful author is fantastic."
Seeing as Hale and Aguire are saying two different things about Aria and Liam's relationship, what does this mean? Is Aria getting a new love interest or not? Are the two playing games with their fans to throw them off the scent? Maybe this means good things for Ezria, despite Hale insisting that the two won't be romantically linked?
I have a feeling Hale is speaking the truth and Aguire is just remaining mum. As a new actor on PLL, he probably knows that you must keep things secret or certain story lines will be spoiled. Plus, where's the fun in giving details away when fans should just watch the show themselves and see how things develop.
As of right now, it sure seems like Aria's career is blooming — and so is her love life. Here's hoping it can all withstand whatever the new "big bad" throws her way while back in Rosewood.
Pretty Little Liars Season 6B returns Tuesday, Jan. 12 at 8/7c on Freeform, the new name for ABC Family.
More: Pretty Little Liars: Will the new "big bad" be anything like A? (VIDEO)