In the latest episode of Arrow, the team taught us some valuable lessons about what's important during the holiday season.
1. Caring for the environment is more important than getting presents
When Oliver Queen (Stephen Amell) asked the people of Star City to come out and clean up the bay, they didn't hesitate. Sure, they didn't know that a crazy person would try to kill them, but even if they had, I'd like to think they would have done it anyway.
More: Arrow's time travel episode: Cool plot twist or just plain lame?
2. A brother in a cage is better than no brother at all
John Diggle (David Ramsey) understood the true meaning of the holidays when he said that he was happy to have his brother in his life — even if that brother was being controlled by Darhk (Neal McDonough). Sadly, they didn't reconcile by the end of the episode but where there's life there's hope, right?
3. Mixing traditions is a good thing
Mama Smoak made sure that Felicity's (Emily Bett Rickards) Jewish background was represented at Queen's holiday party and it was just too darn cute for words.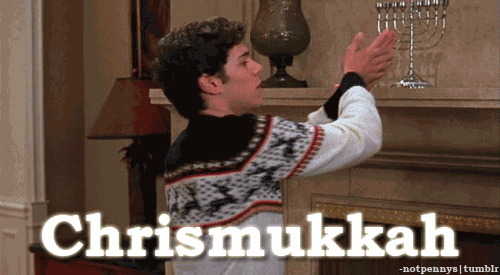 4. It's worth ruining the surprise for your mother's happiness
I would have preferred that Felicity had found out about her engagement when Queen did something unbelievably romantic like baking the ring in a dessert like he wanted. But it was worth having the surprise ruined to hear Felicity's mom's scream of joy when she found the ring.
5. You can't let the terrorists win
Mama Smoak said it all. None of us can afford to let the terrorists win, especially not anyone living in Star City.
6. Don't cancel your holiday party just because you're in danger
It may not have worked, but I had to admire Queen and the rest of Team Arrow's gumption at going through with the party even though they knew the chances were high that Darhk would show up and ruin it all.
More: 8 Reasons Arrow's resurrection story lines are getting annoying
7. The holidays can help any father/daughter relationship
Whether it was Thea and Malcolm getting along for a few minutes or Laurel and Quentin having a good heart-to-heart about their feelings, the father and daughter relationships in this episode were definitely on the mend… at least for a little while.
8. Holidays are the time for some surprising love connections
Felicity looked like she wanted to scratch her eyes out when she saw Quentin and Donna together. Laurel looked like she wanted to kill someone. But I'm hoping that Mama Smoak and Captain Lance have a long-lasting love.
9. Don't hold onto the big secrets
After Felicity found out about the proposal that almost was, I dreaded waiting months until she brought it up with Queen. Instead, she put it right out into the open so that they could talk about why he waited and why she needed him to know that they should be together no matter what.
10. It's not a good holiday story without a really bad guy
So many great holiday movies and specials are about overcoming some obstacle in order to celebrate with the ones you love. Darhk is evil incarnate, but he does give our heroes a reason to work together.
11. Good friends are always there to save the day
With practically everyone locked up by Darhk, it was up to Laurel and her dad to step in and help out. Even Malcolm got in on the action, dressed up as the Green Arrow so he could get his daughter and the others away from Darhk. That big fight scene, with everyone working together, made me feel all warm inside.
12. It's never too late for a proposal
Months after he planned to do it originally, and in a much more public place, Queen finally proposed to Felicity and it was a beautiful thing. Yes, I cried, don't mock me.
13. The biggest scrooges still have loved ones
Darhk has a wife and daughter? That is not something I saw coming at all, but maybe it means there's enough humanity in him to save the people of Star City.
More: Why Arrow's Mama Smoak just went from totally hateable to totally dateable
14. Christmas is the time for miracles… we hope
After the proposal and the party, Queen and Felicity drove home and the air was ripe with the anticipation of something terrible about to come. It happened when they were attacked and Felicity was gravely injured. Please let her recovery be another one of those holiday miracles we all hear so much about.
What lessons did you learn watching the holiday episode of Arrow?