It's mirror ball love! On Saturday, Maksim Chmerkovskiy proposed to fellow Dancing With the Stars pro Peta Murgatroyd — and she said yes! The proposal took place on the dance floor (where else?) while the pair was performing Sway at the Olympia Theater in Miami.
Before popping the question, Chmerkovskiy sweetly told Murgatroyd, "I'm in love with you, and I will be in love with you for the rest of my life." Murgatroyd — along with many of the other dancers — broke down in tears. After the pair became betrothed, Chmerkovskiy posted a cute photo to Instagram:

Adorable. And, of course, now that the couple is set to be husband and wife, we all want to know everything we can about this sexy pair's relationship.
More: Jennifer Lopez, Maksim Chmerkovskiy reportedly dating
Wanna know the backstory on Chmerkovskiy and Murgatroyd? Of course, you do! Here are five things to know about their relationship.
1. Chmerkovskiy has known he wanted to pop the question for a while now

Evidently, proposing to Murgatroyd wasn't something Chmerkovskiy decided on a whim. He's known for years that he wanted her to be his wife. "I kind of knew a couple of years ago," Chmerkovskiy told reporters after the engagement. "But it's a process. With this family, the hardest part of the process was to keep it a secret. This was definitely the best decision I ever made." Awww.
2. Murgatroyd is fine doing her own thing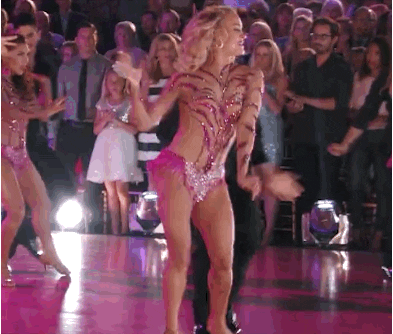 Sources say that Murgatroyd is so not the type to want to be with Chmerkovskiy 24-7. She's got her own life! An insider revealed, "[Murgatroyd] is so the opposite of clingy and is content to just spend time with him and be happy." Good for her.
More: DWTS: 5 Reasons Bindi Irwin should win the mirror ball trophy
3. Murgatroyd has been "in" with Chmerkovskiy's family for a long time

According to Chmerkovskiy, his family has been wanting him to pop the question for a while now. When he was asked if he was feeling pressure to take his relationship with Murgatroyd to the next level, he replied, "I mean, they were all giving me the stink eye here and there, but she was already family, and this is just a formality."
Chmerkovskiy's younger brother and fellow DWTS star, Val Chmerkovskiy, echoed the sentiment. "The thing is, Peta's been part of the family for so long, it was a natural thing, but it was [also] an overdue thing," Val said. "We were all waiting for it. But I think when it happens, it's fairly surreal and it's beautiful."
4. They dated… and then broke up… and then dated again

Chmerkovskiy and Murgatroyd dated for 10 months between 2012 and 2013, and then they reunited earlier this year. The pair stayed quiet about their relationship, but there was no denying it once photos of the two of them holding hands in West Hollywood hit the Internet.
More: Bikini pic of Kim Zolciak and her daughters bashed as trashy
5. Their relationship was… tumultuous
Before Murgatroyd and Chmerkovskiy got back together, a friend of Murgatroyd said she was a bit skeptical at first. "Peta was wary at first since they fought so much and ended on such a bad note the last time, but he has been working hard to really be a good guy to her and show her that he's changed," a source told Us Weekly.
And look where they are now.
Also, for those of you who weren't at the actual engagement (read: All of us), a fan happened to catch the sweet proposal on tape. Woohoo for YouTube! Check it out:
https://youtube.com/watch?v=j5SlCq3Zu5c
Congrats to the happy couple!
How cute are these two?!