Well, it looks like there's a new liar in town. If you thought Jax lied a lot, James is right behind him and clearly following in his footsteps. During Monday's Vanderpump Rules, I don't think I've ever seen someone lie so much in one episode. Every time James held a conversation with Kristen, Lisa or Lala, the British DJ's nose grew just like Pinocchio's.
More: Vanderpump Rules: 7 Reasons why James and Kristen's relationship is a disaster
What makes the lies worse is James turns around and laughs about them during his confessionals. Really, James? Really? It shouldn't surprise me, especially since this is Vanderpump Rules. Anyway, let's take a moment to reflect on all the times James couldn't tell the truth throughout Monday's episode. FYI, it's most definitely more than once.
1. When he called hanging with Kristen a "blessing"
If it was such a "blessing," you wouldn't repeatedly lie to her and cheat on her.
2. When he said he's "the happiest guy ever"
James told Kristen he's so happy when they're not fighting. A part of that might be true, but I'm calling his bluff that he is "the happiest guy ever."
3. When he said he feels bad about lying to Kristen
Do you, James? Do you? I'm pretty sure if you truly felt bad, you'd confess.
4. When he said he loves Kristen
If you really love Kristen, you wouldn't lie or have sex with someone else. That's not how love works.
More: Vanderpump Rules Season 4: 7 Things to know about the new girl (PHOTOS)
5. When he denied having sex with someone else
Bold. Faced. Lie.
6. When he pretended everything is fine
He told Lisa everything is fine, but viewers obviously know that's another lie.
7. When he told Lisa he is behaving
Sure you are, James.
8. When he said he was in a "truth circle" with Lala
While chatting/flirting with Lala, James said they were in a "truth circle" together. I'm pretty sure James is nowhere near capable of setting foot inside a "truth circle."
9. When he said he doesn't cheat
Twice in one episode James said he's not a cheater. First, he told Kristen that and then he told Lala the very same thing.
Warning: If you're ever walking in the street and you see someone resembling the character (aka James) in the GIF below, run as fast as you can in the opposite direction.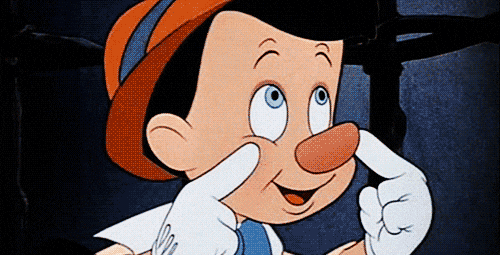 Vanderpump Rules airs Mondays at 9/8c on Bravo.
More: Vanderpump Rules' Kristen Doute's new boyfriend could be marriage material
Did you need a drink during last night's episode? Make sure you play the Vanderpump Rules drinking game, created by Tom and Ariana!