Tonight's episode of How to Get Away with Murder was phenomenal — that much is not up for discussion. I think we can all agree, right? What is still very much up in the air, however, is who is responsible for shooting Annalise Keating.
More: How to Get Away with Murder: 6 New clues from Season 2 trailer
It's been the looming question nearly all season and tonight's climactic episode did little to quell our curiosity. In fact, it only stoked the flames of our fascination (not to mention, igniting our libido… hello, Nate!). Ever since the first flash-forward of Season 2 revealed Annalise lying in a pool of her own blood in her clients' living room, we've been, er, dying to know who pulled the trigger.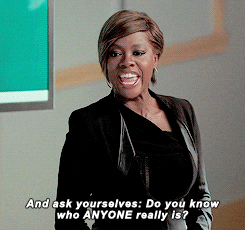 Since next week is the winter finale, we can only hope pray assume the identity of said mystery shooter will be revealed in due time. And by due time, I obviously mean next week.
But since patience has never been my strong suit, I've put together a suspect pool of my own to dwell on until next Thursday. Join me in obsessing, won't you? Here are the potential offenders.
Catherine Hapstall
Looks can be deceiving, and I fear Catherine's sweet face may have us all fooled — after all, she is being defended by Annalise on the charge of murdering her parents. Tonight's episode seemed to imply Catherine might be to blame, considering her newly minted connection to her possible coconspirator/half-brother-cousin Philip. Not to mention, a flash-forward reveals Frank dumping her body in the woods.
Philip
Ditto to essentially everything I said about Catherine, except his face isn't innocent at all. It's kind of creepy, actually. He is a suspected serial murderer and he does tell Catherine he is going to "take care of" everything. All signs point to guilty, by association if nothing else.
Bonnie
Good God, this girl is a hot mess. I mean, did she even get out of that shower this week? Last week, she told Annalise she wanted her to die. We know she is capable of murder — RIP, Rebecca — and we know her extremely traumatic childhood left lasting psychological scars. Her compulsive need to please Annalise makes it seem unlikely she would off her idol, but it can't be ruled out, especially considering the unraveling that's gone on the last few weeks.
Wes
Confession: I've never warmed up to Wes. He's shifty, and his relationship with Annalise has always been a strange blend of hostile and familial. I've never understand Annalise's driving need to protect, comfort and otherwise coddle Wes. Is it possible that she is his biological mother? That would be quite a twist, and divulging that fact to Wes could push him over the edge.
Connor
Unlike Wes, I actually really like Connor. He can be arrogant and callous, sure, but I think he's really one of those "tough exterior, inner softie" kind of guys — his relationship with Ollie suggests as much. However, he has been butting heads with Annalise all season and trying to convince everyone else she is toxic. And, you know, he is apparently the last person we see standing over her profusely bleeding body. Still, I'm not putting my money on him, if for no other reason than I'm partial to him.
Emily Sinclair
Here's the thing: The shooting of Annalise could have transpired prior to Emily's murder. She obviously hated Annalise, so perhaps she shot Annalise and one of Annalise's camp killed her in retaliation. So why did they leave Annalise? I'm guessing, if this scenario is true, that Annalise told them to leave to save themselves.
Asher
Can we just rule him out simply on the basis that I adore Matt McGorry so much? No? Not the way that works? OK, fine. I'll put him in the running, but I don't have to like it. Granted, he's kind of a schmuck. Still, he's oddly likable and doesn't seem sinister enough for attempted murder. His obvious state of shock and duress while in the car with Bonnie immediately after the shooting does raise some suspicion, though.
Frank
Let me be the first to say I'm a huge fan of Frank. He's got a perfectly manicured beard, an intriguing past and an undeniable bad-boy vibe… what's not to like? However, Frank has some skeletons in his closet he has yet to disclose. For starters, Annalise still has no idea he is the one who strangled Lila (at Sam's behest). He also keeps alluding to his dark past and the things he has done to Laurel, which makes it altogether possible he could be some sort of secret sadist.
Annalise
OK, bear with me here. This may seem like an implausible theory, but give it a minute. On more than one occasion, Annalise has mentioned harboring suicidal thoughts — just a few episodes ago, she confessed to Nate's wife that she often wondered if the world would be a better place without her. What if she turned the gun on herself as part of some greater plan to help protect her students? When Nate frantically tries to call her as she lay on the floor bleeding, he pleads for her to pick up and tell him she's OK. To me, this could indicate he knew or discovered her intentions and was trying to get to her before it was too late.
More: Viola Davis brought the room to tears with her Emmys 2015 speech (VIDEO)
Characters I didn't include based on relevance of story line and/or sheer cuteness include Nate (need I remind you of that shirtless scene?), Oliver, Michaela, Caleb, Eve and Laurel. Correct me if I'm wrong.