This week is the finale of everybody's favorite — and the only — yachting reality show: Below Deck. Going from the previews, it seems like everything is going to come to a head between Rocky Dakota and Eddie Lucas, who were involved in a secret tryst this charter. But, even more exciting than thinking about the look on Kate Chastain's face when she finds out about Lucas and Dakota's "dirty laundry" — pun intended! — is the thought of everyone getting together to hash things out on the Below Deck finale.
That's right, guys. The Below Deck finale is just around the corner. You can practically taste it — and it's salty. Dakota even posted a video of herself doing a little dance to Alannah Myles' "Black Velvet" to Twitter, along with the message, "When you're headed to the #belowdeck REUNION! #buckleup."
It's on, people.
More: Below Deck's chief stew opens up about an off-yacht relationship with Dean
Being that there were so many people this season (moment of silence for Dane, Don and Chef Leon), it's doubtful we'll get to everything during the reunion, but there are a few things that will make for a tragedy if we don't see them.
More: Captain Lee gives his sassy but definitive thoughts on everyone's most-hated chief stew
Here are things we hope to see during the Below Deck reunion. We're counting on you, Andy Cohen.
1. Dakota and Chastain to have it out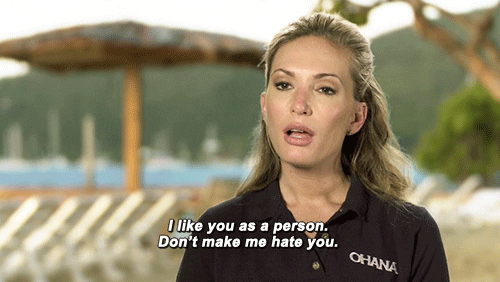 No doubt, Chastain and Dakota will go at it at the reunion. Their relationship was one of the most contentious ones of the season. But what would be really great to see is Dakota copping to the fact that she wasn't a great stew. Being a stew aboard a yacht doesn't seem like the easiest job — except the part about your office is paradise — but Dakota never copped to doing anything wrong this season. Whenever Chastain asked her to do something totally reasonable, she made Chastain into the bad guy. It would be so nice to see that Dakota realized she was wrong for behaving how she did after watching this season. Kinda thinking that won't happen, though.
2. Chastain and Chef Leon to have it out
Chef Leon was one of the many departed from this season, so who knows if he'll even be at the reunion, but it would be great to see him and Chastain patch things up as well. His relationship with Chastain was downright uncomfy to watch, and it would be nice to see him cop to the fact that he made beef cheeks one too many times.
3. Eddie Lucas apologizing to Dakota
Think what you want of Dakota — everyone does — but one area it was impossible not to feel for her was when Lucas started doing the slow fade to her, then eventually completely turning against her. Not cool, Lucas. Not cool at all. If Dakota was good enough to have sex with in the laundry room (when you had a girlfriend!), she's good enough, at the very least, to talk to.
More: Below Deck's Kate Chastain: 7 Reasons she makes the show worth watching
4. Dakota apologizing to Emile Kotze
Kotze certainly left some things to be desired this season, and we can't fault Dakota for not wanting to hook up with him after how he acted on their date together, but dude. Dakota wasn't remotely cool to Kotze afterward — which isn't a big deal in and of itself. But the fact that Dakota all of a sudden became besties with him after treating him so poorly when no one else wanted to talk to her was a little icky.
5. Captain Lee let loose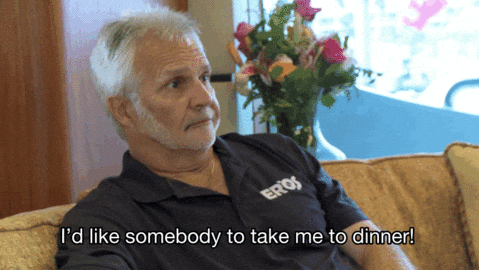 Of course, no one wants the captain of their boat to be an irresponsible party boy, but man, Captain Lee can be serious. How great would it be to see him super casual, joking around and maybe even a little tipsy?
6. Finding out what's up with Lucas and his girlfriend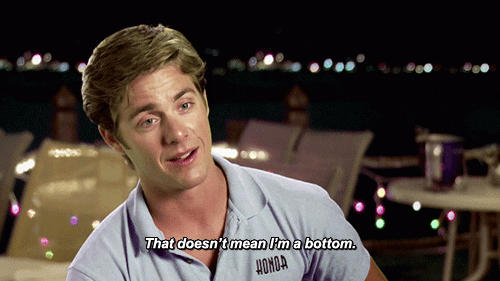 Lucas revealed that his girlfriend Amy cheated on him in the past and that their relationship wasn't in the best of places. That said, it's hard to imagine it was easy for Amy to watch this season as Lucas and Dakota hooked up — numerous times — in the laundry room. Are they still together? Did they break up? We're dying to know!
7. Finding out what's up with Chef Ben and Chastain
It's doubtful that these two lovebirds will ever admit their true feelings for each other, but how great would it be to see them profess their love for each other? Come on, guys. Do it!
8. That Season 4 is already underway
Because, duh, we don't want to live in a world where there's no Below Deck.
Who's your favorite Below Deck cast member?