Jennifer Lawrence is spilling the beans on her newest big-screen venture, and from what we can tell so far, it is going to be hilarious.
After this summer's too-funny flick Trainwreck, it was clear to everyone, including the two actresses themselves, that Amy Schumer and Lawrence were kindred comedy spirits, destined to star in more films together.
And while we learned a few small details about the film before, now we know that in this flick, they will play sisters on screen, and it will be Lawrence playing the trainwreck this time, and Schumer playing the normal one.
More: Powerful quotes from Jennifer Lawrence's essay on Hollywood sexism
Lawrence told Entertainment Tonight, "Amy, in this movie, she has it very together. It's her lifelong dream to be a flight attendant. She works at the airport, and I'm a mess."
You don't say… so, it won't be anything like her in real life?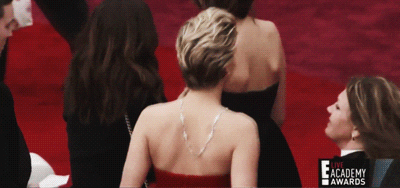 I kid, I kid.
More: Jennifer Lawrence spills the details on her new film with Amy Schumer
Lawrence, who has been promoting The Hunger Games, explains that this film came together so easily because of both her and Schumer's personalities, saying they felt comfortable being open and sharing with each other. "We both have very similar senses of humor, obviously, and aren't afraid, which is a good and bad thing, because I don't know what our movie will be rated," she said. "And we're both very blunt. So we've gotten through a really strenuous process without ever fighting, because we're both very straightforward."
We've also learned that we won't be getting any hunky shots of Peeta and Gale (Lawrence's The Hunger Games co-stars Josh Hutcherson and Liam Hemsworth, respectively). Lawrence told the ET reporter, "No, no, no, no, no… There's not really boys in it."
Damn, but here's to hoping this movie hits it big and we can see more (lots more) of these two blockbuster women making funny movies together in the future.
More: Jennifer Lawrence and Amy Schumer are basically BFFs now (PHOTO)