This is not a drill. I repeat: This is not a drill. Here come Mama June and Honey Boo Boo — again.
June Shannon updated fans, through Facebook, that their favorite sketti-eating family will be returning to the small screen in an all-new reality TV show, prompting fans to break into a little shimmy.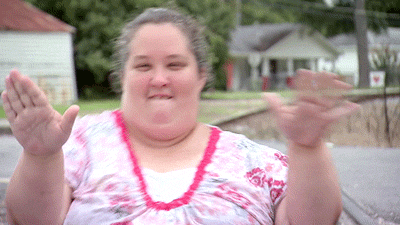 More: Honey Boo Boo makes her singing debut with unbelievable music video (VIDEO)
Shannon posted on her daughter Alana "Honey Boo Boo" Thompson's fan page, "Ok for everyone it was asked if we are going to be back on TV the answer is yes and it will be very soon it will not be was TLC network but it will be announced as we were told with People on Tuesday I will be able to get out more details soon but we are excited as it will air starting in December but it will not be here comes honey boo boo kind of thing but it will be reality TV and it will be real and unscripted like we have always ever been that's only kind of TV we believe in and we want you all to see the true side of all of us hope everyone had a great Halloween and don't forget to turn your clock back #?realitytv #?awesometime #?awesomefans and we want to say thanks to our fans that have stuck by us and continue to support us through the thick and thin we love you all and we appreciate each and every one of y'all (sic)."
More: A real chef makes Honey Boo Boo's sketti, but makes 1 big mistake (VIDEO)
TLC swiftly canceled Here Comes Honey Boo Boo in the wake of reports that Shannon had been dating a registered sex offender, who allegedly molested Anna "Chickadee" Cardwell, her own daughter. Amid the reports and the show's cancelation, Shannon continued to deny the claims, saying often that she ended the relationship with that man years ago.
More: Mama June is speaking out against her own daughter's pregnancy
Fans have been flooding the post with excited responses and electronic cheers, exclaiming things such as, "It's about time," and "Can't wait to see you on TV again."
And while it would appear that Mama June and her family are ready to be back on TV and fans are ready to see them again, the real question is, is the rest of the world ready for Honey Boo Boo to be back on television?