Once Upon a Time's 100th episode (slated to air in March 2016 as the spring premiere) is turning out to be a great way for former villains to return and possibly wreak havoc on Storybrooke. If you haven't heard, not only is Barbara Hershey making an appearance as Cora, but another familiar villain is making his way back to the ABC series.
More: Once Upon a Time: Is Nimue the original Dark One?
According to Entertainment Weekly, Robbie Kay is reprising his role as Peter Pan in the milestone episode. In typical OUAT fashion, details surrounding his return are being kept quiet, which makes sense seeing as the last time fans saw Peter Pan, he died. More specifically, Peter's son, Rumple, was forced to kill his father and himself to save Storybrooke from turning into the New Neverland.
So, does this mean Peter is coming back permanently or will he just show up via flashback? There are many options in this fantasy world, but I have a feeling fans won't exactly find out until the episode airs. That means viewers might be waiting until March to learn how and why Peter Pan is returning.
Until more details are hopefully revealed, let's talk about how Peter Pan's return could affect the show.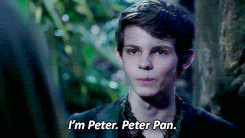 1. It could mean bad things for Rumple
Rumple and Peter had a strained relationship. I mean, Rumple did sacrifice himself and killed his own father for the greater good of Storybrooke. If Peter Pan somehow returns from the dead, then I'm sure he's going to have it out for Rumple. Depending on how things end up in the midseason finale, how do you think Peter would react to his son now being a hero?
2. It might make Henry's story line more interesting
Remember how Peter Pan and Henry swapped bodies and how Peter wanted Henry's "truest believer" heart? Yeah, it turned out to be a complicated time for Henry in Neverland. Anyways, if Peter Pan shows up in the flesh, things would definitely get interesting for the two. After all, Peter Pan is Henry's great-grandfather, so some family bonding is important, right?
More: Once Upon a Time: 13 Actors perfect to play the show's new dapper devil
3. It could mean the devil really is coming to Storybrooke
There are rumors that Season 5 might be tackling the Underworld and bringing on someone to play the devil. Maybe somehow Peter Pan is the devil? Hey, never say never. Just maybe after Peter died he turned into the ruler of hell. It'd make for one great twist, and if anyone could pull off the character, it's Robbie Kay.
4. It might not affect the show at all
Maybe Peter's return won't affect the show at all because he could easily just show up via flashback. The 100th episode is a big deal, so maybe asking Kay to reprise his villainous role is a way for OUAT to celebrate its major milestone.
Once Upon a Time airs Sundays at 8/7c on ABC.
More: Once Upon a Time: 9 Times Arthur was even more evil than the Dark One