Even though it didn't seem possible, Brooks Ayers got even more people to hate him on Monday's The Real Housewives of Orange County reunion. And the weird part? He wasn't even on the show.
Vicki Gunvalson's daughter Briana Wolfsmith-Culberson (or, "The Voice of Reason," as Andy Cohen sometimes calls her) appeared on the show, and she made a seriously disturbing accusation about her mother's ex-boyfriend. Apparently, Ayers hit on her. When she was pregnant. At a party where her mother also was. Hashtag: Disgusting.
More: RHOC's Vicki Gunvalson and Meghan Edmonds "go at each other's" throats
Of course, as disturbing as this news is, it doesn't exactly come as the shock of the century to anyone. Ayers, after all, has a seriously checkered past. From the news that he offered to show Culberson his penis ("They call me Girth Brooks." Barf!) to his insanely hard-to-follow cancer diagnosis, here are seven accusations about Ayers that make him seem like a fantastically awful person. Dear God, let's hope these all aren't true.
More: RHOC Exclusive: Vicki has a public emotional breakdown (VIDEO)
1. He told Culberson's husband to hit her
A few seasons ago, during a RHOC reunion, Culberson revealed that Ayers told her husband Ryan that he should hit her. "You told my husband to start hitting me and you're not sorry for that?" Culberson said to Ayers. "F*** you! It's on recording! It's on a recording! I heard your voice. You told my husband, 'You need to start hitting Briana to get her to fall in line!'" Doesn't get much more revolting than that, now does it?
2. His cancer diagnosis is seriously shady
We obviously can't have a Things Brooks Ayers Have Been Accused Of list and not include his cancer, or "cancer," diagnosis. In addition to saying approximately nothing that adds up about his supposed disease, it recently came to light that he A) refused to take a lie detector test, and B) works at a medical facility that would totally have the resources to fake a PET scan report.
3. He cheated on Gunvalson
Last year, in a weird sting-caught-on-tape operation, Ayers admit to being unfaithful to Gunvalson. "I've been known to cheat," Ayers said. He admitted that he was intimate with a prostitute in Las Vegas, whom he paid $300 to $400. Nice boyfriend.
More: RHOC's Vicki Gunvalson's split from Brooks Ayers' is a blessing in disguise
4. He used violence with Gunvalson after a drunken night out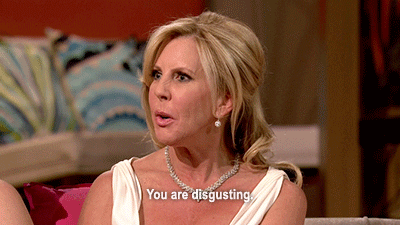 In that same video, Ayers admitted to grabbing Gunvalson one night after having too many drinks. He claims that a guy grabbed her butt, and, for whatever reason, he decided to take it out on her. He claims that that was the only incident, though. Oh. OK. It's cool then.
5. His financial history is spotty
Many — including Culberson — accused Ayers of using Gunvalson for her money. He did, after all, move into her swank Orange County pad, remember? And, when you hear about Ayers' financial past, it's kind of hard not to think that way. At one point, it was revealed that he owed about $10,000 to his ex-wife in child support and $5,000 to $12,000 to the IRS. What a stand-up guy.
6. He was in jail
Ayers' financial history is actually so spotty that he was arrested and jailed in 2010 for failing to pay both his ex-wife and an ex-girlfriend child support payments.
7. He'll do anything for a buck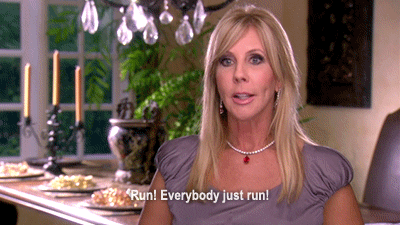 According to sources, Ayers has been plotting and scheming ways to make money off of his breakup with Gunvalson for months. After his "tell-all" interview with Andy Cohen — where he was paid $10,000 — Ayers supposedly has been looking to get paid to date someone since he split from Gunvalson. An insider claims that Ayers is shopping around first-time photos of himself with a new woman to various magazines, waiting to see who will pay the most. Gross.
My guess? This is one guy who won't be getting a spinoff show anytime soon. Or, you know, hopefully ever.
What do you think of Ayers?