Cruel Intentions: 5 Things we know about the TV show remake
Oct 21, 2015 at 11:10 a.m. ET
If you're a huge fan of the 1999 movie Cruel Intentions starring Reese Witherspoon, Ryan Phillippe, Sara Michelle Gellar and Selma Blair, then here is some great news. The movie is getting a sequel and it's following someone fans probably didn't expect. Here's everything we know so far about the follow-up drama series.
More: Reese Witherspoon is over this Selma Blair, Sarah Michelle Gellar kiss (PHOTO)
1. It's about Annette and Sebastian's son
According to Deadline, the TV drama series Cruel Intentions will follow Bash Casey, Annette and Sebastian's son. Apparently, Annette was pregnant at the end of the movie. Surprise! Anyways, it will tell the tale of 16-year-old Bash and his rags-to-riches story. After finding Sebastian's journal, Bash learns about the family legacy he didn't know existed. He then goes looking for answers by leaving his hometown in Kansas to attend the prestigious Brighton Preparatory Academy in San Francisco.
2. It comes from a very talented group of people
The film's writer-director Roger Kumble and producer Neal H. Moritz, in addition to Lindsey Rosin and Jordan Ross of The Unauthorized Musical Parody of Cruel Intentions, are collaborating on the project.
More:15 The O.C. GIFs that accurately express how excited we are for the musical
3. It will be just like the movie
In addition to being set in present day, the show will involve many of the same elements showcased in the film, including sex, money, power and corruption.
4. Here's hoping we see some familiar faces
Seeing as the series will follow Annette and Sebastian's son, this means Witherspoon will show up — or at least I hope so. She has to make at least one appearance before Bash sets off for San Francisco, right? Let's also keep our fingers crossed for Blair and Gellar to recur and/or guest star. What'd be even better? If they were all regulars.
5. A Pretty Little Liars star could appear
For those unaware, PLL's Janel Parrish (Mona Vanderwaal) was in the Cruel Intentions Los Angeles musical mentioned above, so maybe she'll get cast.
How excited are you about the Cruel Intentions TV show? This excited, maybe?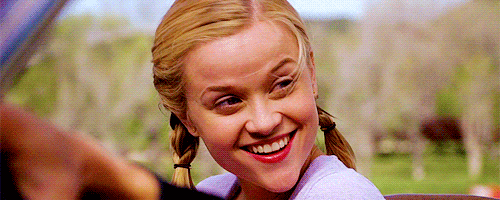 More: Sarah Michelle Gellar raps as Cinderella in dis-filled Disney battle (VIDEO)