Pretty Little Liars may not return until January (does anyone have a time machine?), but the Liars gave us a lot to mull over in the meantime during a PaleyFest panel in New York on Oct. 11. Here are 32 of the juiciest tidbits shared by executive producer Joe Dougherty, creator I. Marlene King, executive producer Oliver Goldstick and our Liars — Troian Bellisario, Lucy Hale, Ashley Benson and Sasha Pieterse.
1. The guys go into panic mode before shirtless scenes
Troian Bellisario (aka Spencer) says one of the greatest things about being on a show that centers on five women is the empowerment onset. But, the girls all laugh, the same does not apply for the guys — Ian Harding (Ezra), Tyler Blackburn (Caleb) and Keegan Allen (Toby) — who go into panic mode and do push-ups before shirtless scenes. "Hey, your body is going to look this way in five minutes, so don't waste your time," Ashley Benson (Hanna) said, laughing.
2. Hale hated being the solo "shhh-er" in the intro
At least one person is stoked about the new intro, in which all the girls do Aria's signature "shhh," and that person is Lucy Hale. "How many people noticed it's way off-center, too? Do you know how much that bothered me?" she says, "I still can't do it… that haunted me for five years."
More: Pretty Little Liars releases new opening with 4 big changes (VIDEO)
3. Crew names are used as Easter eggs in the show
If you're ever curious as to whose names are on the tombs in the mausoleum, look no further than the crew. Everyone from executives to writers has their names etched there, as well as other innocuous spots (think street signs).
4. There's more to Jason and CeCe's story still to come
We're all still reeling from the CeCe Drake dated her brother, Jason DiLaurentis, story line — but it's not over yet. "There is a little bit more to the Jason/CeCe dating story," creator I. Marlene King said, rebuffing the crowd's skeeved-out response. "No, no, it's not gross! You haven't heard the complete story with that. You might not feel the same at the end."
5. Pieterse has literally been buried four times
Obviously we saw Alison get buried on the show once, but IRL Sasha Pieterse (who plays Ali) had to go underground a total of four times for filming. "I've never felt that gross before," she admitted. "I had, like, dirt in my teeth."
6. Benson hated being in high school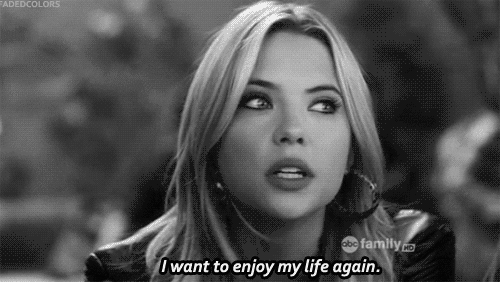 Of all the girls, Benson was the most excited for the girls to leave high school behind. "I hate being in classrooms. I was homeschooled, so being in classrooms, I was like, 'I wanna die,'" she said.
7. Radley is now a hotel
When asked how things are different in 6B, Benson blurted out, "Well, Radley turned into a hotel. Is that a spoiler?!" she blurted with a shocked look on her face. King and the others assured her it wasn't, but… it totally was.
8. The moms aren't still stuck in the basement
Despite Benson joking that the Liars' moms "never got out," their parents did escape — and we'll soon find out how. "November 24, there is a special," said writer/director Oliver Goldstick. "You will find out what happened."
9. The girls are gunning for an Ossifer Toby spinoff
Laughing when Toby is called a good cop, Bellisario responded, "You mean good like he's morally upstanding? He's not, like, a quality cop. We call him Ossifer Toby." In fact, the girls all joke that they want there to be a spinoff show starring Toby and his subpar police skills called just that.
More: PLL stars share behind-the-scenes pics from Season 6B (PHOTOS)
10. The Liars' OG bedrooms have been KOed
Say goodbye to the bedrooms you've come to know and love over the years — they are dunzo. "I was almost in tears," Bellisario said of finding out. "I, like, ran over there and I just sat on the carpet, because it was six years of my life. Obviously Spencer grew up there, but I feel like I kind of did, too."
11. Benson has limited tolerance for Hanna's sky-high heels
Despite the fact that Hanna loves fashion — and pursues it as a career in 6B — Benson could do without the designer pumps. "I'm usually wearing TOMS slip-ons with my outfits, and I have to take my heels off every five minutes," she confessed.
12. We'll see more than one wedding in Season 6B
When asked about possible wedding sightings this season, King said we'll possibly see a few. In talking about Ali's new life, Pieterse mentions that, although her last name is Rollins in the sneak peek, "when we get back, she isn't married," she shared. "So we get to see her love story."
13. Ezria is still together… but not like that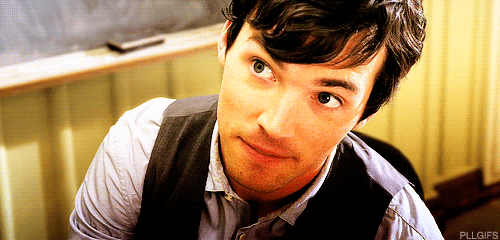 Sorry, Ezria fans — there doesn't look to be a reconciliation in the near future. Aria and Ezra are still in each other's lives, but largely because she is publishing and he's a writer. "When we pick up with her, she's in a really good place. She's happy, she's in love," Hale says of her character. "Actually, for the first time, you see [Aria and Ezra] maintain a really solid relationship."
14. The Hastings family is on the campaign trail
Not only does Spencer — who went to college at Georgetown and did a semester abroad at Oxford — have political aspirations, but she actually moves back to Rosewood to support her mom. "Her mother is running for a seat in the senate, so she asks Spencer to come back," said Bellisario, "and Spencer really helps her campaign and that's what she devotes her time to in Rosewood."
15. It's not looking good for Spoby
When asked about Toby and Spencer's status, Bellisario shared this insight. "I will say that Toby lives as a cop in Rosewood, and Spencer lives very far away in Washington, D.C. The first episode back we get to have a very cool scene with them," she says, noting that they've always had "love and respect for how different [they] are and that also becomes a different kind of love."
16. Hanna is engaged
Hanna may not have gotten a baby, like Benson begged for from King, but she is engaged. Who to, though, is the cryptic part. "Hanna went to New York with Caleb, she got into fashion," Benson said. "And she's engaged, so yeah, you kind of get to see her new life." She does not reference Caleb as the man who put a ring on it.
17. Despite their chemistry, sex scenes are as awkward as ever
All of the girls agree — sex scenes are "just weird." Bellisario and Benson both make the best of a weird situation, though, admitting they like to do silly things or go to extremes to make everyone else feel uncomfortable, too.
18. Benson can seriously dance
She may have had to play a second-rate dancer to costar Shay Mitchell, but Hale points out that Benson is actually a really, really good dancer. Benson confirms this, saying, "I do every type of dancing."
19. Benson wanted Hanna to hook up with Detective Wilden
On the show, Detective Darren Wilden may have been a slimeball, but he was a cute one. Benson gushed that she is "obsessed with him" and, joking of the characters, "there was a sexual connection there." She wanted Hanna to date him but, you know, the whole mom thing.
20. Pieterse and Hale want to go behind bars again
When asked what crossover they'd love to see, both Pieterse and Hale quickly blurt out Orange Is the New Black. Although, as Pieterse points out, "I think [Alison] had a little bit of Orange Is the New Black."
More: New PLL Season 6B theory may just be the most complicated yet
21. Meanwhile, Bellisario and Benson want to move to New York
Bellisario and Benson want to pack their bags, head to the Big Apple and star on Girls as Spencer and Hanna. Dear Lena Dunham, please make this happen.
22. Lucas comes back in a big way in 6B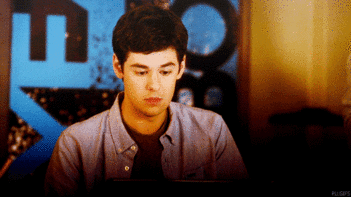 During a convo about props they'd like to steal, King slips up and mentions Lucas' Ms. Pac-Man machine in his new apartment. When pressed, she revealed, "Lucas comes back… he's very successful."
23. The dollhouse is legit, and it's going home with King
Actually, the dollhouse started off at home with King — it's hers. As of right now, though, it sits in her office along with broken doll faces and other creepy mementos.
24. It was so cold during the pilot, the girls had to get creative
Even though it remains everyone's favorite episode, no one can forget how cold it was when they filmed the pilot. "We had to put ice cubes in our mouths so the air wouldn't look frosty," Bellisario said of the snowy weather.
25. Even so, Spencer got a strange request from the execs
"Apparently I looked so dead in that scene — my skin was so blanched — that the network called and was like, 'Can you make her look less dead?' So they painted us head-to-toe pink," Bellisario divulged.
26. The writers feel especially humbled by one character's arc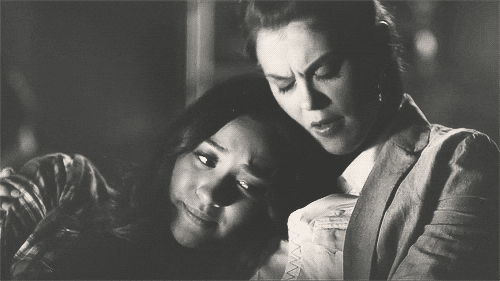 When prompted about their favorite part of the legacy the show will leave behind, Dougherty responded, "I'm particularly proud that we told Emily's story."
27. Troian hates the color pink
Discussing how she only just decorated her dressing room onset, Bellisario let it slip that one of the producers threatened to paint the room pink if Bellisario didn't do something soon — and Bellisario hates pink enough that it inspired her to get her act together.
28. We will get answers Who killed Mrs. D? Where is Jenna? Fear not — we'll soon find out. "We're not avoiding the questions still left unanswered," said King. "They're unanswered for a reason, because we'll be weaving them into the story moving forward."
29. Hale has a huge country duet dropping soon
In addition to PLL, Hale has more big news. "I have a duet coming out in a couple of weeks with Rascal Flatts, which is really exciting. They're who made me want to get into country music. We're doing a country version of 'Let It Go,' believe it or not," she said.
30. Troian's Radley scenes required very little physical prep
Well, more like no prep. "No, no, I'm not even kidding. I walked into the trailer and they were like, 'We're just going to roll with it,'" Bellisario explained, laughing. "And I was like, 'So I look crazy all the time?'"
31. Spencer going to Radley was sort of Bellisario's idea
Hearing terms like "crazy" and "nutball" being thrown around set in reference to Radley, Bellisario went to the producers and said she couldn't understand how they could have a place like Radley and not have one of the Liars there after everything. They listened and the rest is history, which Bellisario calls "a very proud moment for me."
More: PLL's Troian Bellisario dropped huge hint about Spencer's flash-forward fate
32. It's looking like Season 7 will be the last
As much as we'd like PLL to go on forever, that simply can't happen. As of now, the stories are written through Season 7. "I think as a group, we'll decide what to do," said King. "And right now it's sounding like Season 7."