The Walking Dead: 6 Predictions about who is honking that damn horn (POLL)
Oct 12, 2015 at 2:08 a.m. ET
The Walking Dead returned tonight in a huge way with a premiere that did not disappoint. In fact, we're a little miffed they didn't give us a full two hours — then maybe we would have learned who was laying on that bleepin' horn.
So obviously, you guys, spoiler alert! If you have not yet watched the Season 6 premiere of The Walking Dead, first of all, what is your life? But, in all seriousness, avert your eyes now.
More:The Walking Dead fans shouldn't worry about Michonne and Morgan hooking up
Now that we've gotten that out of the way, can we just say bravo to, uh, everyone on or involved with The Walking Dead? Sure, Fear the Walking Dead was a decent way to pass the interim between seasons. This, though... this is the stuff our twisted zombie-splattering dreams are made of.
The gang's all back together (well, mostly), and Rick has a master plan for the massive number of undead in the newfound zombie quarry away from Alexandria. You know what they say about the best laid plans, though, and we all know how often Rick's best laid plans go horribly awry. It's not his fault, people — it's the zombie apocalypse. Stuff happens.
More:The Walking Dead: 6 Clues about the new season (VIDEO)
Tonight, the stuff that happened was a horn. A very loud, very prolonged blowing of a horn to be precise, which diverted the zombies' attention from the path Rick and the gang had been leading them down for an hour and a frickin' half. Now, thanks to the mysterious horn-blower, throngs upon throngs of skin-dripping zombies are headed straight for Alexandria.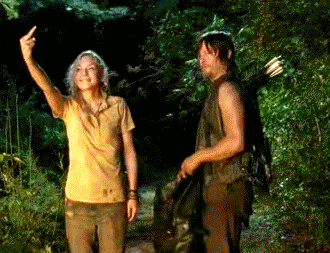 Naturally, everyone and his sister wants to know what jackalope is responsible, so here are our top contenders.
1. The Wolves
This theory seems to be picking up the most speed. And, obviously, given that the end of last season hinted that the "Wolves are not far," we knew they would be popping up to add to our beloved zombie slayers' apocalyptic problems. So, yeah, it wouldn't be shocking to find out the Wolves are the horn-blowers.
Or, is the fact that this wouldn't be shocking point toward the Wolves not being the culprits? As this fan points out, that would be pretty easy. Perhaps even too easy.
Only, if you flash back to last season when Morgan put two Wolves in a car and honked the horn to attract the Walkers to them, it does seem like poetic justice on the Wolves' part.
2. Father Gabriel
Operating under the assumption that the threat is indeed coming from inside Alexandria — after all, Rick did say it sounded like it was coming from home — let's move on to the not-so-holy man of the cloth about town, Father Gabriel. This dude is clearly a pot-stirrer and, yes, also fanatical and slightly unhinged. And seeing as Rick shot down his request to join them on their mission, he might once again be out for revenge. If so, hell hath no fury like TWD fans' wrath.
Another compelling and kinda brilliant reason to believe Father Gabriel is to blame? This, y'all.
3. Ron
Listen, let's be real — teenagers are not rational beings. They don't need a good reason to do something reckless; they just need a reason. I think Ron's reason, if he is responsible, is pretty clear. Rick shot his dad in the face, then buried him in the woods and then gave him a man-to-man talk. Oh, did I mention he's got the hots for Ron's mom? There's that, too.
4. Enid
Not many people are latching onto this theory, but it actually could make a lot a sense. For starters, we know so little about Enid, other than the fact that she is Carl's crush. She came to Alexandria about eight months before Rick's motley crew arrived, and she rarely speaks. She does, however, have a habit of sneaking out of Alexandria, which led some fans to speculate last season that she is a spy for the Wolves.
Obviously that theory still holds merit... maybe even more so now. Plus, in the very last few seconds of the teaser trailer for next week's episode of The Walking Dead, we get a glimpse of an injured girl who appears to be behind the steering wheel of a truck. Hello! Are you with us on this? Is this or is this not Enid, who so could have been cornered by walkers and foolishly honking the horn for help?
5. Morgan
Since we are entirely torn between thinking Morgan is going to be Rick's moral compass and suspecting he's a sinister dude, we will entertain this fan's idea that Morgan somehow sneaked away from the mission at hand to honk a horn. I mean, that is kind of his thing.
6. Strand
Bon voyage, Abigail. This is probably by far the most creative theory to come from the great horn-blowing debate of 2015, but, admittedly, we love it — however implausible it may be. C'mon, how cool would it be to have that kind of a tie-in to Fear the Walking Dead?
More:Fear the Walking Dead finale messed up by killing off the wrong character