Kim Zolciak is a lucky woman — and not just because she has an awesome husband and 9 million adorable kids. After Zolciak had a ministroke, she found out she has a hole in her heart. And, yes, that makes her lucky.
During an interview with Michael Strahan on Good Morning America, Zolciak stated that the stroke was a "blessing in disguise" since doctors were able to find the hole in her heart, which could have become a much more serious issue were it not found. "The minor TIA [transient ischemic attack] revealed that I have a PFO [patent foramen ovale], a hole in my heart that never closed," Zolciak, who used to be a nurse, told Strahan, adding that the stroke happened when a blood clot "was able to cross over through the hole."
More: Kim Zolciak's new waist branded "gross" and "unhealthy" by fans (PHOTO)
Thank goodness Zolciak is OK, and man, talk about lucky! But despite her weird fortune, Zolciak is seriously upset that she won't be returning to Dancing with the Stars. After doctors forbade her from hopping on a plane and heading to Los Angeles after her stroke, she was —as DWTS rules state — eliminated from the show.
More: Kim Zolciak says she doesn't Photoshop, and she has evidence
Not typically one to take things lying down, Zolciak started an online petition to get herself back on the show — and it garnered over 20,000 signatures. But rules are rules, and when Zolciak spoke to host Tom Bergeron via satellite, he let her know that the decision was final. (Sad-face emoji.)
To put it bluntly, Zolciak isn't happy with this decision. In addition to her petition, she told Strahan that she felt that DWTS "could have done something via satellite." She also said, "I love Dancing with the Stars, it's been the best experience of my life." No offense to her six kids.
Zolciak will be returning to DWTS for the finale, where she revealed that she's not yet sure what she'll be doing — and I've gotta be honest, I sort of feel like she should just focus on her health and just be happy with that. I love Zolciak just as much as the next lowbrow person, but it kind of feels like she's got her priorities jumbled up right now.
More: Kim Zolciak blasted for "awful" makeup and "plastic" face (PHOTO)
Sure, Dancing with the Stars seems like it was an amazing experience for Zolciak, but come on, girl. Time to thank your lucky stars that you're OK and move on to the next thing, which could be even better. Also, I think we're all in agreement that a contestant competing via satellite on a dancing show would be just weird. What would Zolciak do, put on a sequined leotard and shimmy around her kitchen?
It'll be nice to see our girl back on DWTS for the finale, when she's feeling good and ready to kick some butt. But for the interim, I'd like to prescribe her a daily dose of spending time with family, relaxing and being happy that she's healthy enough to return to the show in any capacity.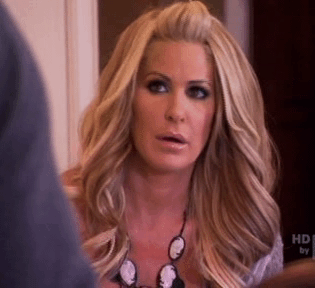 Do you want to see Kim Zolciak back on Dancing with the Stars?