If you want to be massively confused about what's going on with Brandi Glanville and The Real Housewives of Beverly Hills, you need to check out Andy Cohen's recent interview with Howard Stern. Despite hearing that Glanville was axed from the show (she herself confirmed it), Cohen is now claiming that he'd love to have the former model back on. What the what is going on?
While being grilled by Stern about Glanville's exit from the show, Cohen revealed that the other Housewives all hate her. No shocker there, right? But then, after confirming that she wasn't returning to the show, Cohen said that he'd love to have Glanville back on, and since he's the head Housewives honcho, he thinks it would be a "done deal." This is so confusing. If he's the Housewives head honcho — and Glanville confirmed getting fired from RHOBH — why was she ever asked to leave in the first place?
More: RHONY star will make you see Brandi Glanville in whole new light
Glanville has said on numerous occasions that the big allure of Housewives for her was the paycheck — and, I mean, who can fault her there? — so, it wouldn't be a huge surprise if she winds up returning to the show if Cohen, in fact, asks her back. But personally, I think she should stick to whatever other ventures she has going on. Another season with Glanville would be a bad idea — for everyone, but mostly her.
Here are six reasons Glanville shouldn't return to The Real Housewives of Beverly Hills.
More: Brandi Glanville's drunken antics
1. She has one friend
Like Cohen said in the Stern interview, Glanville has been "on an island" the past few seasons. After her falling out with Lisa Vanderpump, it's been all downhill. Glanville has admitted that she's still friends with Kim Richards and Yolanda Foster, but the former won't be returning either. Does she really want to go somewhere where she has only one person in her corner?
2. How many more Glanville vs. everyone fights can we take?
We all watch Real Housewives for the drama, but seeing the same type of fight over and over can bore even the most loyal fan.
3. It's bad for her image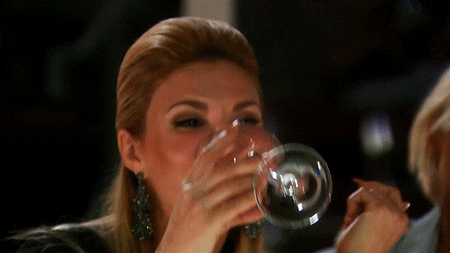 When Glanville started out on Real Housewives, she had a small role — and everyone grew to love her. But once she became a regular, as with everyone on reality shows, people started turning against her. You catch more bees with a low profile. And when, you know, you don't throw wine.
More: Brandi Glanville's beauty secret: Botox
4. The women are out to get her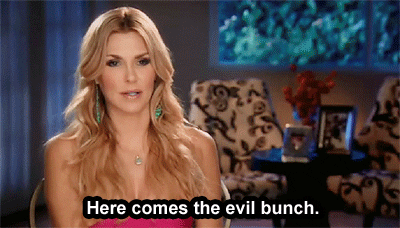 If Glanville came back for another season, no doubt some of the women would work to bring her down even more than they have already. Does she really want to put herself through that?
5. It's not emotionally healthy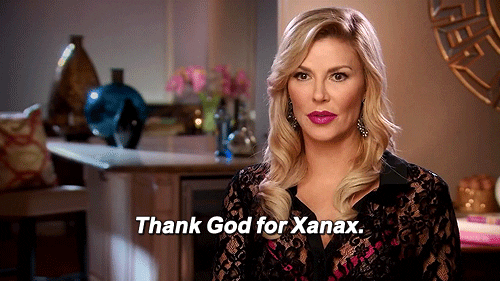 While the fat paycheck has to be nice, who wants a job where they're a professional punching bag/the subject of national criticism? No thanks.
6. RHOBH needs new blood
To be completely frank, I think RHOBH might be better if a few of the Beverly Hills ladies were replaced. It's been some of the same women on the show for a while now — a little shakeup might be good.
But, of course, when everything is said and done, the crazy paycheck Glanville was receiving per episode might wind up trumping everything. So, yeah.
Do you think Glanville should come back to Real Housewives?