Grey's Anatomy's Jerrika Hinton teases a new love interest
Sep 24, 2015 at 3:24 p.m. ET
Since joining Grey's Anatomy in Season 9, Jerrika Hinton — aka Dr. Stephanie Edwards — hasn't exactly had the easiest character arc. She's suffered through the loss of fellow interns, that embarrassing day bumping into everything after LASIK surgery and the episode where she inadvertently hit on a high-schooler.
Oh, yeah! We nearly forgot. There was also that one time her then-boyfriend, Dr. Jackson Avery, broke up a wedding, simultaneously (and very publicly) dumping Edwards in the process.
Of course, notes Hinton with endearing modesty, it could be worse. Her character could be dead. "I just feel fortunate we have survived this long," she told us, laughing, when we chatted about Season 12 recently.
More:Grey's Anatomy: Spoilers and other stuff to know before Season 12 starts
You can't have highs without lows, after all — it's the law of nature. And happily for Hinton, those valleys are coming fewer and farther between. Her character now rests comfortably in the realm of peaks. Last season, we saw her start to come into her own, which made us wonder: Is Season 12 going to be the season Stephanie slides into the ranks of Grey Sloan Memorial Hospital's top doctors?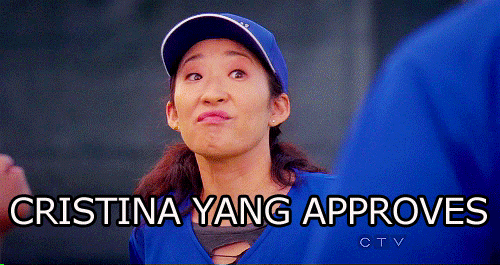 On social media, she and Dr. Jo Wilson (played by Camilla Luddington) are being compared to another iconic doctor duo: Grey and Yang. But Hinton, who for the record is quite possibly one of the most charming people on the planet, isn't ready to acknowledge the notion that she and Jo could potentially be the next generation Grey and Yang.
"I resist that idea. I think that's a lot of pressure!" she says, laughing. "The show is Grey's Anatomy — it's about Meredith. I think they will continue to explore that dynamic between close friends and competitive coworkers and somebody being more relationship-oriented and somebody else perhaps being more ambitious career-wise. There are so many different ways to explore that dynamic that fall outside of the realm of Yang and Grey."
More:Grey's Anatomy: Why the loss of Patrick Dempsey is great for the show
Clearly, Dr. Edwards isn't gunning for Pompeo's spot in the Grey Sloan social hierarchy. So what can we expect in store for the character this season? Hinton had a few telling teasers for us.
Her voice will strengthen
One of the most enjoyable aspects of Edwards is her progression over the seasons. Last season, we saw her voice strengthen so much. Will that upward trend continue? "Yes... and that's something I'm excited and so pleased about," Hinton told us.
We'll actually learn about Edwards pre-GSMH
Unlike so many of the major characters on GA, we know very little about Edwards — but that's about to change. "As she continues to find her way in the world of Grey Sloan, you'll find out more about her and where she comes from — how and why she's in this place, and why she is the kind of person that has no compunction about speaking out about what she feels is right," Hinton explains. "You know, she's a woman of conviction, and we're going to continue to find out more about why that is."
She's involved in a progressive medical case of some sort
Real talk: Edwards is kind of a big deal. Last season, she really stepped up to the plate when it came to competing for and contributing to major surgeries (hello, Dr. Herman's brain surgery!). Will Season 12 see her assume a leadership role? Time will tell. "Right now, we're going into filming Episode 6 and, up to this point, there haven't been any major surgeries Stephanie has been involved in," says Hinton, adding with emphasis, "but there has been one case of postoperative care that a bit groundbreaking Stephanie has to be involved in." Fun fact: Hinton records all of Edwards' major surgeries and cases in a notebook she carries around set.
We may learn something traumatic about her past
Speaking of the groundbreaking post-op care Edwards is involved in, Hinton tellingly reveals that it "kind of triggers some stuff for her, and that's one of the ways you come to find out more of her backstory." Interesting! Could Edwards have something dark and painful in her past? It would seem so.
There's basically zero chance Edwards and Avery will rekindle
When we admit we liked Edwards and Avery together — and quite possibly simply because we adore Edwards' character and we adore looking at Avery thus, convenience — Hinton jokes, "Did you really? Don't put that in print! People will burn your house down," referencing fans' dislike of the pair as a couple. For her part, Hinton wasn't in favor of the coupling because she feels like Edwards didn't know who she was when she was with Avery. "So I have always pushed for more of a commitment to investigating her as a standalone individual rather than as byproduct of someone or as being someone's girlfriend. I think that results in more worthwhile storytelling."
More: How Jesse Williams is revolutionizing Twitter
But Edwards will find love again
And soon! "There is a new love interest on the horizon, but for the first few episodes, I feel like the focus is on her," Hinton says. "You're going to understand her more as a person, and I think that's a great metaphor for life as well — you need to understand yourself as a full person before you go jumping back into something else."
Don't miss Hinton on Grey's Anatomy, Thursday at 8/7c on ABC.