Gigi Hadid, Bella Hadid and their mother, The Real Housewives of Beverly Hills' Yolanda Foster, have been household names for years, and now their little brother, Anwar Hadid, is ready for his turn in the limelight.
Anwar is the youngest son of Foster and her ex-husband, real estate developer Mohamed Hadid. We know this is going to be shocking, but Anwar is drop-dead gorgeous. Naturally.
https://www.instagram.com/p/BPC0aHhAYgc/
More: Kendall Jenner, Gigi Hadid shockingly rejected by Victoria's Secret (VIDEO)
Here's a little more about him.
1. He's destined to be a supermodel
https://www.instagram.com/p/BPeQETtg0uK/
When it comes to the genetic lottery, the Hadid family has hit the jackpot. It was pretty much written in the stars that Anwar would become a professional model at some point, and his destiny was fulfilled this year when he was signed on as the new face of Hugo Boss.
It's his first major campaign, and Anwar will appear in Hugo Boss' spring 2017 ads according to The Hollywood Reporter.
2. He's got a hot new girlfriend
https://www.instagram.com/p/BPjBUTqgpQR/
https://www.instagram.com/p/BPqHBlYjFfe/
Anwar recently went public with his relationship with actress Nicola Peltz on Instagram, so I guess you could say things are getting serious.
"Honestly, he is an angel," Peltz — who you might recognize from Bates Motel and Transformers: Age of Extinction — told Women's Wear Daily. "He's such an amazing person… He comes from such an amazing family. Gigi and Bella are so, so sweet. I just love his family so much."
3. He was pretty much the cutest baby ever
https://instagram.com/p/6jXlrqh2gK/
https://instagram.com/p/4MoLeIh2j5/
https://instagram.com/p/7OcIgqB2qr/
Look at that face! And just in case you aren't convinced of his adorableness quite yet, here's one more of him and Gigi.
https://instagram.com/p/11XolFh2o0/
4. He already has big plans for his future
https://instagram.com/p/vy5gM1B2op/
He might be modeling now, but Anwar doesn't want to just be another pretty face.
"I want to be an entrepreneur or work in the music business," he told Seventeen magazine in 2015. "My dad, who's a real estate developer, came from nothing, so his life is my model for self-made success. It's important for me to find happiness within my own possibilities."
5. He's a tall drink of water
https://instagram.com/p/78p_WmB2kr/
Anwar revealed on Twitter that he was 6 feet, 1 inch tall when he was just 16 years old. So, yeah, he's still got some growing time.
6. He's totally into b-ball
https://instagram.com/p/w0PSjrh2rb/
And the Lakers in particular. "Anwar loves to swim and surf, but his greatest passion is basketball," Foster wrote of her son on her official website.
More: Gigi Hadid shut Joe Jonas down hard the first time he asked her out
7. But he dabbles in football as well
https://instagram.com/p/tq6w2Ph2pX/
Anwar is a hardcore Redskins fan.
8. He's a mama's boy

https://instagram.com/p/6YsLW-B2km/
If you're a RHOBH fan, you know of Foster's struggle as she battles Lyme disease, and she has often credited her son with being her rock through her illness.
More: RHOBH's Taylor Armstrong's comments about Yolanda Foster are unforgivable
9. And he loves his sissies too

"They're my best friends," Anwar told Seventeen. "We think of Gigi as the brains in the family — something most of the world doesn't know — and my favorite thing about Bella is that she's a free spirit who never lets anyone set limits for her. They can be really protective, but they've taught me not to let other people define what I'm capable of."
Before you go, check out our slideshow below.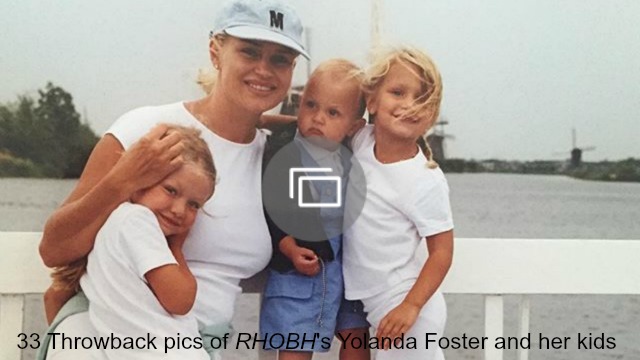 Originally published September 2015. Updated January 2017.