Few fans are as fanatical as the Harry Potter fandom, which is why the passing of the final film was such a tough blow — we thought we'd seen and heard the last of Harry Potter. Happily, though, author J.K. Rowling wasn't content to abandon the wizarding world just yet.
In the time since 2011's Harry Potter and the Deathly Hallows: Part 2 came and went, Rowling has been supplying fans with a steady stream of tasty little morsels about our favorite bespectacled boy wonder and the other characters, creatures and places that make up his magical world.
Here are some of the fun facts the generous scribe has gifted us with this year alone.
1. The origin of Harry's invisibility cloak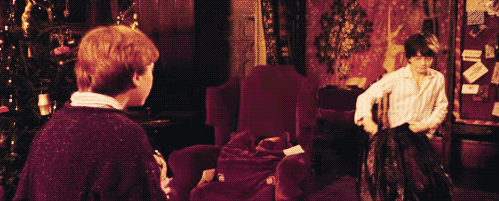 In an article Rowling penned for the Pottermore site on Sept. 22, she traced the lineage of the Potter family history. Therein, she revealed the invisibility cloak came into the Potter family when Ignotus Peverell's granddaughter, Iolanthe, married into the family and began passing the cloak down.
2. Moaning Myrtle's full name
.@HotmHayles @lankytwat Moaning Myrtle's full name was Myrtle Elizabeth Warren.

— J.K. Rowling (@jk_rowling) May 11, 2015

In May, Rowling divulged the full name of everyone's favorite sobbing, bathroom-dwelling spirit. She quickly added that Moaning Myrtle's middle name has nothing to do with the U.S. senator by the same name, but rather, it's "just one of those classic British middle names."
3. Moaning Myrtle's original name
In a Pottermore article about Hogwarts' ghosts, Rowling went into great detail about Moaning Myrtle, including the fact that she originally came back to Hogwarts to haunt her rival, Olive Hornby, and that her original name in the novels was "Wailing Wanda."
4. How Nearly Headless Nick met his demise
In the same Pottermore article, Rowling discussed Gryffindor's house ghost, saying he was a bit of a snob in real life who was inexpertly executed when a "foolish attempt to beautify a lady-in-waiting by magic caused the unfortunate woman to sprout tusks."
5. Who'd win in a battle of feline familiars
It would be brutal and very close, but Crookshanks' Kneazle ancestry would bring him out on top. https://t.co/qLc08eGuMz

— J.K. Rowling (@jk_rowling) September 16, 2015

When a fan asked who'd win if Hermione's pet cat Crookshanks took on Argus Filch's beloved Mrs. Norris, Rowling tipped the scales in the former's favor.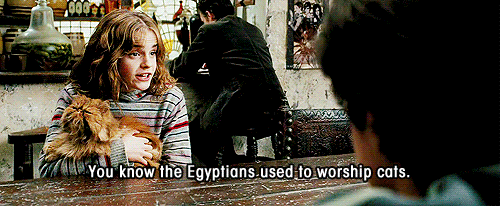 6. The real way to say "Voldemort"
… but I'm pretty sure I'm the only person who pronounces it that way. https://t.co/HxhJ5XY5HP

— J.K. Rowling (@jk_rowling) September 9, 2015

In news that shook the pop culture stratosphere, Rowling disclosed that she actually always pronounced he who must not be named's name as Vol-duh-more — with a silent "t."
7. Which house Harry and Ginny's oldest son was sorted into
In a series of tweets, Rowling first reminded fans that the day had come for James Sirius Potter to head to Hogwarts.
I'm in Edinburgh, so could somebody at King's Cross wish James S Potter good luck for me? He's starting at Hogwarts today. #BackToHogwarts

— J.K. Rowling (@jk_rowling) September 1, 2015

She followed that tweet shortly thereafter with a not-so-shocking revelation: The Sorting Hat sent the eldest Potter offspring straight for Gryffindor house.
Have just heard that James S Potter has been Sorted (to nobody's surprise) into Gryffindor. Teddy Lupin (Head Boy, Hufflepuff) disappointed.

— J.K. Rowling (@jk_rowling) September 1, 2015
8. A sad truth about Hagrid's magical prowess
Hagrid couldn't produce a Patronus. It's a very difficult spell. https://t.co/TRDVNvSEdR

— J.K. Rowling (@jk_rowling) August 21, 2015

You love Hagrid. I love Hagrid. We all love Hagrid. Which is why the reality that he wasn't adept enough at magic to produce a patronus was so very heartbreaking to hear.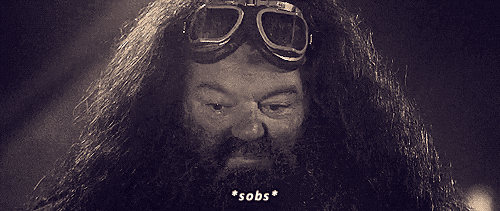 9. That part of Harry's story is to become a play
I'm also very excited to confirm today that a new play called Harry Potter and the #CursedChild will be opening in London next year.

— J.K. Rowling (@jk_rowling) June 26, 2015

Giving us all something to look forward to in the following year, Rowling broke the news that a new play called Harry Potter and the Cursed Child would come to London in 2016.
@FaceOffSyfy Lot of good ideas and some challenging concept, excited to see how they turn out! #FaceOff

— BardicHeart (@BardicHeart) September 23, 2015

A collaboration between writer Jack Thorne, director John Tiffany and Rowling, it is not — and I repeat, not — a prequel.
10. We do know who the cursed child is
Good theory, because I do think Tom was cursed in the way that you suggest, but no, he's not the child. https://t.co/AdX85WIqiX

— J.K. Rowling (@jk_rowling) August 21, 2015

Well, sort of. We definitely know who the cursed child is not: Tom Riddle, aka young Lord Voldemort.
Answering that would give away a huge amount. To quote Chris Cornell: "You know my name." https://t.co/BzHLelUvCR

— J.K. Rowling (@jk_rowling) August 21, 2015

But according to Rowling's coy phrasing, we know that we have met this particular character before and know his name… even if we aren't sure which name that is yet.
11. Two Fantastic Beasts characters and their Hogwarts connection
After the Scotland vs. Ireland rugby game back in August, Rowling treated supporters of Team Scotland with a bit of information about two characters in the highly anticipated Harry Potter prequel, Fantastic Beasts and Where to Find Them.
Well, I think it's widely known that that characters of (Porpen)tina and Queenie are sisters, but not that their surname is Goldstein.

— J.K. Rowling (@jk_rowling) August 15, 2015

Of the characters Tina and Queenie, Rowling revealed their last name is Goldstein. In a subsequent tweet, she confirmed they are distant relatives of Anthony Goldstein — a Ravenclaw prefect in his fifth year during Harry's time at Hogwarts.
12. We can all afford to go to Hogwarts!
@emmalineonline1 @micnews There's no tuition fee! The Ministry of Magic covers the cost of all magical education!

— J.K. Rowling (@jk_rowling) July 17, 2015

In response to a group of fans' "intense debate," Rowling responded that tuition at Hogwarts is completely covered by the Ministry of Magic.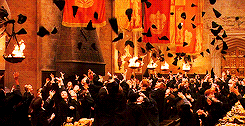 13. The status of Fantastic Beasts' Newt Scamander
In an update to Pottermore's Timeline of the Wizarding World, Rowling included a telling blurb about Newt Scamander, the famed magizoologist responsible for penning Fantastic Beasts and Where to Find Them. Although fans assumed he was long dead, Scamander's date of birth and death reads "1897-present."
14. Why Snape's patronus changed over time
.@tigs25 Your Patronus only changes if it's eternal love, unchanging – part of you forever.

— J.K. Rowling (@jk_rowling) May 21, 2015

It gave us all the feels when we found out Snape's patronus was a deer in honor of his lifelong love, Lily. But it also presented some questions about the properties of the patronus, which Rowling cleared up — giving us, once again, all the feels.
15. And why Harry named his son after Snape
.@veronicalloyd_ Harry left Remus's name for Teddy to use for his own son.

— J.K. Rowling (@jk_rowling) June 5, 2015

Aside from Snape's obvious bravery and impact on young Potter's life, Harry chose the middle name Severus over a name in honor of Remus Lupin for another very specific reason.
16. Whether there will be a special scar in Fantastic Beasts
When pressed about whether any character in Fantastic Beasts will have a distinctive scar like Potter, Rowling hints that one character will have "loads of scars." Wait. Wait, wait, wait, wait, wait. Could she be talking about Lupin?!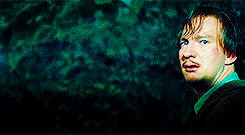 17. Hogwarts will be coming stateside
So to speak, of course. In a series of tweets about Fantastic Beasts, Rowling told fans that there is, in fact, a wizarding school in the U.S.
.@MrBanankartong That information will be revealed in due course.

— J.K. Rowling (@jk_rowling) June 6, 2015

And that, although it isn't in New York City, as many postured, Newt Scamander will meet people educated at this American school of witchcraft and wizardry.
.@tannerfbowen No, but he's going to meet people who were educated at [name] in [not New York].

— J.K. Rowling (@jk_rowling) June 6, 2015
18. Luna Lovegood has a heart-shaped birthday
I never get fed up with readers' questions! Luna's birthday is the 13th February. https://t.co/b14ViPhPoo

— J.K. Rowling (@jk_rowling) July 17, 2015

Her name is Luna Lovegood, and she was born the day before the holiday Muggles refer to as Valentine's. That Rowling… so clever!