Between the sneak peek of EW's epic Shondaland group photo and Ellen Pompeo's nearly naked cover, Grey's Anatomy fans (us included) cannot wait for the long-running series' Season 12 premiere on Sept. 24.
More: Ellen Pompeo complains about sexism while getting naked to sell magazines
But because the return of everyone's favorite medical melodrama (me-dica-lodrama?) is so hotly anticipated, spoilers and rumors have run rampant during the past few months. Since we're biding our time for roughly the next three weeks anyway, we decided to corral all the pertinent info about the upcoming season into one big, beautiful, juicy roundup.
Prepare for a major refresher. Also, in full disclosure, the following information is potentially riddled with spoilers. Devour at your own risk, dear readers.
Who's out:
Dr. Derek Shepherd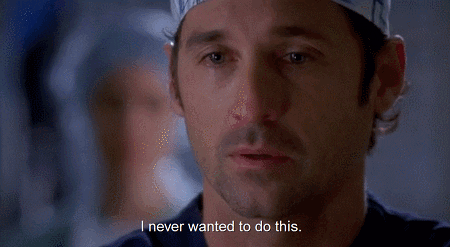 Image: Giphy
Sigh… the struggle is still real with this loss. RIP, McDreamy. On the plus side, Derek's real-life alter ego Patrick Dempsey is moving forward by focusing on his indie auto racing career.
Dr. Leah Murphy
Well, we can't say we didn't see this one coming — Leah (played by Tessa Ferrer) just never really found her footing at Grey Sloan Memorial Hospital like some of the other residents. Her two years were plagued with problems: the botched surgery on Jimmy Evans (Alex's dad) that she and Shane performed, vomiting in her mask in the OR, filing a sexual harassment suit against Arizona and, ultimately, being fired by Richard (Dr. Weber) for lacking in surgical skills.
Dr. Shane Ross
Quite possibly Leah's best friend at the hospital, Shane's time at Grey Sloan wasn't exactly smooth sailing either. I mean, he was the one who botched that surgery on Jimmy Evans, which was catastrophic. He also had major guilt over sending Heather to find Richard, since that mission led to her death. That, coupled with excessive hours working on Cristina's service (wink, wink), led to Shane spiraling out of control in a blur of energy drinks and unrealistic expectations. Still, he was a memorable character, so it kind of sucked when he followed Cristina to Switzerland.
Who's In:
The new McDreamy

When news broke that hunky New Zealand native Martin Henderson could potentially be the new McDreamy — not that anyone could ever really fill Derek's scrubs — fans understandably freaked. We don't know much about his role and, as it turns out, neither does showrunner Shonda Rhimes. She maintains that he won't be arriving until midseason, and she still isn't sure what his character will be. One thing we can be fairly certain of is that he won't be a love interest for Meredith Grey, at least not in the near future (more on this below).
Dr. Isaac Cross & Dr. Andrew DeLuca
With @JpAdler , @EllenPompeo , #Meg (writer) and @GiacomoKG
TGIT is coming!!! GET READY #season12 #GreysAnatomy pic.twitter.com/x29IXNLwyi

— Debbie Allen (@msdebbieallen) August 18, 2015

OK, so technically neither Dr. Isaac Cross (played by Joe Adler) nor Dr. Andrew DeLuca (played by Giacomo Gianniotti) are new new. We met them both last season during the tunnel collapse — Isaac as the surgical intern who made an impression by taking blood samples to the lab whilst noshing on food, and Andrew as the self-assured intern who played himself off as an experienced surgeon at first. But since both Jessica Capshaw (aka Arizona) and Debbie Allen (aka Catherine Avery) both tweeted pics with these cutie mcbooties, we can assume they are sliding into more prominent roles.
Who could (or should) join:
Lea Michele
According to The Inquisitr, Glee star Lea Michele has been gunning for a spot on Grey's for quite some time now, reportedly telling the tabloid, "Shonda, call. Like, what the hell? I'm ready. Put me in scrubs. I'd love a little arc — just a little arc." And, judging by her proclivity for posing with stars of the series, we can all but confirm that Michele is at the very least a superfan.
Katherine Heigl, aka Izzie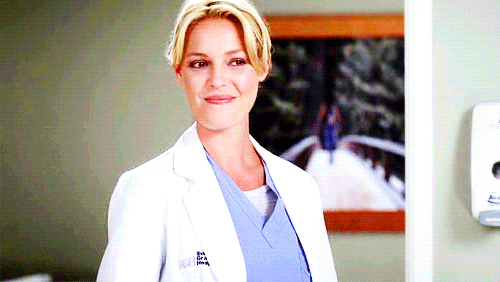 Image: Giphy
Since Heigl's latest TV series, State of Affairs, proved to be short-lived, the chatter surrounding her possible return to Grey's Anatomy has reached a fever pitch. Devoted fans have long been holding out hope for some resolution to Alex and Izzie's love story, but Rhimes essentially kiboshed this rumor. "No," she asserted to TVLine. "I'm done with that story. I've turned that idea over in my mind a thousand times and thought about how it would go. And I don't think so."
Gina Rodriguez
I second that! 😘"@HereIsGina: "@pottsy000: @HereIsGina I think you should go on Grey's Anatomy as Callie's sister!" that would be awesome 👍"

— Sara Ramirez (@SaraRamirez) February 2, 2015

When word got out that Jane the Virgin star Gina Rodriguez wants to join Grey's Anatomy, the Twitterverse exploded with approval — even Sara Ramirez, who plays Dr. Callie Torres, jumped on board, tweeting, "I second that… I think you should go on Grey's Anatomy as Callie's sister!" Although Rhimes has yet to respond, can we just say 'yes and yes!' Please, and thank you.
Sandra Oh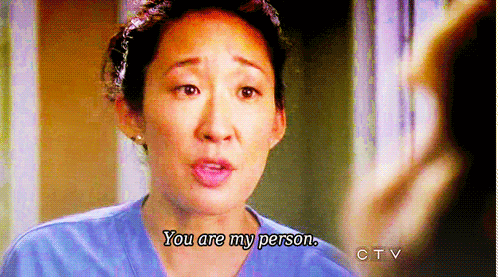 Image: Giphy
Admittedly, this also seems like an unlikely return. Having said that, it does actually make a ton of sense that Dr. Cristina Yang would return to Grey Sloan Memorial Hospital now. With Derek's death, Meredith is now entering an entirely new phase in her life, and one during which she could certainly use her "person."
Idris Elba
Sure, this is partially wishful thinking on our part. However, the rumors about Idris Elba coming to Grey's Anatomy aren't completely baseless. In a video interview for EW.com, Rhimes gushed about the handsome actor, "We spend a lot of time talking about him on Grey's right now because we're all obsessed." Hey, we're right there with you. Which is why we totally vote for Elba to come on board. Possibly as a love interest for Callie? Ooh, or maybe Maggie? We love her.
What's in store for some of our faves:
Meredith
We know Mer buys back her mom's/her old house from Alex, and Season 12 sees her sharing that space with her sister-in-law, Amelia, and her half-sister, Maggie. "Right now, it's very funny. Those three women are very different and don't have very much in common, which is fantastic," Rhimes said of the new dynamic. As for romance, that isn't in the cards for the widow. "I have not planned to [bring in a love interest for Meredith]," Rhimes revealed at the Television Critics' Association Tour, "and that's not really the focus of what we're doing with her right now."
Bailey
Last we saw Bailey, she was still awaiting news as to whether or not she would indeed be tapped as Grey Sloan's new chief of surgery. This decision will reportedly be revealed sooner than later. "I think that's going to be one of the best, most interesting things that we're going to watch at the beginning of the season," teased Rhimes.
Owen
The amazing @hellojerrika the wonderful @JessicaCapshaw and my crazy director hair! @GreysABC #1201 Day1! We're back! pic.twitter.com/R5w38r2kj1

— Kevin McKidd (@TheRealKMcKidd) July 23, 2015

We adore Dr. Owen Hunt, played fantastically by Kevin McKidd. So, naturally, we're rooting for him and Amelia to figure things out. However, if those rumors about Sandra Oh returning to the show turn out to have any merit, all bets are off — we're totally Team Cristina and Owen. One interesting development for McKidd is that he'll be directing at least one episode this season as evidenced by a recent set pic he posted with "crazy director hair."
Callie and Arizona
Although these fans favorites (played by Sara Ramirez and Jessica Capshaw, respectively) only recently decided to go their separate ways, Season 12 will venture into what life will look like as Callie and Arizona begin dating other people more frequently and seriously. As far as those love interests go, Rhimes promises "some pretty exciting ones" and divulges that bisexual Callie "falls for and is in a relationship with a woman."
How the vibe has changed:
There will be less personal drama, more medical drama
For several seasons now, we've all kind of been pondering the same question in the back of our minds: Why on earth don't all the doctors leave Grey Sloan? That place gives new meaning to the term occupational hazard. But, happily, Rhimes assures fans there will be fewer life-threatening and/or life-ending episodes for the cast this season. "There are still very dramatic and serious medical situations," she says, "but most of those are happening to the patients, not so much to the lead actors."
The mood is lighter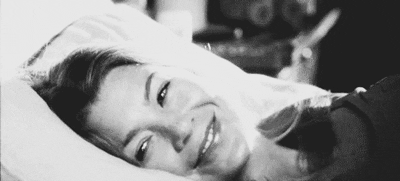 Image: Giphy
Accordingly, Season 12 should give our tear ducts a brief reprieve. And, c'mon, we've earned it, right? Between Cristina leaving and Derek dying, we're all cried out for a while. Actor Jason George, the hunk who plays Bailey's husband, says Grey's Anatomy has been rebooted. "There's [sic] a lot of things that make it feel brand-new, but it has that lightness and sense of humor that people fell in love with in the first place."