Hands down, the biggest celebrity to be part of the Ashley Madison hack is Josh Duggar — and that's probably a relief for Real Housewives of New York star Kristen Taekman, since her husband Josh was busted for joining the cheating site as well. But, according to sources, the reality star is handling the situation in a much different way than anyone would have thought.
Apparently, all is well in the Taekman house. The couple has two children together, and they're very much a united front right now, publicly as well as privately. Kristen, though not pleased about Josh's Ashley Madison account, is more or less moving along like nothing ever happened.
More: RHONY star will make you see Brandi Glanville in a whole new light
A source close to the Taekmans said, "They honestly love each other. She may hold this over his head for a while, but I believe she'll stick with him. I just don't see them separating." They also added that the two "are fine. Kristen believes him. They're shrugging it off."
More: Kristen Taekman says trust your gut as a mom (VIDEO)
When I first heard about Kristen's reaction to the fact that her husband had an Ashley Madison account, I thought, "Seriously, Kristen? Whyyyyyyy?" But after thinking about it, I realized: Who am I to judge? Everyone handles situations — especially marital ones — differently. What one couple does or doesn't do certainly doesn't make them in the wrong or in the right. Despite the fact that it was a seriously (seriously) sleazy thing for Josh Taekman to do, he's Kristen's husband. She's a big girl. She can make her own decisions. If she thinks standing by her man and working through things together is the way to go, so be it.
More: The Kristen Taekman and Bethenny Frankel feud on RHONY has gone too far
There's also something a little weird and coincidental about Josh's alleged infidelity coming to light. Not too long before the Ashley Madison emails were released, Kristen and Josh celebrated their 10th wedding anniversary by having a party at Tavern on the Green in New York City. The pair had about 60 friends there to celebrate their relationship, and according to a source, they "seemed very happy at the time." While on the one hand, it had to have been awful for Kristen to learn that her husband had signed up for an affair site shortly after such a monumental day (it probably made it feel a little fake, no?), on the other, maybe it was a good thing. Maybe all the good things about their marriage were fresh in Kristen's mind when she heard the horrible news. Of course, there's never a good time to learn that your spouse may have cheated, but better then than when the two of them weren't getting along at all, no?
I'm sure Kristen is going through an incredibly difficult time right now, and the last thing she needs is people — who don't known her — telling her she's making the wrong decision by staying with Josh. So, let's not do that, OK? Let's support her in decision, even if it's not something we ourselves would do, and hope that things between she and her husband work out for the best.
But, for the record: You're an idiot, Josh. Have you seen your wife?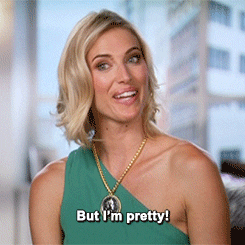 Image: Giphy
What do you think of Kristen's decision to stay with Josh?