After the yawn factory that was the past few years of Real Housewives of New York, it was finally (finally!) a juicy, explosive season for the ladies of the Big Apple. And now thanks to a just-released clip, we can certainly say the same thing for the reunion. Oh yeah, ladies. Bring it on.
From what we can see so far, the RHONY reunion, which airs Aug. 18, features some truly bizarre — and some never-done-on-Bravo-before — moments. It looks unreal. And to sum up my thoughts on this in three words: Can. Not. Wait.
More: Real Housewives of New York: 10 most volatile fights on the show
Think the drama ended at Ramona's New Beginnings party? Think again, friends. This reunion looks like a hot mess. Here are seven insane things we can expect to see when Carole, Bethenny, Sonja, Kristen, Heather, Ramona, LuAnn and Dorinda get together with Andy Cohen. Get the pinot ready!
More: RHONY's Ramona Singer's daughter is ashamed of cheating dad
1. Ramona falls asleep
Image: BuzzFeed
Like, literally, asleep. In the clip, which you can see below, the RHONY vet is caught nodding off on the couch like your 85-year-old grandma after Thanksgiving dinner. "I pulled something you won't believe," Ramona proudly told E! Online at her book launch event. Oh. OK.
2. LuAnn lunges at Carole
Image: Newnownext
The countess and Carole had a falling out after Carole started dating her niece's ex-boyfriend, but things come to a head during the reunion, when LuAnn physically goes after Carole. Carole said of the altercation, which isn't in the released clip, "I think she felt very defensive. There was a lot going on that she had to account for. You know how reunions are. [Andy Cohen] holds your feet to the fire and he wants answers. She was as defensive as I've ever seen her. At one point she got up and lunged at me. She got up and Andy told her to sit down."
More: RHONY Ramona Singer bravely discusses low, near-suicidal moment in her life
3. Sonja thinks Madonna was at her fashion show
Image: Swide
The Sonja Morgan International Fashion Lifestyle brand may be a real thing — and her fashion show may have been a real success — but, um, did anyone see Madonna there? Bethenny calls Sonja out for her ludicrous claim in the clip, and Sonja says that Madonna was waiting outside to see her show. I guess being the biggest pop star in the world doesn't get you in to a Sonja fashion show. Go figure.
4. Everyone calls out LuAnn for hooking up with a married man
Image: Gifs Gallery
When Andy Cohen presses LuAnn about her tryst with a married man in Turks and Caicos, things get uncomfy. LuAnn starts stumbling over her words, unsure what to say — and then Carole pipes up and says, "He was wearing a wedding ring!"
5. LuAnn is also accused of having sex with men in public restrooms
Image: Wiffle Gif
Um, what?
6. Sonja may be bisexual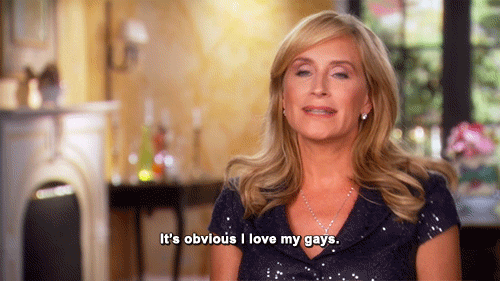 Image: Giphy
In the clip, Andy cagily asks Sonja if she's "bi," and her reaction is quite coy. "Ummmm," she shyly says, while looking up at nothing in particular. Inneresting.
7. Heather and LuAnn go at it
Image: BuzzFeed
It's not surprising that Heather and LuAnn aren't on the best of terms. After Heather woke up with a random dude in her room in Turks and Caicos – thanks to LuAnn — things have never been the same between them. Apparently, LuAnn still can't get over the fact that Heather and Carole barged into her room the next morning, but Heather is having none of it.
And here's the video. Enjoy!
What do you think was the craziest RHONY moment this season?