Big Brother: 6 Reasons Johnny Mac is a force to be reckoned with
Aug 13, 2015 at 11:37 a.m. ET
Let's all agree that it's not the best time to be a dentist. That aside, I need to give credit where credit is due to Johnny Mac, Big Brother's rock star dentist who has really stepped it up as of late. Now that it's Day 52, I'm looking back on his game and wondering if he's subtly been playing us all along.
1. His willingness to be a pawn was total gameplay
Image: Buzzfeed
He was surprisingly content with literally being a pawn several times for the Sixth Sense Alliance but also for James when he won HOH. Johnny Mac was put up on the block more than once to be the pawn while another houseguest was the target to get backdoored right out of the Big Brother house. Not only was he willing to sit on the block during the eviction, but he also agreed to throw POV competitions — meaning that now everybody in the house essentially owes him. Genius move.
More: Vanessa is losing her freaking mind over Clay and Johnny Mac
2. He is the ultimate underdog, and we can all relate to him
Image: CBS
All of those moves made him more and more endearing to America, which he seems to understand. Who can't relate to taking one for the team or putting yourself on the block at work for a boss whose been good to you? Johnny Mac just gets us. On one Reddit thread, there is so much love for Johnny Mac, I had to check to make sure it was actually Reddit that I was reading. Overwhelmingly, he was referred to as "self-aware and genuine" and "a chill dude." On Twitter, several people said things like:
Pin
Image: @LianaMarar/Twitter
3. Is all that yelling in the diary room part of his plan?
Image: Buzzfeed
There have been several theories floating around the Internet that all of that Bobcat Goldthwait-like screaming is just an act and that this dentist rock star is smarter than we all think. His charm is that he's the most relatable anti-hero who is always speaking at top volume. Until Sunday. Suddenly, he was not only having lucid conversations, but he was doing it at a normal volume. On tonight's episode, Twitter was shocked to hear Johnny Mac actually whisper!
Pin
Image: @KaryDegrassi/Twitter
This is more evidence that he's slowly coming off of that dumb, yelly, routine and that as the houseguests start to thin out with double evictions on the way, we may see the real Johnny Mac begin to emerge.
4. His Big Brother comic book character Dr. Drill's superpower is power of observation

Image: Tumblr
Let's not forget that it was Johnny Mac who figured out the twin twist (along with Mama Day and Vanessa) — except his proof was solid. He was the one who based his theory on hard empirical evidence: a tooth crown. He said that one twin had it, while the other did not. He was also the only one to recognize that Vanessa is a loose cannon and that her emotional game is slipping. He tells us, "Her emotions can go from zero to 80 in a second."
He also sees who Steve is. He and Steve talk POV strategy, but Johnny Mac tells us that, "Steve has these ideas built up in his head that he's this amazing super-gamer that everyone wants out of the house… no one's coming after you, dude." Johnny Mac has everyone sized up, and he knows how to play them.
More: 6 Reasons why Vanessa will win Big Brother
5. He's doing a great job at playing both sides of the house
Image: Tumblr
While Vanessa is playing the game really hard (an observation made by our Johnny), he, on the other hand, is nobody's enemy. When he and Shelli have a talk about what should happen during POV if she pulls "houseguest choice," he tells us that while he has been on board with everything Clelli has wanted, he has to watch out for himself. Then he goes to Steve to make sure Becky's plan stays in place and that Steve doesn't blow it for them. He tells Steve, "If we pull this off this week, we have the smartest person out of the game." Steve, who is clueless, isn't sure who that even is, and asks, "Vanessa?" Johnny Mac tells him, "She's good. This is war, and we're in the middle of it."
6. The opening montage tells all
Image: Imgur
I didn't notice until tonight that Johnny Mac is the only one in the show open who rubs his hands together like a super villain with an evil plan. We should have seen that earlier: He's been playing us all along!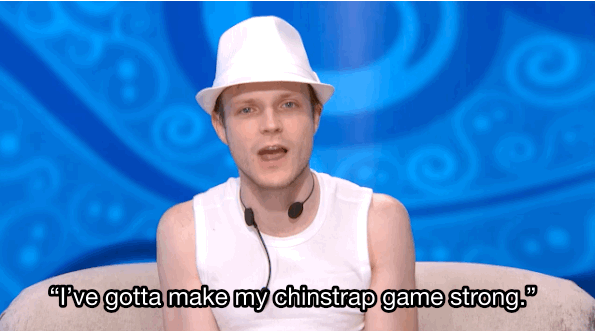 Image: CBS
What do you think? Will Johnny Mac win it all? Let us know in the comments below!