Taylor Swift is talking Kanye, Apple and her famous friends in the latest issue of Vanity Fair. In the magazine's latest cover story, the singer revealed several little-known facts about her, and the past year of her life in particular. Here are nine of the juiciest insights from the interview.
1. Jay Z helped her squash her beef with Kanye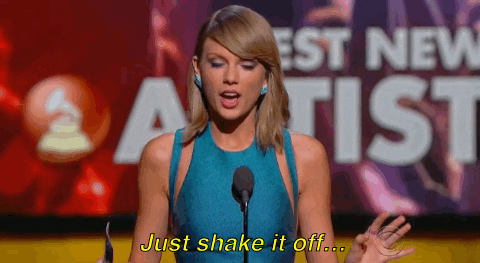 Image: Giphy
After Kanye West infamously interrupted her acceptance speech at the 2009 VMAs, Swift says it was Jay Z who inadvertently helped her make amends with the rapper. "I feel like I wasn't ready to be friends with [West] until I felt like he had some sort of respect for me, and he wasn't ready to be friends with me until he had some sort of respect for me," she said. "I became friends with Jay Z, and I think it was important, for Jay Z, for Kanye and I to get along."
Since then, Swift says she and Kanye have reached a place "where he would say really nice things about my music… and I could ask him how his kid's doing," which is probably a good thing. Kanye already has plenty of other celebrity feuds to deal with.
More: Taylor Swift is standing up against Apple, and more artists are joining her
2. Her letter to Apple was inspired after some late-night contemplation
Swift made headlines earlier this year after penning an open letter to the tech company about their new service, Apple Music, which was originally not compensating artists during its 3-month free trial period. "I wrote the letter at around 4 a.m." Swift says of the circumstancing surrounding the note. "The contracts had just gone out to my friends, and one of them sent me a screenshot of one of them. I read the term 'zero percent compensation to rights holders.'"
According to Swift, the process of writing the letter was similar to how she sometimes writes a song. "Sometimes I'll wake up in the middle of the night and I'll write a song and I can't sleep until I finish it, and it was like that with the letter," she said.
3. She was nervous about making the letter public
Posting the Apple letter was a gutsy move, but Swift wasn't as confident about sharing it as you may have thought. After earning some backlash for her op-ed in the Wall Street Journal criticizing Spotify's streaming service, the singer told Vanity Fair that she worried that "people would say, 'Why won't she shut up about this?'"
In the end, she only consulted one person before deciding to post it. "I read it to my mom," she said. "She's always going to be the one. I just said, 'I'm really scared of this letter, but I had to write it. I might not post it, but I had to say it.'"
4. Even she was surprised by Apple's reaction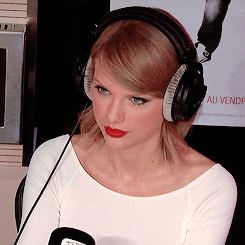 Image: Giphy
Swift didn't expect the company to change its plan so immediately, but appreciated that Apple heard her in a way that Spotify hadn't. "Apple treated me like I was a voice of a creative community that they actually cared about," she explained. "And I found it really ironic that the multi-billion-dollar company reacted to criticism with humility, and the start-up with no cash flow reacted to criticism like a corporate machine."
More: Taylor Swift, Calvin Harris fans will freak out over this relationship news
5. Swift and her group of girlfriends won't let guys come between them
We've all seen the Instagram pics of Swift and her many famous friends, including Karlie Kloss, Lorde, Gigi Hadid and Selena Gomez, among others. The singer admits that she and some of her friends have dated the same guys in the past (Hadid is currently dating Swift's ex, Joe Jonas), but says they never let men get in the way of their friendship.
"We even have girls in our group who have dated the same people," Swift said. "It's almost like the sisterhood has such a higher place on the list of priorities for us. It's so much more important than some guy that it didn't work out with." Amen to that.
6. She has a new attitude toward dating
After the borderline obsessive speculation surrounding her past relationships, Swift says she made a conscious effort to revamp her attitude about romance.
"That was the way that I decided to go on with my life. Not looking for anything, not necessarily being open to anything, and only being open to the idea that, if I found someone who would never try to change me, that would be the only person I could fall in love with," she said. "Because, you know, I was in love with my life." Would that person, by chance, be a tall Scottish DJ?
7. She cites Angelina Jolie and Oprah as two of her biggest role models
Swift has made her name in music, but she's determined to use her fame for greater causes too. "If you look at Oprah, she's made so many people happy over the years. She's made so much money, but she's given so much of it away… Same thing with Angelina Jolie," she said. "She's been so productive, but she's used that position to better other people's lives, and I think that's where I'd want to be."
More: Taylor Swift and Calvin Harris are Instagram official
8. She won't admit she's a style icon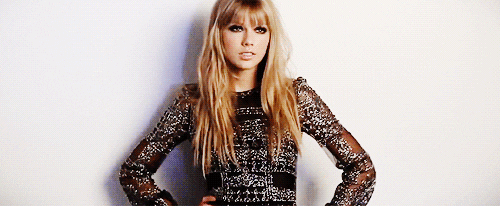 Image: Giphy
Leave it to Tay to stay totally down-to-earth despite her overwhelming fame. When asked about her new status as a bona fide fashionista, she replied, "I think I know how to put together a good outfit… But any day you're going to admit to being a style icon is a day you need to look in the mirror and really check yourself."
9. She's just as obsessed with selfies as you are
She has a lively Instagram account and is active on Tumblr, so it should come as no surprise that Swift also engages in one of the most prevalent practices of the 21st century: selfies. The singer admits to Vanity Fair that selfies are "a daily occurrence" for her and that she takes them "by the dozen." Celebrities — they're just like us.