NeNe Leakes is a hard-talking and hard-playing Real Housewife.
And with her fierce sense of style, she can rock a teeny-weeny yellow bikini. Hard. She showed off her assets in a resent post to her Instagram account, where she captioned the selfie, "Just living the beach life."

More: An original Real Housewives of Atlanta cast member says goodbye to the show
Not only am I jealous of her confidence, but that 48-year-old glam-ma is looking good.
But of course, she has a body type that isn't your stereotypical "model" body and dares to show it off, and the trolls immediately pounce. How dare she?
In addition to the generic, boring run-of-the-mill, "Oh please, I just ate lunch" and "Gross," comments, the keyboard jockeys were at least slightly creative in their wannabe burns. One commenter said, "Her old police mug shot pics look better than this," and "Mary J Blige has really let herself go to hell."
More: NeNe Leakes and Kim Zolciak's road trip spin-off sounds like the worst idea ever
At least these rude people tried to come up with something inventive other than the run-of-the-mill body-shaming, and I know Leakes would at least appreciate that.
The comments then took a weird turn.
"So, where is he 'tucking' the goodies?"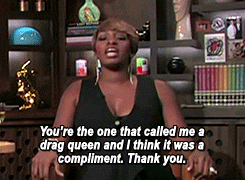 Image: Giphy.com
Completely uncalled for, even if you don't like her or the way she looks. Thankfully, Leakes is good at shaking it off.
Apparently, Leakes also reminds many people of various foodstuffs. "The photo looks like toothpicks balancing an apple." Or this creepy gem: "Looks like a melting box of chocolates with caramel center."
I don't know where these people are getting either an apple — do you see her flat stomach? — or caramel. That's just weird. But the comments didn't stop at strange; they took another dark turn, going from only mean comments about the reality star to generalizing all "big girls." Just no.
More: NeNe Leakes hospitalized with blood clots in her lungs
"Big girls don't need to be parading around like that, but if you do, don't be sharing pics with the world!" said Chel.
Chel, sweetie, let's chat. I would like to talk to you about "big girls." I would like to know exactly where your demarcation is for "big girls" and "not-big girls." Is there a weight limit or number? Size, height?
In a day and age where differences are celebrated, as well they should be, there is no "one size fits all" person, and we need to stop allowing these people to try to delegate what is and isn't acceptable.
NeNe, girl, you look fab, and I know you don't give a hoot what these jokers think anyway.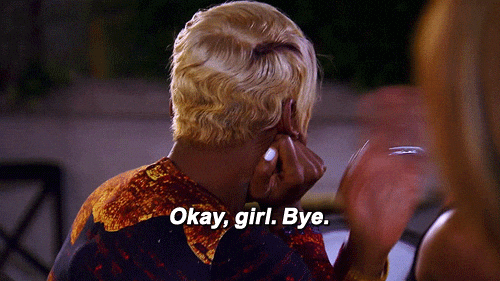 Image: Giphy.com