Mindy Kaling's second book release is a month away, but we're already getting a tease of what's to come. Why Not Me? is a series of essays Kaling wrote about her life and the business, and in her new essay for The New Yorker, she's already using her voice to call out television tropes.
Sure, we love television. That's why we spend hours upon hours sitting on our couch each week, glued to the screen and entranced with fictional characters. That doesn't mean a huge chunk of TV content doesn't fall under the "been there, done that" category. It's all pretty similar, no?
More: Mindy Kaling calls out a gossip blogger and we support her
In a new essay for The New Yorker, Kaling took a cutting approach to TV plots, including her own show, The Mindy Project. Everything she said was on point. We especially loved reading her list of the most stereotypical plots and pinning them to popular shows. Here's what we're talking about.
"Boy-Man Must Face the Adult World"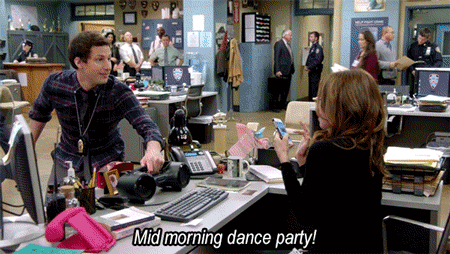 Image: Giphy.com
Kaling describes this scenario as a guy who can't keep a girlfriend or a job, spends most of his days playing video games and still has a roommate. Yet somehow, he'll accomplish something magnificent. This reminded us of…
Alpha House
Sure, all the men in this show are already grown. But they're all such slackers and lazy asses. How they ever became politicians, we'll never understand.
Brooklyn Nine-Nine
OK, so Jake manages to keep a job, but just barely. In any other police unit, he'd already be kicked to the curb. He's a mess. His charismatic nature, though, of course makes him the unofficial leader of the bunch.
Mad Men
Don't look at us like that. Sure, Don never had a roommate. But if you can't see him for the irresponsible boy-man he is, you're living in a fantasy world. He was incapable of taking responsibility for his actions, which caused him to lose multiple wives and find rocky employment footing later in life, at a time when he shouldn't have had to do much other than show up and smile. He was still our hero for seven seasons.
More: Mindy Kaling's birthday PJs create major backlash
"The Staunch Oval Office Dame"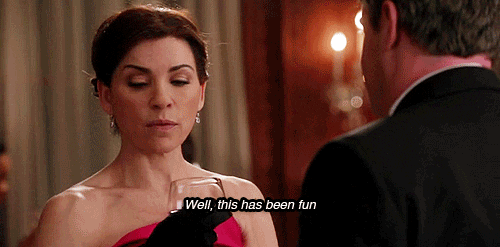 Image: Giphy.com
Madam Secretary
Duh.
The Good Wife
So, she's not running for the Oval Office, but Kaling describes this female lead as a "tough, well-educated woman" who is "the very best person for her job." Where the similarities end, of course, is Alicia's weakness. The dame Kaling writes about in her description would send her husband "to the electric chair if he were found guilty of shoplifting" and has a secret weakness (dyslexia) that could ruin her career. No matter how tough Alicia tries to be, it seems as though, with The Good Wife, it's her husband who always proves her weakness.
The West Wing
Change the pronouns and this is absolutely West Wing. President Bartlet loved Abigail so much, but he had a fairly strict sense of what was right and wrong. Furthermore, his hiding his MS did, in fact, almost ruin his presidency.
"Dad! Mom!"
Image: Giphy.com
This is described as the show about a 38-year-old who reverts back to kid-like behavior when his parents get divorced and one of them moves in with their adult child. Off the top of our heads, we can think of no fewer than six shows just in the last couple years that feature an adult who lives with or close to a parent and, thus, becomes childish upon the parental unit's arrival. Like…
Mom
$#*! My Dad Says
Dads
The Millers
Parenthood (We love Parenthood, too. But when Cros and Sarah got around their parents, they definitely acted like teenagers, again. It took several seasons for them to grow up.)
How To Live With Your Parents…
More: Kaling calls out sexist reporter with fantastic tweet
"The Abandoned Spinster Club"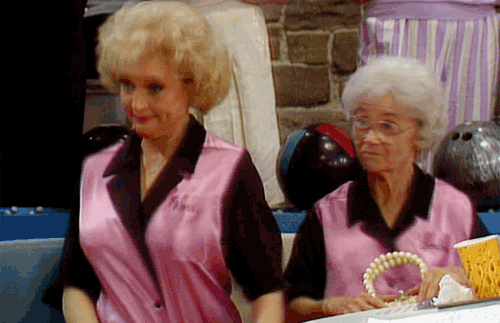 Image: Giphy.com
Mindy described this show as one where the woman comes home and finds her husband cheating with his secretary. From there, you watch as she tries to put her life back together on her own. It's supposed to be about female empowerment, but that's not always the way it goes.
Girlfriend's Guide To Divorce
Obviously.
Sisters
This was our mom's favorite show back in the day. Not all the sisters had marital issues, but it centered heavily on that concept.
Hot in Cleveland
Again, this is pretty obvious. Even though the women are older, they're all single and on their own… together. It's the modern Golden Girls, also starring Betty White.
"Neurotic Sensitive Guy is Also Super Unhappy"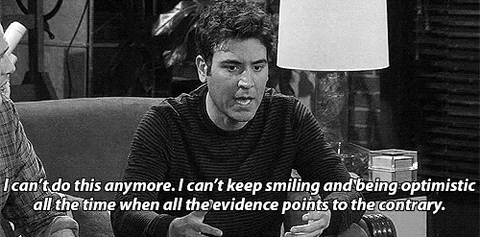 Image: Giphy.com
This could be a few shows, but we definitely felt like it was mostly a stab at How I Met Your Mother. Whatever. This is still one of the best shows ever. Because, let's face it, tropes are tropes for a reason: they're well liked or relatable.
These aren't the only tropes Kaling called out for being stereotypical. Head on over to read her entire essay, "Coming This Fall" in The New Yorker and see what she had to say about her own show.
More: 7 Times women were asked shallow questions on the Golden Globes red carpet