Gone Girl became a bestselling book upon its 2012 release, and also inspired a hit movie starring Ben Affleck and Rosamund Pike. But the story might not be over yet. Author Gillian Flynn recently revealed she's still considering working on a sequel.
"I don't know if I could go back to the Dunnes quite yet," Flynn recently told E! News. "I think about it every once in a while. I do. I do. It's hard to shake sometimes."
This isn't the first time Flynn has talked about the possibility of a follow-up. Earlier this year, she said she would be open to making a Gone Girl movie sequel — if the cast and director David Fincher returned. No argument here! Still, considering how twisty and thrilling the original Gone Girl was both on-screen and in print, Gone Girl 2 would have a lot to live up to, even with the same team.
So what exactly would a sequel entail? Of course, we have some ideas. Here are five possibilities for a Gone Girl sequel.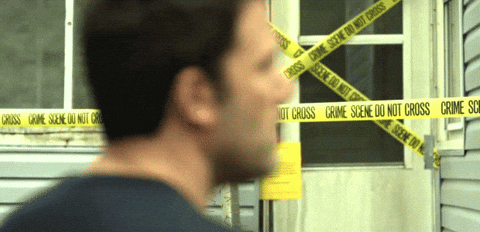 Image: Giphy
1. Nick seeks revenge
In Gone Girl, Amy punishes Nick for cheating on her by staging her own disappearance and leaving him as the main suspect. So naturally, in the sequel, it would be Nick's turn to plan his revenge for her. After all, after years of living with his psychopathic spouse and knowing what she pulled off, it'd only stand to reason that Nick would be driven to the brink of madness. Perhaps even mad enough to plot to kill Amy? Whatever his revenge would be, Nick would have to be as meticulous and manipulative as his wife to pull it off — which sounds like the makings of a hell of a good sequel to me.
2. Nick goes missing
We got Gone Girl, now what about Gone Boy? This time around, Nick would be the one who goes missing. But did something actually happen to him, or is Nick taking a note from his wife and staging his own disappearance to pin it on his crazy wife? We'll leave it up to Flynn to figure that out.
More: Rosamund Pike had a hard time letting go after Gone Girl

Image: Giphy
3. Their child goes missing
Amy basically trapped Nick into staying with her by getting pregnant, so obviously their child would play a very important role in any sequel. What better way to further complicate the already highly tense relationship between the parents than by pitting them against each other in the disappearance of their child? Nick will assume Amy pulled off another psychopathic stunt while Amy will insist Nick is trying to take their child away from her. Meanwhile, Detective Boney will have to investigate both of them to figure out which one's telling the truth.
More: Gone Girl's Rosamund Pike talks juggling family and fame
4. Margo helps Nick escape
Like we said, there's no way Nick wouldn't be desperate to escape his marriage and to bring his child along. The sequel could chronicle his attempt to leave Amy — which, given what an insanely brilliant criminal mastermind she is, is basically akin to a prison break. How would he pull it off? Chances are, Amy would have made the family move back to New York. So, perhaps he'll return to Missouri under the guise of having his child spend time with Margo and his ill grandfather. Once he's there, though, he'll figure out a way to escape for good, with help from Margo and Boney (and maybe a little legal advice from Tanner).
More: Gone Girl's Rosamund Pike says women have crazy views on relationships

Image: Giphy
5. Amy dies
Let's face it: The only way that the Dunnes' saga can ever really, truly come to an end is if Amy dies. Whether it's Nick, Margo or another person from her past that kills her or karma just catches up to her, it's only a matter of time before Amazing Amy meets her not-so-happy fate.