Ahead of the Scream Queens premiere in September, the star-studded cast and show creator, Ryan Murphy, are revealing some major spoilers about the first season.
We already knew that Scream Queens takes place on a college campus that's rocked by a series of murders that are eerily connected to an accident that took place 20 years ago. Thanks to the insightful panel at San Diego Comic-Con, viewers now have even more details about the freshman season of the series. Here are just a few scary, fun spoilers we've learned about Season 1.
More: Scream Queens' new teaser reveals exciting new twists
1. Jamie Lee Curtis will pay tribute to Halloween
Image: Giphy
The star will give a wink to her iconic Halloween character, Laurie Strode, in the second episode of the premiere season. "There is a wordless homage that I threw in," Curtis teased at the show's San Diego Comic-Con panel, which she also described as "a tipping of my hat to all of you Laurie Strode lovers out there."
2. Curtis will have a fling with someone much younger
Murphy teased a sex scene between Curtis and an 18-year-old. "I wanted to see something irreverent and fun and her being powerful and large and in charge so that's what we did," he said of the scene. Sounds juicy!
More: Comic-Con 2015: 11 Best, weirdest and craziest moments from SDCC so far
3. You'll see a different side of Lea Michele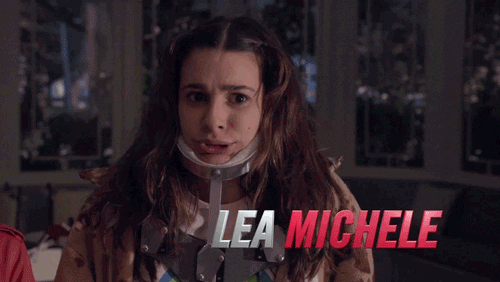 Image: Giphy
As Michele herself put it earlier this year, her character Brittany is "out-of-control crazy, insane and hilarious." In fact, when she showed up to set on her first day, the actress says many of her costars didn't even recognize her. "This is like my Charlize Theron in Monster moment," she said of the role.
4. This is a different kind of anthology than American Horror Story
Though Scream Queens will have a similar format to AHS, there is one major difference. As Murphy explained, "On Scream Queens, there are survivors who go on to a different location, but the characters that you have grown to hopefully love will continue. People will live and people will die. I'm already getting many, many bribes."
More: Ryan Murphy creates a show both Gleeks and AHS fans will love
5. No one knows who the real killer is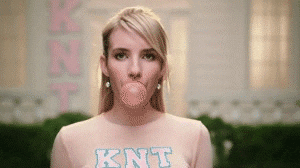 Image: Giphy
Perhaps the craziest spoiler revealed at Comic-Con? Even the stars of the show don't know who the murderer is yet. In order to keep the mystery hidden, Murphy had each of the series stars do one take where their character is the killer. "So every actor had to get into that mindset," he said. Now that's the way to keep a secret.
6. The killer will show up early on
Though the actors don't know who the killer is, Murphy did reveal that whoever it is will appear in the very first episode. "You definitely meet the killer in that premiere," the show creator said. "And I think if you go back at the end and watch that premiere it's very clear." In other words? Watch very, very closely.
Scream Queens premieres on Tuesday, Sept. 22 on Fox.