Have you ever just kinda liked a celebrity until you found out they were a stone-cold weirdo and then started to totally love them? That's pretty much what just happened to us with Olivia Munn.
It's obvious Munn is gorgeous, but she's also full of amazing personality quirks and history that makes us swoon over how awesomely eccentric — yet totally relatable — she is.
In honor of her birthday on July 3, we're sharing some crazy things about her that make us wish she was our best friend.
1. She's kind of a ninja

In a telling interview for Good Housekeeping's August 2015 cover, Munn let her family's fierce secret slip. "I'm the fourth of five children. All of us started karate at around age 5 and studied it until we were about 16 — and we weren't allowed to stop practicing until we had achieved black belts." Mental note: Do not mess with Olivia Munn.
More: Olivia Munn's Quitting Aaron Rodgers Cold Turkey
2. She has a hypnotist to thank for her health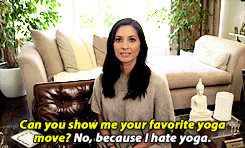 Image: Giphy
When we say a hypnotist made Munn start sweating, we mean it in the most literal sense — upon learning she didn't work out, the hypnotist who helps with her anxiety said Munn had to start. "So during one of our sessions, he hypnotized me. I'm not exaggerating: That was on a Friday, and by Monday I was working out every day at 6 a.m. If I missed a session, I'd double up and do it the next day. Now I feel so much stronger."
3. She suffers from severe anxiety disorders
You would never know by looking at Munn, who always seems so put together, but the actress suffers from both OCD and trichotillomania — a condition characterized by compulsive pulling of eyelashes and hair. "It's the same thing as people who bite their nails," Munn told People last year. In fact, they are largely the reason her hypnotist suggested she start working out, as exercise combats anxiety.
More: Olivia Munn Restricts Her Social Media Amid Aaron Rodgers Breakup
4. Long Island medium Theresa Caputo gave her purpose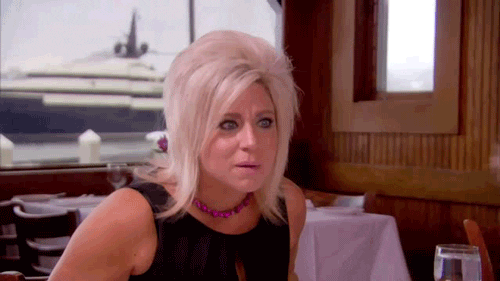 Image: Giphy
"About four years ago, I was almost in a plane crash. Everybody on the plane thought we were going to die… even the flight attendants were crying and screaming," she revealed to Good Housekeeping. "It made me question everything."
That's when she found solace in an unlikely source.
"Theresa helped me open up. Now I believe in God, or whatever you call it. I believe that our souls exist past this — and that as long as we're good to each other, that's all that really matters."
5. Her secret superpower is crotch-popping

When Munn and her X-Men: Apocalypse co-stars stopped by Conan a couple of years ago, she divulged some, ahem, juicy intel about her Psylocke costume. "I did a whole latex fitting — they lubricate the costume and they lubricate me," Munn said of the tight fit. "The first day I put on the latex suit and I was out there, I was really excited to be with these guys and I'd met Michael [Fassbender] and James [McAvoy] and all of these guys and was just so excited, and then I went to stretch, like, 'I want to do a really good job,' and then I just popped the crotch. The latex just broke."
6. She's a junk-food junkie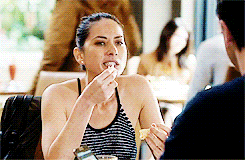 Image: Giphy
That workout hypnotism must really be paying off, because Munn is a major binge-eater. "Sometimes I wish I had more self-control. I'll give myself a bunch of excuses, like I'm tired, I'm shooting or I need this cookie. There was a tray of Rice Krispies Treats [at the shoot]. I've had two bags of sour-cream-and-onion chips. Last night, I had creamed corn and mac 'n' cheese and two and half pretzel breadsticks before my meal came!"
Ah, a woman after our own hearts.
7. She's known for saying "accurately horrible things" to her co-stars
During a sit-down at Comic-Con 2015 with her X-Men: Apocalypse co-stars Oscar Isaac and Michael Fassbender, Munn (a) totally geeked out and (b) got outed by the guys for her trademark bluntness. "I say accurately horrible things to Oscar and Michael," she said, admitting that she once said to Isaac, "You're losing your hair." Joking of the worst thing she'd said to Fassbender, "I said to Michael, 'If I could change one thing about you, it's that you're too awesome.' He didn't like that. He wanted to be a regular amount of awesome." Not surprisingly, it's clear they both still adore her.
More: Olivia Munn Boycotts Typical Superhero Roles, Becoming Our Superhero IRL
8. She's obsessed with meat

Munn is so stoked on beef jerky that she recently invested in Chef's Cut Real Jerky.
"I love jerky first of all, but then I looked and it was a lot less sugar and carbs and it was super-high in protein," Munn told E! News. "It was a lot easier than carting around a Greek yogurt because that's what I was doing at the time… That's when I started leveling off my weight. I was able to maintain it because it's so delicious. It's like steak in a bag."
If that crazy-weird beef jerky commercial above doesn't make you fall in love with Munn, we don't know what will.
9. … and potatoes
https://www.instagram.com/p/BCJvdWqMmX4/
Munn (who was born in Oklahoma) is obviously a Southerner at heart, because she's definitely a jerky and potatoes kind of girl. Japanese sweet potatoes, that is.
Rumors that Munn had plastic surgery began running amok last year, but she credited her youthful appearance to the Japanese sweet potato.
"I've talked about this before and I still stand by it: Japanese potatoes that are high in Hyaluronic Acid help keep wrinkles away," Munn wrote on Instagram. "Look up this video: 'Connie Chung Yuzihara' to learn all about it. There are Hyaluronic Acid pills and vitamins but I think that the best way to get it in your system is by eating them in foods that naturally have them."
A Hollywood actor who loves to eat carby potatoes? Swoon.
What's your favorite thing about Olivia Munn?
Originally published July 2015. Updated July 2017.