Magic Mike XXL hits theaters July 1, and it seems audiences are in for quite a ride. As critics have already pointed out, the highly anticipated sequel is taking all the fun of the original up a notch.
Here are six reasons why you're sure to love Magic Mike XXL.

Image: Giphy
1. Everything is bigger and better
The one thing that all critics seem to agree on is that XXL is Magic Mike times 10. Everything is pumped up to a new degree, with more dancing, more partying and just more general fun. With a cheery, laid-back (and oh yeah, hot) cast like Channing Tatum, Joe Manganiello and Matt Bomer, I think we can all agree more is definitely a good thing.
More: Magic Mike: How it is (and isn't) promoting gender equality
Image: Giphy
2. It leaves out the drama
Sure, Magic Mike had plenty of lighthearted, ab-baring moments. But it also provided some serious commentary about young men with a tendency toward self-destructive behavior. This time around, there are far fewer dark scenes. Instead, the sequel is mainly a road-trip film that's clearly meant to give fans what they want and it (mostly) works. The lighter tone plays right into the strengths of the cast. Speaking of which…
Image: Giphy
3. Everyone gets a chance to shine
Shifting focus away from serious-minded themes allows XXL to place even more attention on its stars and their unbeatable chemistry as an ensemble. In this sequel, all of the guys get their turn in the spotlight with some form of solo or another. Perhaps the most hyped of these solos? Matt Bomer breaking into song — that's right, he can sing, on top of everything else.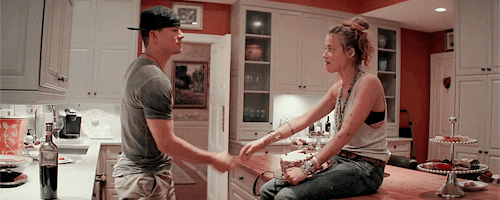 Image: Giphy
More: Magic Mike XXL sneak peek: Watch at your own risk
4. Girls finally join in on the fun
XXL will introduce a slew of new female characters. Amber Heard joins the cast as a cool girl named Zoe while Andie MacDowell plays Zoe's mom. Elizabeth Banks portrays a sassy and sexy MC of a male stripper convention (aka the location of their final hurrah). But it's Jada Pinkett Smith who seems to be getting the most attention for her depiction of the fabulous and seductive dance-club owner and Mike's former flame, Rome.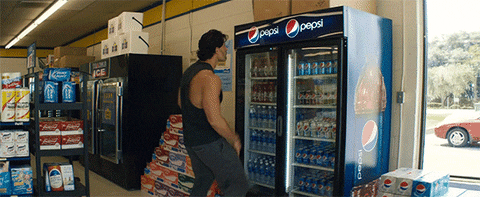 Image: Giphy
5. It's surprisingly female empowering
Entourage should take notes from XXL, which is getting high critical praise for its appreciative treatment of women. It's not just a movie about a bunch of male strippers looking to satisfy their clients. It's a sweet and sexy story about guys who genuinely care about making women happy — not just physically, but by getting them to break out of their shells. One small but funny example? The scene (pictured above) in which Manganiello, coming down from a drug high, acts out a hilarious convenience store seduction with Cheetos and water to try to get the surly female clerk to smile. I dare you not to crack a grin at that one.
More: Joe Manganiello: Magic Mike XXL will be way more racy than Fifty Shades of Grey
Image: Giphy
6. There's a happy ending
While it might be light on plot, it's pretty much guaranteed that you'll leave this film with a smile. How could you not? The entire bunch is funny and charming and their big final show together is certainly a memorable one. XXL promised to be a pure crowd-pleaser, and it's safe to say it delivers.