Mr. & Mrs. Smith hit theaters 10 years ago and now, it's about to come to the small screen in reality show form. That's right. According to Deadline, 3 Ball Entertainment, the production company behind Extreme Weight Loss, is teaming with New Regency to develop and produce a reality game/competition version of the hit film.
As most know, Mr. & Mrs. Smith starred Brad Pitt and Angeline Jolie as a bored and distant married couple who are shocked to discover that they are both assassins hired to kill each other. Of course, we can't help but wonder how a story of two trained killers could possibly translate into a reality series. The television version will reportedly feature married couples that compete in "a high-octane, high-stakes game."
No further details have been revealed yet, which means we're left with a lot of questions. Still, the movie certainly has plenty of material to draw from. Here are six elements from the film that should also make it into the reality show.
More: Jennifer Aniston finally admits how she really feels about Angelina Jolie

Image: Giphy
1. Details on each couple's love story
In Mr. & Mrs. Smith, John and Jane spend some time recounting their love story and how they met. In their case, the two first crossed paths in Bogotá, Colombia, while secretly on the run from authorities. While the chances of the couples on the reality show having quite as exciting and exotic a backstory are pretty slim, it's still a sweet (and less violence-filled) part of the movie, so hopefully we'll see something similar happen on the TV series before the crazy, intense competition starts.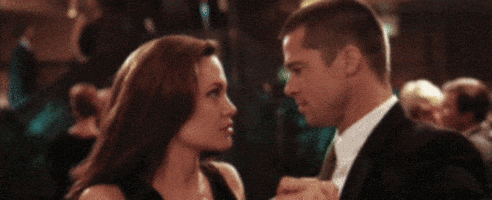 Image: Giphy
2. Dancing
Who could forget the scene in which John and Jane break out into a sexy tango in a restaurant after they find out that they've both been hired to kill each other? As the two dance, they pull out the weapons each has hidden under their clothes, and John even slams Jane into a wall (under the guise of a passionate move) at one point. While we don't condone the weaponry or the slamming, we wouldn't mind seeing the reality show couples replicate the dance portion of the film in some way — especially if they have as much chemistry as Brad and Angelina did. Hey, a dance-off counts as a "high-octane, high-stakes" situation, doesn't it?
More: 15 Best Brad Pitt expressions from the Zach Galifianakis interview
Image: GifSoup.com
3. Lots of action (but no guns)
Producers haven't revealed any details about what kind of competitive games the couples will participate in so, needless to say, we have lots of questions. Are they going to be forced against each other, like John and Jane were in the beginning? How exactly can they replicate the "high stakes" of an assassination plot? Will there be lots of fiery explosions, like in the movie? Is this whole idea even safe? Unfortunately, we don't have any answers yet and while we really, really hope the show doesn't take things too far, we do hope to see some badass, high-action teamwork from each couple.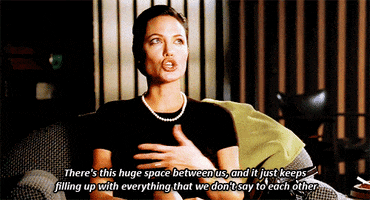 Image: Giphy
4. Therapy sessions
I don't know about you, but I'm curious to know what in the world could've possibly driven these couples to compete in a Mr. & Mrs. Smith-themed reality show. John and Jane attend therapy, which is how we get to learn a lot of their backstory and also how we see just how much progress they make over the course of the movie. I wonder if the show will do something similar, if only to let viewers know that the couple is still together at the end of it all.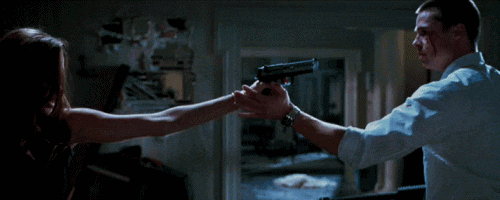 Image: Giphy
More: Angelina Jolie and Brad Pitt wear matching tuxedos

5. An eventual reunion
We don't know if the couples will be estranged at the start of the show, the way John and Jane were basically living separate lives at the beginning of the movie. But if they are, we hope the competition will eventually bring them back together — you know, the way escaping various assassination attempts brought the Smiths back into each other's arms.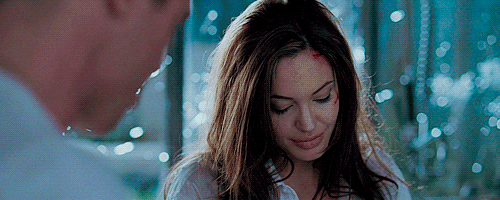 Image: Giphy
6. A Brad and Angelina appearance
OK, we know this will never happen in a million years. The Jolie-Pitts are way too busy to even know that this reality show is happening, let alone make a cameo in it. Still, how awesome would it if be they just randomly showed up? Maybe meeting them could be part of the prize? Do the couples even win a prize? Seriously, so many questions, so few answers.