Game of Thrones' Kit Harington blew our minds and broke our hearts this week during an interview with The Huffington Post. While we'd like nothing more than to sweep his comments under the rug, we know they need to be addressed.
Sigh.
More: George R. R. Martin has a feminist reason for that terrible rape scene
During the interview, Harington had a lot to say about the show and everyone's favorite bastard, Jon Snow. But it was one offhand comment in particular that made us cringe. He shared with HuffPo why he loved working on the show and why he thought fans enjoyed it so much. The truth is, no one is safe. It's that kind of unpredictability that keeps most fans locked in each week — to see who survives.
"I think that's the thrilling thing about the TV show, is that we really don't fit by the norms and people are in danger and horrible things do happen to people and we don't shy away from that," Harington shared.
For us, though, one of the show's biggest draws is Jon Snow: Harington himself. Those luscious locks. That constantly furrowed brow. That cloak of thick black fur. And, ugh… the way he treated those direwolves. We've wanted to eat him up since the very beginning. So, you can imagine our dismay at what came next during the interview. Harington said no one on Game of Thrones is safe. Duh. Not even Jon Snow.
More: Fans are furious at Game of Thrones' huge spoiler plan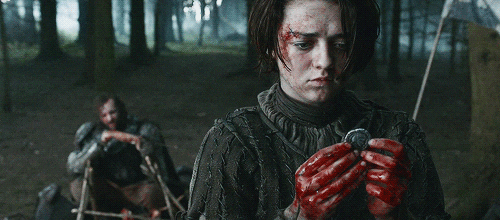 Image: Giphy.com
His exact words: "You can't count on Jon Snow being safe or Tyrion being safe or anyone being safe, so it keeps people on the edge of their seat, and that's why it's good drama."
To be fair: This isn't exactly something we didn't already know. After Ygritte had stuck him with her arrows, we weren't even sure we'd see him again. (Shut up, book readers!) Game of Thrones does the soap opera possible death thing better than anyone. So well, in fact, that we're convinced George R. R. Martin spends a lot of time watching General Hospital and All My Children. Maybe even too much time. Still. It's one thing to, deep in our subconscious, know that Jon Snow might die. But it's quite another to be told by Jon Snow (they're the same people, right?) that his time could be up at any moment.
This new information stings more than the Red Wedding. Book fans might know exactly how long Jon Snow has to live, but we don't. We do know one thing though….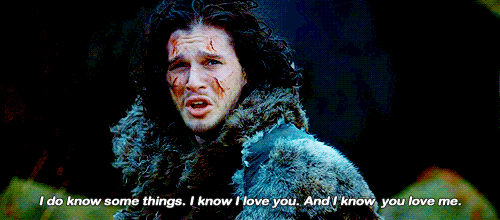 Image: Giphy.com
More: Meet the Real Housewives of Westeros