Dear Sam Elliott, when you took the stage tonight at the 2015 Critics' Choice TV Awards to accept Best Guest Performer for your role in Justified, I couldn't help but think how deserving you were of the win.
Well, that and, "Daaaaaaamn! That man still looks fine as hell."
More: Critics' Choice TV Awards was filled with 6 really strange moments
You see, growing up, some apparently negligent adult in my life let me get away with watching the risqué 1989 flick Road House at far too young an age. Yet I've always felt indebted to them, because they inadvertently introduced me to you: the man, the myth, the legend.
https://youtube.com/watch?v=TVACVY4DBew
I was enthralled by how you — in all your late '80s, neon-lighted, long-haired glory — held your own alongside Patrick Swayze and, dare I say, even stole a few scenes. Your half-bun man 'do alone deserves some long overdue credit.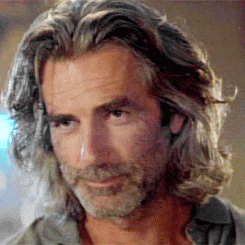 Image: Giphy
(Oh, to be that hair band.)
Since that time, I've harbored a perhaps unnaturally thriving crush on you. When my girlfriends balked at the fact you made my "Five Card" — you know, that imaginary hall pass that lists five dudes your significant other would totally let have their way with you, should you ever meet them — I remained steadfast in my devotion.
To this day you're right between Dwayne "The Rock" Johnson and Jason Statham, which, coincidentally, sounds like some Five Card wish fulfillment gone awry.
More: Justified's Erica Tazel tells us what Timothy Olyphant is really like (INTERVIEW)
The truth is you simply never go out of style. You are one of Hollywood's most enduring leading men. Perhaps it is your rugged manliness that immortalizes your appeal. If Chuck Norris and Wyatt Earp met and got married, you'd be the love child that would spring fully formed and 'stached from Earp's head like Athena from Zeus.
Because you are mythical.
Sometimes, I wonder if staring at you might have the same effect as looking at Medusa. Only I wouldn't be looking at snakes on your head or be turning to stone. Rather, I fear if I stare at your mustache too long, the pure machismo emanating from it might cause spontaneous impregnation.
While other people wax on about how great your gravelly voice would be reading bedtime stories, I think how perfect you'd be as the narrator of Harlequin romance audio books. I can just hear you now, drawling through the full silver tuft on your upper lip about torrid desires and, ahem, rigid flesh.
I miss the days when you used to bare your hairy chest, even if the copious spread of tight curls did remind me of my college pantry staple, ramen noodle soup. Then again, I'll always have this scene from The Legacy, circa 1978, to perk me up on especially dreary days.
Image: GIFSoup
The fact that you once told Playgirl you don't want to be a sex symbol does little to wane my love for you, Sam.
It's not like you haven't given me ample material over the years on which to base my fantasies. C'mon — Wild Bill Hickok in Buffalo Girls? Of course I took that and ran with a naughty Annie Oakley scenario. What red-blooded woman wouldn't, I ask you?
You are the epitome of the American cowboy… thin and lanky, but thick and wiry where it counts.
Your mustache, that is! Er, I was definitely talking about your mustache. After all, it did just get inducted into the International Mustache Hall of Fame's inaugural class in the Film & TV category.
And although its absence was duly noted during your brilliant stint on Justified — and while I was legitimately concerned your upper lip might catch hypothermia and die — I still swooned over the slightly less hairy version of you onscreen.
The 'stache's triumphant appearance at tonight's Critics' Choice TV Awards only gave my obsession passion for you renewed fervor, though, and I vowed to be the inappropriate cool aunt who hits the play button on Road House for those nieces who might otherwise resort to crushing on the next Harry Styles boy-band phenom.
More: 2015 Critics' Choice TV Awards winners list was the most diverse we've seen
All this to say, congrats on the win, Sam. Here's to many more years of award shows, as I foresee getting much more mileage out of this older man crush of mine.
Because when it comes to my libido, ageism is a non-issue, stud.