Television shows can do a lot of things. They can make us laugh, make us cry, make us angry — and sometimes they can change our lives.
Yes, TV is an entertainment vehicle, but every now and then, shows produce fictional characters so moving that they have the power to give real people the courage to live their own truths. Our society has come a long way over the past couple decades in the way of equality and LGBT rights, but that doesn't mean we don't still have a long way to go. Opening up to your family and friends about your sexuality can still be an extremely intimidating experience. For those who are facing the fear of coming out, powerful characters on TV help them feel less alone on their journey.
Here are some of the television personas we have come to know and love and the true coming-out stories they inspired.
More: Ellen Page credits Ellen DeGeneres for her coming out (VIDEO)
1. Emily Fields
Image: Giphy
"I've done signings before and remember this girl coming up to me and saying, 'Your character has really helped me and I really want to come out to my parents so I can be free.' I said, 'Yeah, that's great, you should,'" said Shay Mitchell, the actress who plays Emily Fields on ABC Family's Pretty Little Liars, in an interview with Meredith Vieira. "Emily did come out that season, and the next year I came back and I remember the exact same girl coming up to me and was like, 'Hi, I want to introduce you to my girlfriend.' From that show, she was able to have that conversation with her family. That to me was amazing."
YouTubers have also shared that the scene in which Emily comes out to her father helped them come out to their own families. "I love this scene this inspired me to come out. She really nailed this!" wrote one commenter. "When I came out to my mom, all she did was hugged me and said she accepts me for me and she loves me, this scene is so inspirational!!!"
Watch the scene here:
2. Cosima Niehaus
Image: Giphy
Orphan Black actress Tatiana Maslany was brought to tears at a 2014 Comic-Con panel when a young fan shared her story about coming out. "First of all, I want to thank you. Before I started watching this show, I was in the closet and totally ashamed of who I was," said the fan, identified as Taylor, according to E!. "I hated myself. But then I started watching the show and seeing Cosima, and seeing everything that is not about her sexuality. My parents weren't OK with me being gay. I started watching the show with my mom and it's helped us start to rebuild our relationship. She sees Cosima. And she sees that it's OK and people are more than their sexuality. And so I want to thank you for that."
3. Sophia Burset
Image: Giphy
Laverne Cox portrays transgender woman Sophia Burset on Netflix's Orange Is the New Black, and both the actress and the character have helped people in the trans community feel more comfortable with themselves.
"One thing I would wish for America [is] spaces where we have real gender freedom," Cox told ABC in 2014. "Where we… create spaces of gender self-determination, where we don't police people's genders or we don't tell people they're not supposed to act a certain way."
4. Blaine Anderson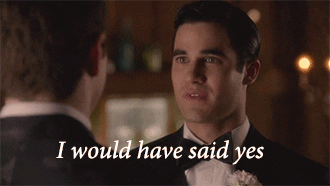 Image: Giphy
"I finally got to thank Darren Criss for everything he has done for me on my journey to self acceptance," Ray Winters wrote on his Tumblr account of meeting the actor who portrays Blaine Anderson on Glee. "The day after he appeared on Glee as Blaine, I came out to my best friend. I've grown up a lot since, and I've come out 100%. I got to meet the man who gave me hope when I was 16 years deep in self hate. Dreams do come true. It does get better. Keep fighting. I promise it's going to be okay."
5. Nancy Botwin
Image: Giphy
Nancy Botwin, Mary-Louise Parker's fictional character on Showtime's Weeds, was straight, but that doesn't mean her struggle didn't resonate with members of the LGBT community. "Nancy Botwin is a single mother and starts a secret drug business to support her family. Though her secret is much more lucrative than being in the closet, I could identify with loving your family yet having this other life that you really wanted," wrote Brett Nolan for Thought Catalog in an article about fictional women who helped him come out. "You keep secrets to to protect them and you can't let your familial duty deny you happiness."
6. Jude and Connor of The Fosters
ABC Family made history earlier this year when they aired a same sex-kissing scene between two 13-year-old boys — the youngest same-sex kissing scene ever. The scene was not without controversy, but it was also praised by many for helping to normalize the feelings of many gay teens, and it undoubtedly served as a catalyst for conversation between kids and their parents. "The Fosters inspired me to be who I am," wrote one Tumblr user. "So I told my mom yesterday and my friends today that I am pansexual. Everyone was fine with it and it made me really happy. So I'm just telling you guys because I feel good about myself right now :)."
What about you? Are there any shows or characters that helped you come out?